Spring is just around the corner and I was in the mood today to blog, I had this idea for this recipe a while ago and knew that I would eventually write it, test it and stage it but was waiting for the right time I guess or when inspiration hit me.  Today I was thinking about what I would use to stage the photo, I have tons of stuff but I really wanted a jade milk glass pedestal, so I ran down to the store in the rain today and put the one item in my cart with several other things that I did not need…$150 dollars later, lol.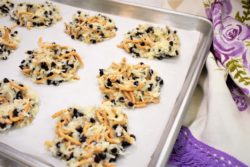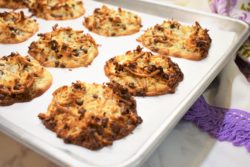 The recipe turned out so good, the chow Mein noodles gave this sweet treat that right kind of crunch along with the mini chocolate chips and the coconut, all the items worked so well together.
I love how they look, so festive!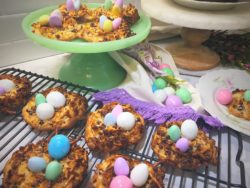 I can almost hear the birds chirping right now…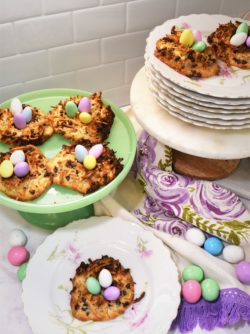 This would make a great centerpiece on any springtime brunch table, especially if you celebrate Easter.  Spring is almost here and soon the birds will be making their real nests to lay their eggs but until then, make these sweet ones; this is perfect to make with the kids.  Have fun with the variations of candies you can put in the middle, jelly beans, Jordan almonds or malted milk eggs.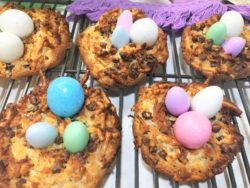 Ingredients
2 large egg whites, beaten
1 14 oz. can of sweetened condensed milk
1 14 oz. bag of shredded sweetened coconut
1 ½ cups crispy fried chow Mein noodles, usually in a can or bag
in the Asian section of your local grocery store
1 cup mini chocolate chips
2 tsp vanilla extract
¼ teaspoon salt
Small hard shelled chocolate malted egg candies and/or Jordan almonds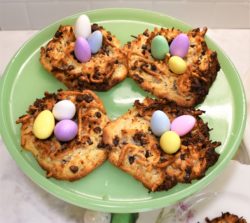 Directions
Heat oven to 325 degrees F
Whip the egg whites with an electric hand mixer or stand mixer and whip until stiff peaks form, set aside.
Mix together the condensed milk, coconut, chow mein noodles, chocolate chips, vanilla and salt, it really is stiff and sticky, I found it easier to use my hands to do this
Fold in the eggs whites, again, using your hands until mixed well.
Drop my 2 heaping tablespoons for each cookie nest on a parchment or silicone lined sheet pan, form each one into a round mound, pressing the center down to form a small nest.
Bake in the oven for 18 to 25 minutes, careful not to burn them, the edges and top should be golden to medium brown, remove from oven and let sit for about 5 minutes, while cookie nests are still warm, press 3 candies in the center to resemble birds eggs, transfer them to a cooling rack and let cool completely.
Makes 18