I'm helping with a teacher's appreciation luncheon tomorrow and I made up a menu with many different things including this coconut curry quinoa salad. There are so many flavors in this dish, a wonderful marriage of textures; the tangy & sweet curry dressing with just a bit of spice is wonderful. I wanted to make sure that I could cover a variety of diets and allergies for the teachers at this event. That said, this is vegan, protein packed and gluten free, so if there are any vegans present at this luncheon they could have this salad along with a green salad and be happy, if they aren't happy, well then they can always eat homework right?…ha, ha…
The dressing is like liquid gold here…YUM!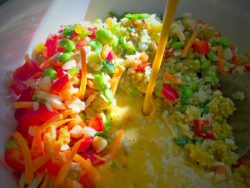 This salad is so colorful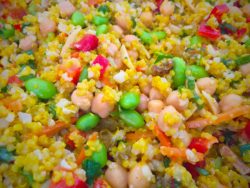 Coconut Curry Quinoa Salad
Ingredients
1 tablespoon olive oil
2 cups cauliflower rice
½ cup chopped onion
2 teaspoons chopped garlic
¼ teaspoon kosher or sea salt
¼ teaspoon coarse ground black pepper
2 cups vegetable stock
½ teaspoon cumin
½ teaspoon turmeric
1 cup quinoa
1 15 oz. can of garbanzo beans, rinsed and drained
1 cup shelled frozen Edammame beans
1 red bell pepper, chopped
1 cup shredded carrots
½ cup golden raisins
6 green onions, chopped
¼ Cilantro, chopped
¾ cup slivered almonds, toasted
Toasted coconut for garnish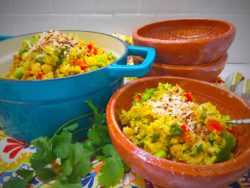 Directions
• In a medium frying pan heat the olive oil over medium heat and add the cauliflower rice, chopped onion and garlic and sauté for about 6 to 8 minutes, stirring occasionally, take off heat and set aside
• In a sauce pan over heat the vegetable stock, cumin and turmeric over high heat to boil, add the quinoa, cover and turn down to simmer for 20 minutes, take off heat and leave covered for 5 minutes.
• In a large mixing bowl combine the garbanzo beans, Edammame beans, bell pepper, carrots, golden raisins, green onions, cilantro and slivered almonds
• Add the cauliflower rice, quinoa and the dressing and mix well
• Garnish with toasted coconut and serve
• Serves 6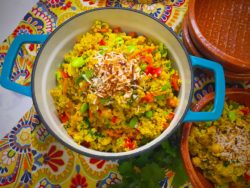 Coconut Curry Dressing
Ingredients
1 cup coconut milk
2 tablespoons rice vinegar
1 teaspoon chopped Ginger
1 tablespoon chopped shallots
½ cup Major Grey's chutney
1 tablespoon Sriracha
3 teaspoons yellow curry powder
½ teaspoon turmeric
½ teaspoon ground cumin
¼ teaspoon kosher or sea salt
¼ teaspoon coarse black pepper
Directions
• Put all the dressing ingredients in a blender or small food processor and blend until smooth.