Lavender and lemon go so well together and since its spring, I developed this cute little tart that would look great on any celebratory table for dessert. I had ordered these 2 inch diameter short bread tart shells on line on with a big seller that we all use and love.   You could make homemade tart shells for this recipe, but if you are rushed for time, these taste great and hold up wonderfully.  A party just would not be a party without some sort of sweet; I like to make petite sweets of many kinds to offer guests a variety.  These were served today at a teacher's appreciation lunch that I helped with along with other desserts and a buffet lunch.  I'm sure many of them appreciated the beautiful luncheon that was served, because we certainly appreciate them.  This would make a great dessert for a ladies tea party as well…I need to remember that; ladies always seem to be giddy over petite foods, especially desserts.
Grinding up the lavender, lemon zest & sugar together ensures a tasty tart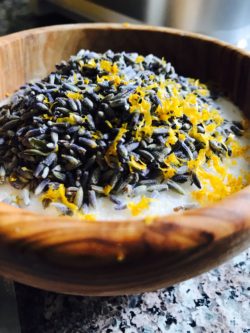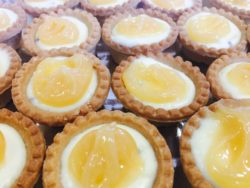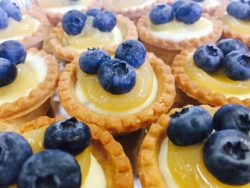 These turned out so cute!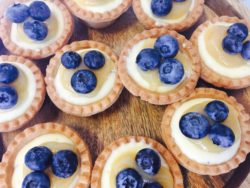 Lavender Lemon Cream Cheese Blueberry Tarts 
Ingredients
1 1/2 tablespoons dried lavender buds
2 tablespoons lemon zest
1 cup of sugar
2 – 8 ounce packages cream cheese, softened
1 teaspoon vanilla
2 eggs
1 tablespoon lemon juice
Juice from 1 lemon
25 -2 inch diameter tart shells
1 jar of lemon curd for topping
1 small package of fresh blueberries for topping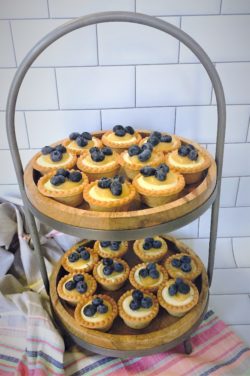 Directions
Preheat oven to 350 Degrees F
Place the lavender, sugar and lemon zest in a mortar and pestle and grind it a bit to meld the flavors really well and bring out the flavor of the lavender, alternatively you can use a small food processor and pulse it a few times, set aside
Whip together the cream cheese, vanilla, eggs and lemon juice with an electric mixer or a whisk until creamy, stir in the lavender/sugar mixture.
Divide among 25 tart shells and place in preheated oven and bake for 15 to 18 minutes, take out and let cool completely and refrigerate for at least 2 hours or overnight.
Once chilled and right before serving, spread a teaspoon of lemon curd on each tart followed by 3 blueberries and serve.