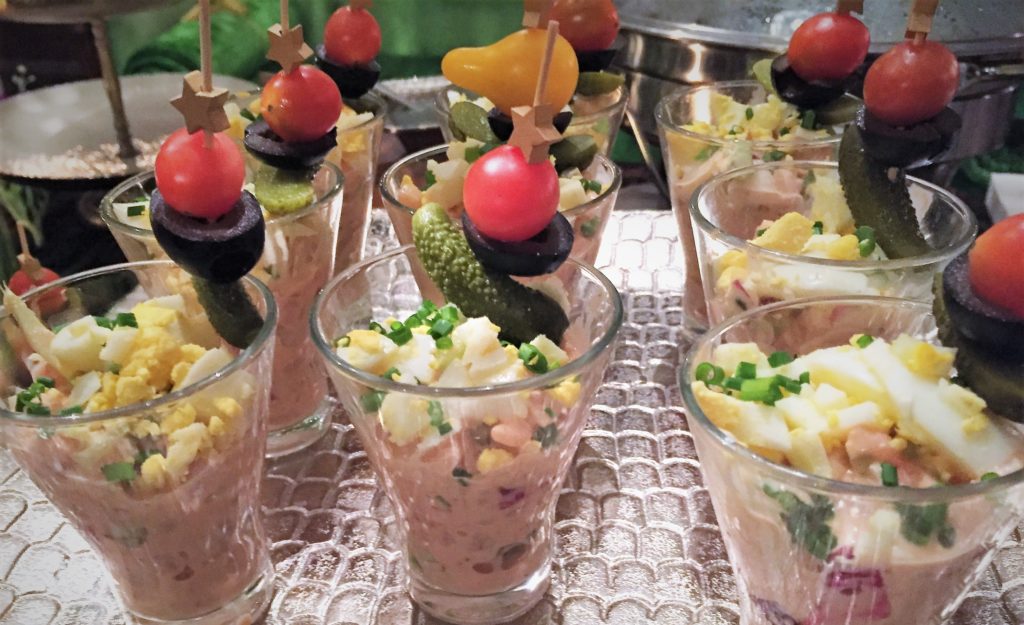 April 1, 2018 1:09 pm
Leave your thoughts
I remember as a kid while shopping with my mom, you could get the mini shrimp cocktails in a glass with a metal lid already made at the seafood department at Mayfair grocery market and many other stores, I used to love them or maybe I was just mesmerized by the shapely little glass it was served in…see, my eye for entertaining started at a very early age.   Well, many years, many parties and many variations on the theme, my recipe is definitely a step up from the bottled version on sale at "Mayfair" market…ha, ha…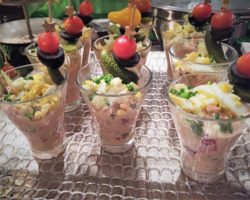 I always looked up to my mom in inspiration when we were in the kitchen together and I was always in awe of her entertaining abilities, she was and still is today, very creative…You inspire me mom, love you!
Helping my mom, or at least I thought I was helping her, I think I was 3 or 4 in this photo, I looked up to her like she was the queen!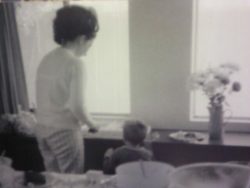 This shrimp cocktail is delicious and perfect as a light first course or really fun as a cocktail party or small bites option at a festive soiree!   It has "chopped salad" ingredients which gives this shrimp cocktail a salad like crunch that is the very opposite of boring.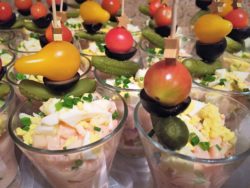 Ingredients
1 cup mayonnaise
½ teaspoon Old Bay seasoning
ÂĽ teaspoon black pepper
1/3 cup cocktail sauce
1 tablespoon lemon juice
ÂĽ teaspoon cayenne pepper
3 tablespoons brandy
2 teaspoons Dijon mustard
3 tablespoons pickle relish
1 lb. shelled, deveined cooked bay shrimp
½ cup diced celery
4 green onions, chopped
3 Belgium endive, chopped
1 red bell pepper, diced
Âľ cup diced hearts of palm
2 tablespoon capers (rinsed and drained)
4 hard-boiled eggs, chopped
Garnish, if desired
4 inch bamboo picks
Cherry tomatoes
Black olives
Mini pickles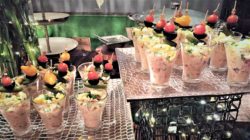 Directions
In a large mixing bowl whisk together the mayo through the relish until well combined
Toss in the remaining ingredients except the hard boiled eggs, cover and refrigerate for two hours
Divide among 8 small glasses, like a juice glass, top with chopped boiled eggs
If desired add a pick with cherry tomato, black olive and a mini pickle on it and stick into glass and serve
Makes 8 servings
More Recipes:
---
---
Tags: appetizer ideas, seafood recipes, shrimp appetizers, shrimp cocktail, shrimp louie cocktail, shrimp recipes


Categorised in: Appetizers, Seafood, Uncategorized

This post was written by Joseph Sciascia