I served these chicken sesame cilantro won-tons at a recent party and the guests really enjoyed them, I love how I served them in Asian porcelain soup spoons with a little sauce poured in them, bringing a Chinese comfort food to a sophisticated level.  I had the servers pass these to the guests but you certainly can have these on a platter with a bowl of dipping sauce on the side and not in spoons and they would be just as good…or would they? Ha, ha… I need to constantly think about new and innovative ways to serve my delicious food at parties in a "small bites" kind of way since I do so many appetizer parties and I don't like to just dump food into huge chafing dishes.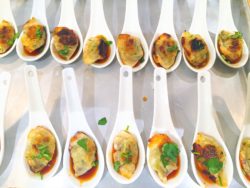 Ingredients
1 lb. ground chicken
1 egg
4 green onions, minced
1 tablespoon ginger, minced
2 cloves garlic, minced
2 cups cilantro (about ½ a bunch) roughly chopped
2 tablespoons hoisin sauce
2 tablespoons toasted sesame seeds
1 tablespoon sesame oil
2 teaspoons sriracha sauce
¼ teaspoon salt
¼ teaspoon pepper
50-60 wonton wrappers
Corn starch
Vegetable oil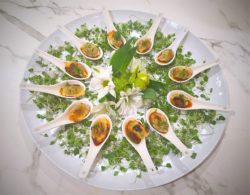 Directions
Put all the ingredients from the chicken through the pepper into a food processer and blend well until a fine mince like paste. If you don't have a food processer, mix all items well in a large bowl, making sure the cilantro is finely minced beforehand.
Take a wonton wrapper and wet the edges a bit with water from your fingers and place a tablespoon of chicken mixture in the center, fold over press together  cinching the edges down so you have a rounded bundle, repeat with remaining wonton wrappers and filling
As you make the wontons, place them on a parchment lined sheet pan sprinkled with a couple of teaspoons of corn starch to prevent sticking on a single layer
Heat 2 tablespoons of oil in a large nonstick frying pan over medium-high heat, when the oil is hot, place the wontons in a single layer in the pan, not to crowd them and cook for about a minute until bottoms begin to brown, turn them over and add a 1/2 cup of water and cover, cooking for 3 minutes; uncover and cook until all liquid has been evaporated and the wontons are crisp, about 3 minutes more; repeat with remaining wontons and place on a paper towel or parchment lined sheet pan until ready to serve.
Serves 8 to 12 as an appetizer
Serve with dipping sauce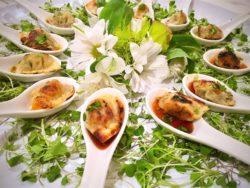 Asian Chili Cilantro Soy Dipping Sauce
Ingredients
2 teaspoons minced or grated fresh ginger
1/2 cup tamari or low sodium soy sauce
2 teaspoons sesame oil
2 teaspoons chili garlic sauce like the brand Huy Fong
3 tablespoons sweet chili sauce like the brand Mai Ploy
1 tablespoon honey
2 tablespoons chopped cilantro
Juice from 2 limes
Directions
Whisk all ingredients together or put into a blender for a few seconds until well combined
Enjoy with your favorite Asian inspired cuisine like pot stickers, won-tons or egg rolls.