I think that the best gifts to give are homemade and with today's busy lives, I find it rare to receive a homemade gift.  The homemade gift represents the main thing that goes into it and that is time, many of us don't have the time in our lives for such luxuries.   You can certainly give a gift of an art or craft like a painting, hand knitted scarf or hat, but sometimes I feel that those things are so personal that they end up in the back of a closet collecting dust.  Gourmet food gifts like, jam, cookies or this awesome granola I feel go over very well, who doesn't like kitchen crafted goodies?  For a grander gesture, tuck this bag of granola in a gift basket of other goodies that you can make like, jam, cookies or even vanilla…I have a large jar of that sitting on my pantry shelf waiting for the "mature date".  I'm sure the recipient will be overjoyed with this peanut butter chocolate chip granola, so much so, that the people that I've given it to don't even pour milk over it, they eat it right out of the bag…that's the point of it, right?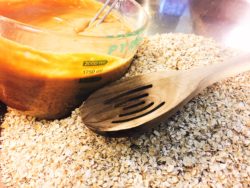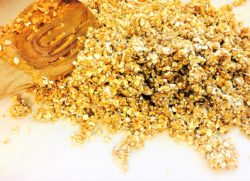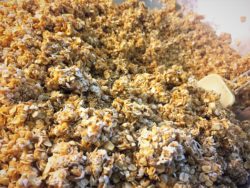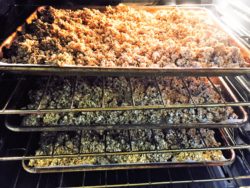 Ingredients
2 ½ cups old fashioned oats
1/2 cup crunchy peanut butter
¼ cup of honey
1/3 cup of oil
¼ cup of maple syrup
3 Tbsp. packed light brown sugar
1/3 cup semi-sweet or milk chocolate chips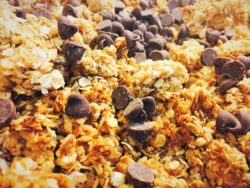 Directions
Preheat oven to 325 degrees. Pour oats into mixing bowl, set aside.  In a microwave safe mixing bowl, combine peanut butter, honey, oil, maple syrup and brown sugar and heat mixture until smooth and running, about 30 seconds to one minute, check halfway and stir.
Mix peanut butter mixture with the oats and spread evenly over parchment lined sheet pan until golden brown, about 20 minutes. Stir halfway through.  It will get crunchy once completely cooled.
Add chocolate chips to cooled granola and put into airtight container for up to a week and freeze after that.