I'm helping with a dinner party tonight at a home on the beach and I wanted to give a treat giveaway to each guest that would incorporate the "beach theme".  I knew that there was one guest that is gluten free so I developed a recipe for these key lime coolers with corn meal in them.  The cornmeal worked great and gave the cookies a nice crunchy texture.  Not for just people with gluten allergies, everyone will enjoy them.  I'm giving these cookies along with a jar of my home made "beach house seasoning", you can get that recipe on this post here: http://recipeforaparty.com/1596
I love giving party guests gifts at small intimate dinner parties, a fun way to remember the party.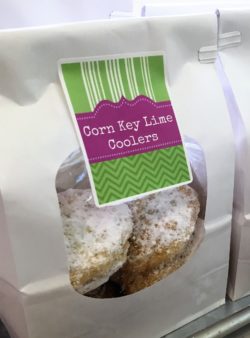 Gluten Free and Delicious!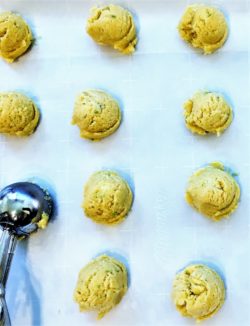 Ingredients
1 cup of room temperature unsalted butter
1 ½ cups sugar
1 egg
¼ cup key lime juice
1 tablespoon key lime zest
1 teaspoon vanilla
1 ½ cup of gluten free flour
1 tablespoon corn starch
1 ½ cup cornmeal
1 teaspoon baking powder
¼ teaspoon salt
2 cups confectioners' sugar for dusting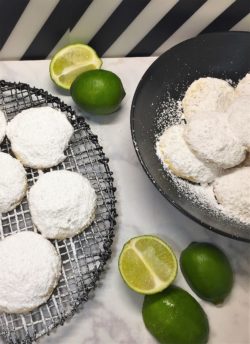 Directions
In a mixing bowl, combine the butter, sugar and egg and mix with a stand mixer or hand mixer and mix until creamy, add the lime juice, zest and vanilla an mix in, set aside
In another bowl combine the flour, corn starch, cornmeal, baking powder and salt and with a whisk, stir it around so it's all combined.
Add to the wet ingredients 1 cup at a time and mix in until well blended
Cover and let rest in the refrigerator for half an hour
Preheat the oven to 350 degrees F
Drop the cookie batter in 1 inch ball onto a parchment lined sheet pan, I used a small cookie scoop
Bake in the oven for 20 minutes or until golden and sprinkle with confectioners sugar
Makes 40 cookies