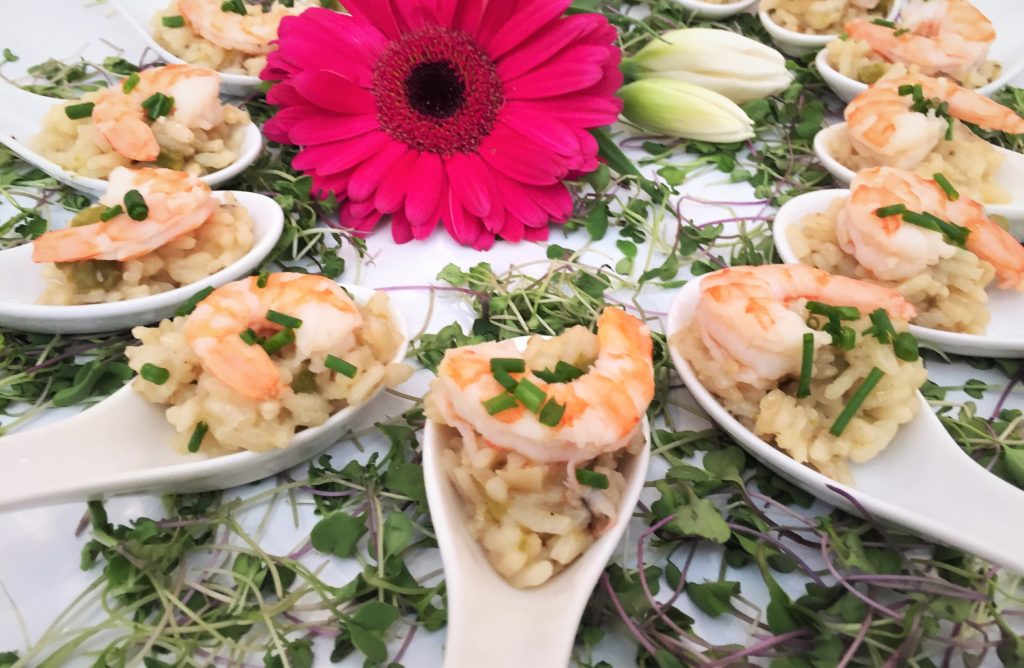 May 29, 2018 9:22 am
Leave your thoughts
Asparagus is a wonderful spring vegetable and it's at the peak of the season for the freshest available.  I love asparagus, the earthy sweet flavor is unlike so many vegetables out there and it's so versatile in so many dishes. My recipe for this creamy risotto goes so well with asparagus and shrimp, and yes, I did add cheese to this.  So many people don't like to use cheese with seafood but I love it, you can't opt to not have it in this dish but in my opinion, risotto without cheese is like a day without sunshine, it will be sad.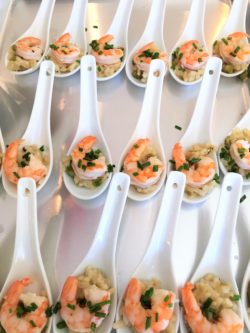 This dish is also very versatile as a cocktail hor oeuvre when served in a sophisticated way in porcelain Asian soup spoons, this way it give the party guests a chance to savor the goodness of risotto in a small bite rather than a big bowl.   You can still enjoy this as a main dish with your family and friends at dinner served with a crisp salad and perhaps some crusty French bread.  Remember to think outside the box when serving guests at your parties and then the food possibilities are endless.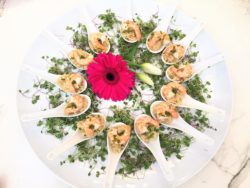 Risotto with Asparagus & Shrimp
Ingredients
4 cups of chicken stock or you can use vegetable broth
1 Tablespoon unsalted butter
1 tablespoon olive oil
½ cup minced shallots
3 cloves garlic, chopped
¼ teaspoon red pepper flakes
1 cup Arborio rice
1 tablespoon fresh tarragon, chopped
¼ teaspoon salt
¼ teaspoon coarse black pepper
1 cup dry white wine
1 cup freshly grated Parmigiano Reggiano cheese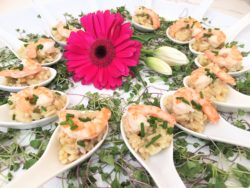 Directions
Heat the chicken stock/broth in saucepan and turn down to simmer
In separate heavy 6 quart pot, heat the butter and oil over medium heat and add the shallots, garlic, pepper flakes, cook until translucent, about 4 minutes, add Arborio rice and cook just until golden brown, stirring occasionally about 3 minutes.
Add 2 ladles of hot stock and stir, letting the rice absorb the stock before adding another 2 ladles and let absorb again, stirring occasionally, add the remaining stock, tarragon, salt, pepper and wine and stir.
About the 15 minute mark, add the shrimp & asparagus, stir in and add the cheese
Total cooking time is about 20 minutes, or until rice is soft and creamy
Serves 4 to 6
Shrimp & Asparagus
Ingredients
1 tablespoon olive oil
1 pound peeled and deveined raw shrimp
½ pound Asparagus, trimmed and cut on diagonally about ½ inch pieces
Pinch of salt & pepper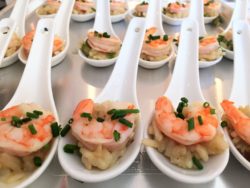 Directions
Heat the olive oil in a sauté pan over medium/high heat, add the Asparagus and sauté for 4 minutes, stirring occasionally, add the shrimp and sauté for only about 2 minutes until bright pink, Stir into the risotto during the last 5 minutes of cooking.
More Recipes:
---
---
Tags: asparagus recipes, risotto recipes, Risotto with Asparagus & shrimp, seafood risotto


Categorised in: Appetizers, entrees, Seafood

This post was written by Joseph Sciascia