Comfort foods come in all flavors, categories and most importantly traditions.  I'm sure we all have that passed down recipe scribbled on a coffee stained recipe card from Grandma Betty or Aunt Shirley that we make over and over again.  They are all good for the main reason that they comfort us and conjure up memories of family get togethers and everyone is counting on Aunt Shirley's hash brown casserole.   I don't have an Aunt Shirley but I've seen many of them at barbecues, pot lucks and memorials, she is kind, dressed well, sometimes loud and sometimes quiet and has that unforgettable laugh that can be oh so contagious in many ways and she walks into the room holding on to that hash brown casserole with all her might and won't tell anyone the recipe even though we all know it anyway.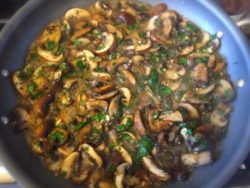 Don't get me wrong, the basic hash brown casserole can be good but I've had my fill of it over the years and I wanted to make a new version of the classic with a bit more of a sophisticated spin on it.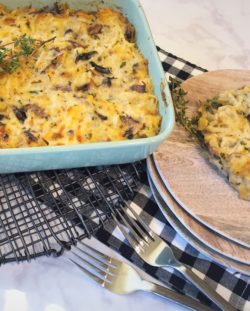 This upper class casserole can certainly be served at brunch, lunch, barbecues or memorials, serve it with a simple green salad and have a chilled glass of ice tea with it, I'm sure Aunt Shirley will be looking at you and the dish with a discerning eye, but once she tastes it, she will agree as well that this could be a new family classic.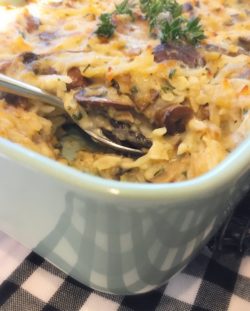 Ingredients
3 tablespoons butter
1 tablespoon olive oil
½ cup chopped shallots
2 teaspoon chopped thyme
2 cloves of garlic, chopped
1 teaspoon kosher salt
½ teaspoons coarsely ground black pepper
1 lb. of sliced cremini or button mushrooms
½ cup sweet Marsala wine
¼ cup chopped Italian flat leaf parsley
1 can of cream of mushroom soup
2 cups of cream
¼ teaspoon cayenne pepper
2 cups of grated gruyere cheese
½ cup grated Parmigiano cheese
1 lb. 14 oz. bag of frozen hash browns, thawed
2 quart baking dish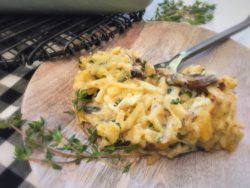 Directions
Preheat oven to 350 degrees F
Heat the butter and olive oil in a medium frying pan over medium/high heat and add the shallots, thyme, garlic, salt, pepper and mushrooms, stirring occasionally until the mushrooms are caramelized and golden brown and most of the liquid has been cooked off about 5 minutes
Add the sweet Marsala wine and parsley and cook until the liquid is absorbed, stirring occasionally, about another 5 minutes turn off heat and set aside.
In a large mixing bowl, whisk together the can of soup, cream, cayenne pepper and stir in the gruyere cheese, Parmigiano cheese
Add the mushrooms/shallot mixture and hash browns stir well until everything is combined.
Spoon into a greased or sprayed 7X11 inch 2 quart casserole, baking dish or 10 inch cast iron skillet and spread evenly
Place in the oven and bake for 35-45 minutes or until golden brown
serves 6