I enjoy serving gourmet food in "small bites" and so many people come to me with this request more than any other.  Serving different dishes in an unconventional way to party guests always puts a smile on my face when I see their surprise as they embark on the gourmet journey with me.  One course that is particularly fun to serve this way is soup and serving it in small glasses to guests is a way of having this warm and comforting dish as an appetizer.   Comforting and creamy soups like bisque is a perfect way to warm up those chilly souls on a cold day or night.  My recipe for this shrimp bisque basks in flavor with hints of sherry and brandy that give it a rich, deep flavor and the creaminess comforts you as it trickles down your throat.   Clink your soup glasses and celebrate every moment with a smile on your face for this coming New Year.  May you embark on new gourmet adventures in style and remember that this is definitely a recipe for a party!
No party is complete without soup!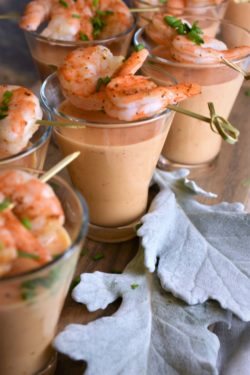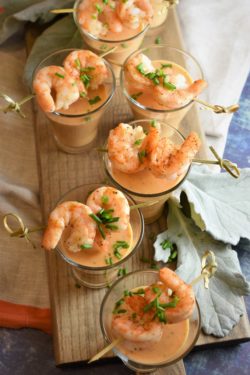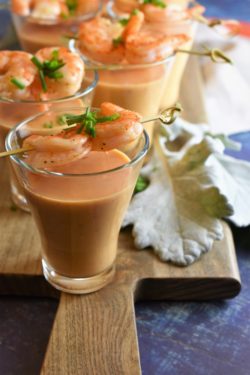 Clink your glasses and celebrate flavor!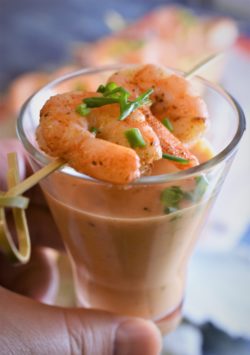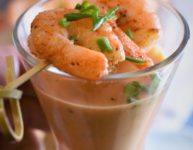 Shrimp Bisque Shooters with Sherry & Brandy
This rich and creamy soup is full of shrimp flavor with hints of sherry & brandy
Servings
6
or more people
Ingredients
3

tbsp

butter

1

tbsp

olive oil

4

tbsp

shallots, chopped

1

lb

medium or large shrimp, peeled and deveined with tail on

2

tsp

garlic, chopped

1

tsp

old bay seasoning

1

tbsp

dried tarragon or 2 tbsp fresh tarragon, chopped

1/4

cup

brandy

1/4

cup

cream sherry

4

tbsp

all-purpose flour

1/2

tsp

black pepper, course ground

3

cups

fish stock

1

14.5

can condensed tomato soup

1 1/2

cups

heavy cream

1/4

tsp

cayenne pepper

1

orange, zested and juiced

chopped chives or tarragon for garnish

a few extra shrimp for garnish if you like
Instructions
Melt the butter and olive oil at medium high heat in a heavy bottomed 6 quart pot; add the shallots and sauté for 3 minutes, stirring occasionally

Add the shrimp, garlic, old bay seasoning and tarragon and continue to cook for 3 more minutes until shrimp are pink, stirring occasionally and turning them over to cook evenly

Add the brandy and sherry, stir and let cook for 2 minutes

Turn off stove and with tongs remove the shrimp and ( leave the other contents in the pot,) onto a plate to cool slightly and remove the tails off the shrimp, discard the tails and roughly chop the shrimp; this should only take about 4 minutes

Turn heat back on to medium and in the same pot add the flour and black pepper and whisk until well blended and cook for 2 minutes, scraping sides and whisking

Add the fish stock and tomato soup and whisk until well blended

Add back in the shrimp, heavy cream and cayenne pepper and stir, cook for another 8 minutes or until comes to a low boil

Add the orange zest and juice, turn off heat

With an immersion blender, puree soup until smooth, alternatively you can use a regular blender but make sure to blend in batches since heat rises.

Make 8 cups, serves 4 to 6 in a bowl or Serves 12 to 16 or even more as an appetizer depending on what size of small glass you serve it in, like a shot glass or small juice glass