Are you like me and received gift baskets for the holidays with tons of pears? And what do you do with them all?  So this week I'm making a few recipes with them.  The first is this delicious compote that I came up with that is fabulous pork chops.  Traditionally apple sauce is the first choice winner with pork chops but I think this pear compote might be a strong competitor. The best is that you can prepare the quick compote and season the pork chops the night before you make them.  This always takes the stress out of entertaining your dinner guests or any weekday meal when you can prepare part of your course ahead of time, plus the flavor comes together much nicer as the compote rests in the fridge and the pork chops marinate over night.
This made for a great rainy day dinner along with roasted asparagus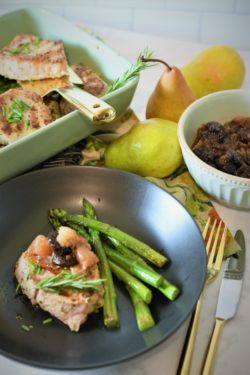 This sweet & tangy compote with notes of ginger go so well with pork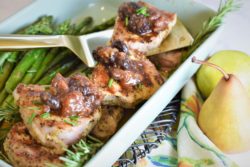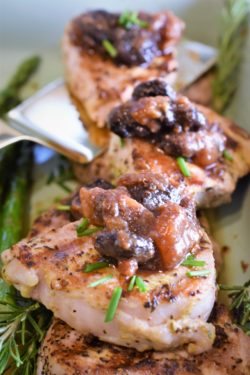 Hungry yet? Open wide…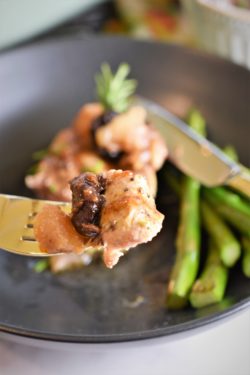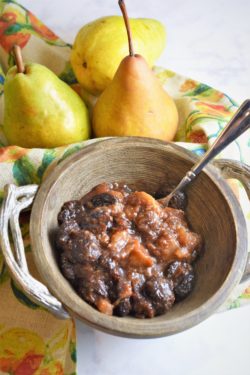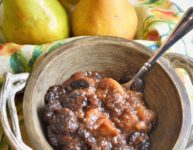 Dijon Pork Chops with Pear, Ginger & Cherry Compote
This easy pork dish is perfect for any weekday meal or a dinner party and most of the recipe can be prepared a day ahead.
Ingredients
6

pork chops

1

tsp

garlic salt

1

tsp

course ground black pepper

2

tbsp

olive oil

2

tbsp

Dijon mustard

2

tso

herbs de Provence
For the pear compote
4

large pears, peeled, cored and large diced

1/2

cup

shallots, minced

3

tbsp

butter

1

tbsp

grated ginger

1/2

cup

dried cherries

1/2

tsp

cinnamon

1/4

cup

cream sherry

1/4

tsp

kosher salt
Instructions
Generously season both sides of the pork chops with garlic salt & pepper, set aside

In a re-sealable bag, mix together the olive oil, Dijon mustard and herbs de Provence with a whisk place the pork chops in the bag and seal bag, rubbing pork chops in bag making sure they are all coated with the mustard mixture.

Place in the refrigerator for at least two hours or best overnight

Take pork chops out of the refrigerator at least half an hour before cooking In a heavy skillet or gill pan over medium high heat, cook the pork chops 5 minutes on one side, flip over and another 5 minutes on the other or until a meat thermometer reads 145 degrees, loosely cover with foil and let rest 2 to 4 minutes before serving .
For the pear compote
In a medium sauce pan, add the butter and shallots over medium high heat and sauté for 2 minutes

add the remaining ingredients bring up to a boil and turn down to low and cook stirring occasionally for 8 more minutes

let cool for half an hour and serve alongside the pork chops or refrigerate the compote once cooled and serve the next day (my preference since the flavor develops better), if serving the next day, take out of the refrigeration and let rest for a half hour to come to room temperature.