Vegetable Ranch Cream Cheese Tarts-Joseph
Makes 30 tarts
Have you grown tired of staring at a sea of vegetables at your parties?  Don't get me wrong, I have done many delicious vegetable crudités in my career and still do them, people love them.  This is a new twist on classic vegetable crudités, a bite size option that is perfect at all get-togethers especially  at parties where you want all your hor d'oeuvres passed or you simple don't have the space for a large vegetable platter.  I'm sure that serving vegetables this way will entice your party guests … you might even get the kids to eat their veggies with this appetizer.   Now eat your vegetables or no dessert for you!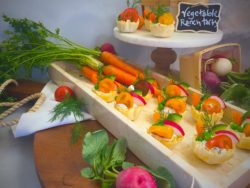 Ingredients
1 8 oz. container of whipped cream cheese
1/3 cup of Greek yogurt
1 tablespoon of ranch seasoning mix
¼ teaspoon coarse ground pepper
Zest and juice of 1 lemon
2 tablespoons of minced fresh chives
2 tablespoons of chopped fresh dill plus more sprigs for garnish
2 large radishes, quartered and sliced thin
About 9 grape tomatoes, thinly sliced
1 small English cucumber, cut in half lengthwise and sliced
8 baby carrots cut lengthwise into quarters
3 tablespoons of thawed frozen petite peas
2 boxes of fillo cups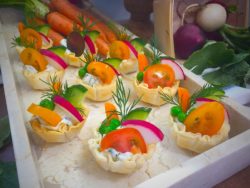 Instructions
In a medium bowl combine the cream cheese, yogurt, ranch mix, pepper, lemon, chives and dill
Spoon about a teaspoon into each fillo cup and arrange the vegetables in the top, partly in the cream cheese mixture, 1 slice of cucumber, 1 slice of radish, 1 slice of carrot, tomato slice and lastly 3 peas.
Garnish with a sprig of dill and serve on a platter