Clafoutis is a traditional French desert, a crust less custard pie with fresh cherries so to say….but I was craving something savory with butternut squash, so I created this most delicious dish.   My kitchen smelled amazing as the aroma danced in the air and the minute I pulled them out of the oven, all puffy and golden orange I just about fainted because they were so beautiful.  The minute my fork went into this light, cheesy and savory dish, I knew my mouth was in for a treat.   The sweetness of the roasted butternut squash blended with the herbs, sharp cheddar and just a hint of cayenne was simply amazing. This will be a star at your next dinner table, lunch or brunch paired with a light salad.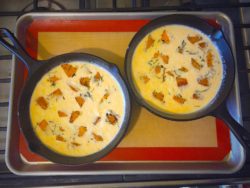 Ingredients
12 ounces of butternut squash cut into 1 inch cubes
2 teaspoons olive oil
1 teaspoon fresh chopped rosemary
1 teaspoon fresh thyme
¼ teaspoon kosher salt
¼ teaspoon coarse black pepper
1 ½ cups whole milk
4 large eggs
½ cup of flour
¼ teaspoon cayenne pepper
¼ cup of Parmesan & Romano blended cheese
2 cups of extra sharp cheddar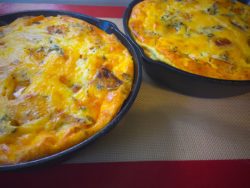 Instructions
Preheat the oven to 400 degrees F
Place the butternut squash in a bowl and toss with olive oil, rosemary, thyme, salt & pepper and pour onto a non-stick sprayed or oiled sheet pan and roast for 20 minutes or until almost fork tender, set aside
While squash is in the oven, in a mixing bowl combine the eggs, milk, flour and cayenne pepper and mix well, add the cheeses and combine
Butter a 10 to 12 inch cast iron pan or oven safe skillet and pour batter into pan and sprinkle the butternut squash evenly over the surface of the batter
Turn down oven to 375 degree F and bake until puffed and light golden brown around the edges, about 45-50 minutes.
Let cool for 15 minutes and sprinkle with additional parmesan cheese blend and garnish with cut chives and serve warm. Serves 6 to 8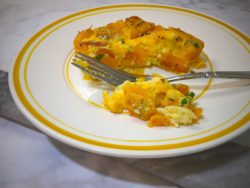 Note: You can make it in one cast iron skillet or baking dish, but I opted to use 2, 6 inch skillets, if using 2 skillets, make sure to bring the cooking time down to about 35 minutes.