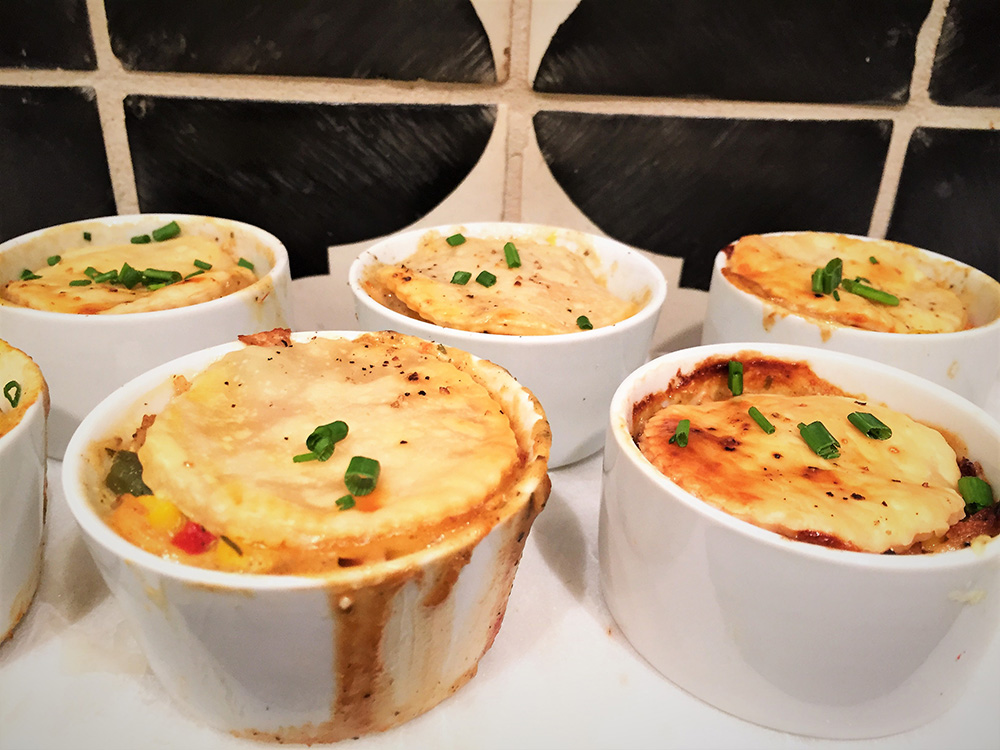 December 10, 2017 7:55 am
Leave your thoughts
One objective that I always have  with what I do is think of what food people like and make it an appetizer size so people at parties can enjoy their favorite foods and not to be limited to the standard party fare.  These mini chicken pot pies move from the family dinner table to a festive party by just filling small ramekins and topping with pie crust, it could not be easier.  Surprise your family and friends at your next party by providing them with this classic comfort food in bite size form.  This recipe also makes one standard pie size if you want to make it for dinner.
Ingredients
1 can of cream of mushroom soup
1 teaspoon dried tarragon
1 teaspoon poultry seasoning
½ teaspoon coarse ground black pepper
¼ cup of cream sherry
¾ cup of chicken stock
2 tablespoons of butter
½ cup of chopped onion
2 teaspoons chopped garlic
1 rib of celery, chopped
1 ½ cups of cooked chicken, shredded or cubed
2 cups frozen mixed vegetables, carrots, peas, green beans, corn, thawed
1 jar of chopped pimentos, drained
¼ cup Parmesan cheese
2 crust from a box of refrigerated pie dough
1 egg mixed with 1 tablespoon of milk
16 – 2 oz. Ramekins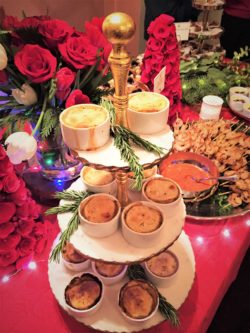 Directions
In a medium bowl, mix together the mushroom soup, tarragon, poultry seasoning, black pepper, cream sherry and chicken stock, whisk well until blended, set aside.
Melt the butter in a large skillet on medium heat on the stovetop and add the onion, garlic and celery, sauté for about 5 minutes, stirring occasionally.
Add the cooked chicken, mixed vegetables, pimentos, parmesan cheese and stir well until mixed through, turn off stovetop and set aside.
Preheat oven to 400 degrees F
Divide the mixture among the 16 ramekins, with a round cookie cutter the size of the ramekin, cut rounds out of the pie dough and place on top of each ramekin
Scramble the egg with the milk and brush the top of each pot pie
Place on a parchment or silicone mat lined sheet pan and bake in the oven for 20 to 30 minutes or until crust is golden brown.  Serves 8 to 16 as an appetizer or 6 to 8 as an entrée
NOTE: this recipe can also make one whole chicken pot pie, use one pie crust on the bottom and sides of a glass or ceramic pie plate pressing the sides and the bottom, pour filling in and top with the other pie crust, crimping the edges and making a small X on top of the pie to vent, brush with egg wash.   Bake in oven for 30 to 40 minutes until golden brown: serves 6 to 8.
More Recipes:
---
---
Tags: chicken pot pie, chicken pot pie appetizers, chicken pot pie with tarragon, chicken recipes, family dinner recipes, mini chicken pot pies


Categorised in: Appetizers, chicken dishes, entrees, Uncategorized

This post was written by Joseph Sciascia