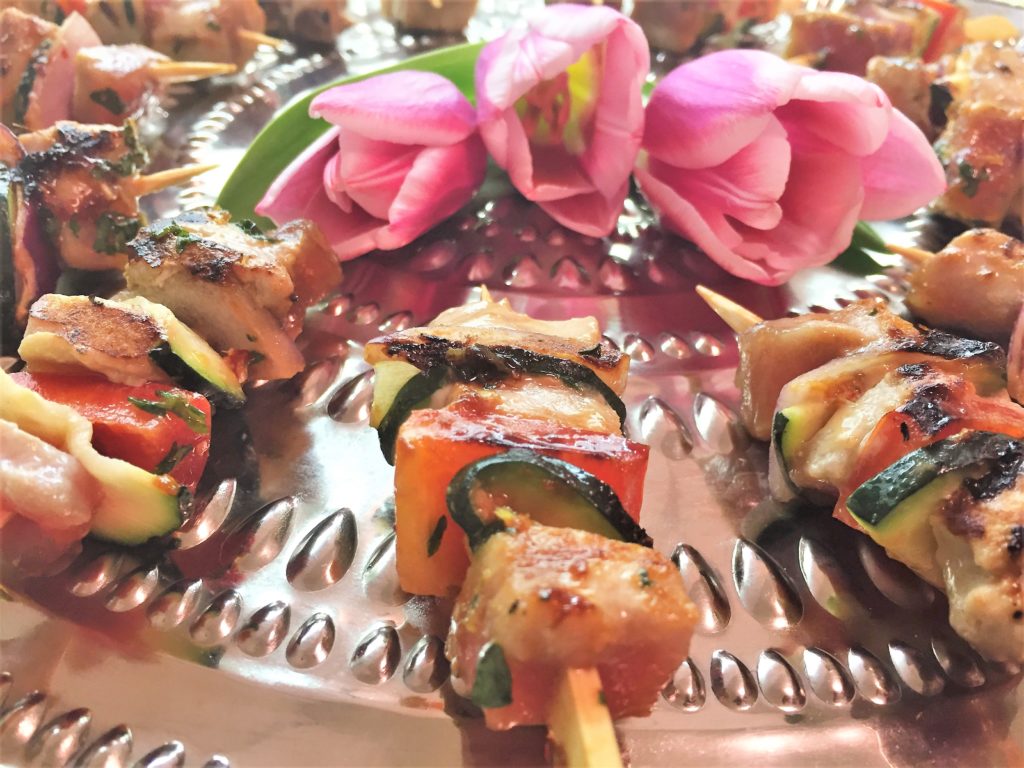 February 2, 2018 6:08 pm
Leave your thoughts
These mini Asian Tuna Kabobs are the perfect party appetizer for that special celebration.  This would be a great way to ring in Chinese New Year, the marinade is so delicious that it would go great on other dishes like pork or chicken, it's very versatile.  I made these kabobs as one of many small bites for a recent "sweet sixteen" birthday party.  Kids these days have such a sophisticated palette, I didn't even know what Ahi tuna was when I was sixteen, but I grew up in Carson City, Nevada…the town was a little secluded back then.  I hope you enjoy this recipe; it may become one of your favorites.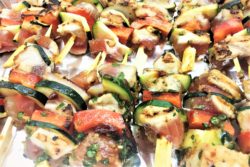 Ingredients
24- 4 inch bamboo skewers, soaked in water for 30 minutes
2 lbs. ahi tuna cut into ½ inch squares
1 tablespoon Fresh grated ginger
1 tablespoon lemon grass paste
3 tablespoons Brown sugar
2 cloves of garlic, minced
½ cup low sodium Soy sauce
2 tablespoons sesame oil
1 tablespoon Sriracha
2 tablespoons chopped cilantro
2 Red bell peppers
1 Red onion
1 Zucchini
2 tablespoons vegetable oil
1 tablespoon Black sesame seeds
1 tablespoon Brown sesame seeds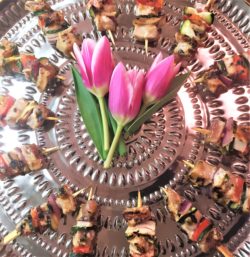 Instructions
Soak the bamboo skewers in hot water in a glass for at least 30 minutes.
Cut the tuna into ½ inch squares and set aside
In a small bowl mix together the grated ginger, lemon grass paste, brown sugar, garlic, soy sauce, sesame oil, Sriracha and cilantro, pour marinade over tuna, mix well and set aside in the refrigerator for 15 minutes.
Cut the bell pepper into small ½ inch squares
Cut the red onion into small ½ inch squares and pull apart so each onion piece is separate.
Cut the zucchini lengthwise through the center and then slice into thin "half-moons"
Remove the marinated tuna from the refrigerator and take one bamboo skewer and thread a piece of tuna onto it followed by a piece of zucchini, red bell pepper, another piece of tuna, a piece of onion, followed again by a piece of zucchini, red bell pepper and then a piece of tuna…there should be 3 pieces of tuna on each skewer. Repeat with the remainder of the skewers, and set aside
Heat up a grill pan on the stove and brush it with vegetable oil and heat to medium/high heat and grill the skewers until there is a good sear, turning once. (The tuna kabobs that are pictured are medium rare, feel free to cook them how you like) Watch carefully, since they are small they do cook fast.  Sprinkle with black and brown sesame seeds and serve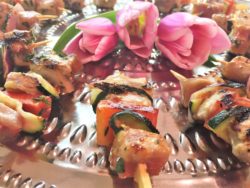 Makes 24 small appetizer sized skewers, enough for 8 to 12 party guests.
More Recipes:
---
---
Tags: Ahi tuna kabobs, fish appetizer recipes, fresh tuna recipes, seared tuna skewers, tuna appetizer recipes, tuna kabobs


Categorised in: Appetizers, Uncategorized

This post was written by Joseph Sciascia