My recipe for these rosemary pork tenderloin skewers with chipotle cherry port sauce turned out amazing and is perfect for any party.  "Meat on a stick" internationally has been so popular for centuries because of the portability of serving it and ease of cooking it.  That's why you see this street food staple at so many fairs, outdoor markets and restaurants.  I've served so many different skewered meat, chicken or vegetable kabobs over the years and they always put a smile on party guests' faces.  I came up with this recipe because I wanted to serve something exciting for a change instead of always serving beef or chicken satay and not everyone is a fan of curry.  No need to wait for cherries to be in season, I used frozen pitted cherries in the sauce and it turned out delicious with a slight kick from the heat of chipotle chili. This isn't your mamas pork chops and apple sauce, there's nothing wrong with that, believe me, I always asked my mom to make that for me when I was a kid and I poured the apple sauce all over my pork chops.  Sweet sauces go so well with pork and I think my cherry sauce really raises the bar for any ordinary "pork chop" or in this case, pork skewers.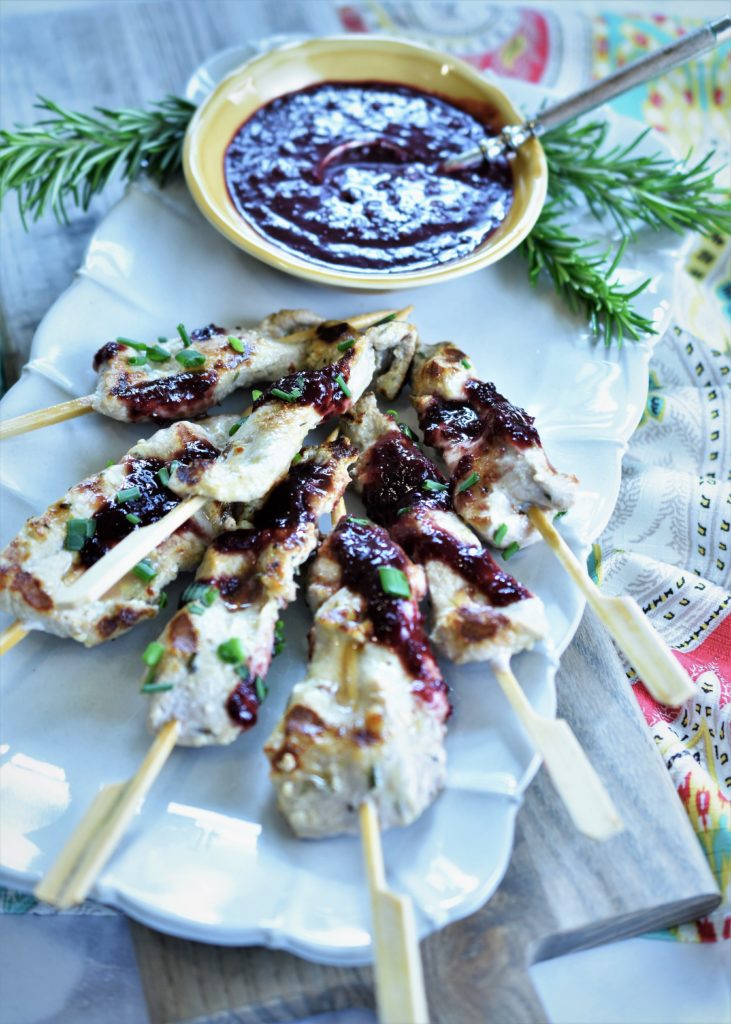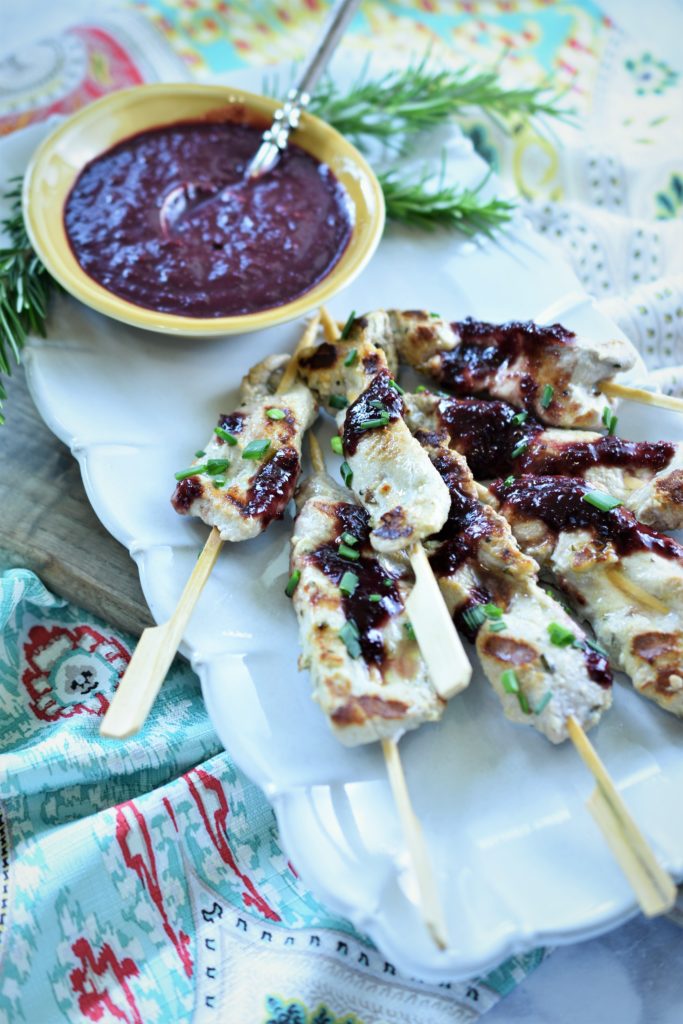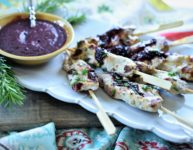 Rosemary Pork Tenderloin Skewers with Chipotle Cherry Port Sauce
These tender pork skewers are perfectly paired with the sweetness of the cherry sauce with just a bit of heat to keep the party going!
Ingredients
2

tbsp

Dijon mustard

2

tsp

minced fresh Rosemary

1/4

cup

olive oil

1/3

cup

white wine

1/2

tsp

kosher salt

1/4

tsp

course black pepper

1/4

tsp

chili pepper flakes

1

tsp

minced garlic

1

lemon, juiced

2

lbs

pork tenderloin

24

bamboo skewers
Chipotle Cherry Port Sauce
2

tbsp

butter

1

shallot, minced

1

tsp

minced garlic

1

tsp

caraway seeds

1

tsp

fresh Rosemary, minced

1 1/2

cups

frozen pitted cherries, thawed and cut in half

1

cup

Ruby Port wine

3

tbsp

cherry preserves

1

tbsp

chipotle chili in adobo, minced

1/4

tsp

kosher salt

1/2

tsp

coarse ground black pepper
Instructions
In a bowl mix together the Dijon mustard, rosemary, olive oil, white wine, salt, pepper, pepper flakes, garlic and lemon juice. This will be the marinade for the pork. Set aside

Soak the bamboo skewers in hot water for 15 minutes

Cut the pork tenderloin in half vertically, and cut into 1 inch strips horizontally adding to the marinade, mix well, cover and refrigerate for at least an hour.

while the pork is marinading in the fridge, In a medium saucepan over medium/high heat, melt the butter and add the shallot, garlic, caraway seeds and rosemary. Stirring occasionally, let cook for 4 minutes

Add the cherries, port wine, cherry jam, chipotle chili, salt & pepper and bring to a slight boil and then turn down to medium and let cook, stirring occasionally for 10 minutes

With a hand immersion blender puree until smooth, let sauce reduce on simmer for another 12 minutes, set aside to cool. (Alternatively you can use a stand blender but pour back into the sauce pan so it can reduce)

Thread each piece of pork onto a bamboo skewer

Heat a stove top grill or outdoor grill on medium/high and brush with some oil, grill the pork skewers for about 3 to 4 minutes on each side until there are some nice grill marks.

Drizzle sauce over pork skewers and serve some extra sauce on the side for those that want their skewers extra saucy

Options: this sauce would be great over duck, chicken thighs, turkey and of course, pork chops as well.