I'm still cooking Mexican food this week and I made some mini Chili Relleno tarts for a party for Saturday.  I love creating recipes for any party, especially a themed party.  This is one of the appetizers I'm serving for a co-ed baby shower with a Mexican theme on Cinco de Mayo.  I love Mexican food and these tarts are a nod to the traditional Chile Relleno that I love but in a sweet little bite as an appetizer.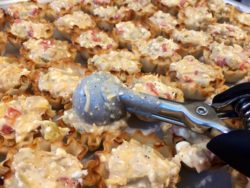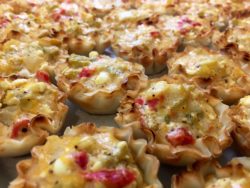 Ingredients
2 teaspoons olive oil
½ cup chopped onion
2 cloves garlic, chopped
8 ounces of cream cheese, softened
2 eggs
1 teaspoon dried oregano
1 teaspoon chili powder
½ teaspoon coarse ground black pepper
Pinch of salt
1 4 oz. can diced Hatch chilies, mild or hot
1 4 oz. jar of diced pimientos, drained
½ cup crumbled Cotija cheese
½ cup shredded sharp cheddar cheese
2 packages of phyllo cups (15 in each package)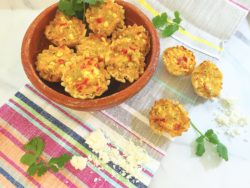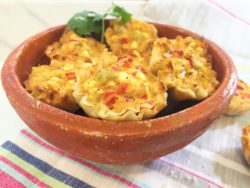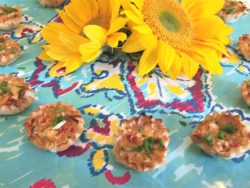 Directions
Preheat oven to 350 degrees F
Over medium heat, pour the olive oil in a small sauce pan and add the onion and garlic and sauté for 5 minutes, stirring occasionally, set aside to cool.
In a medium mixing bowl, combine the cream cheese and eggs and whip by hand or with a mixer and blend until smooth
Add the oregano, chili powder, black pepper, salt, chilies and pimientos, stir until well combined
Stir in the Cotija cheese and the cheddar cheese
Spoon into the phyllo cups and bake on a parchment lined sheet pan for 20 minutes or until golden brown. Let cool for 5 minutes and serve immediately.  Makes 30 mini tarts.