This creamy baked triple onion dip is a triple threat to your taste buds. Because this rich baked dip has three kinds of onions. Making this dip vegan since my partner is vegan plus anyone that has a dairy allergy can serve this scrumptious appetizer. Since the holidays are among us so are the dips, appetizers and snacks. Of course I'm always looking for something to snack on but the holidays gives me another excuse to do so.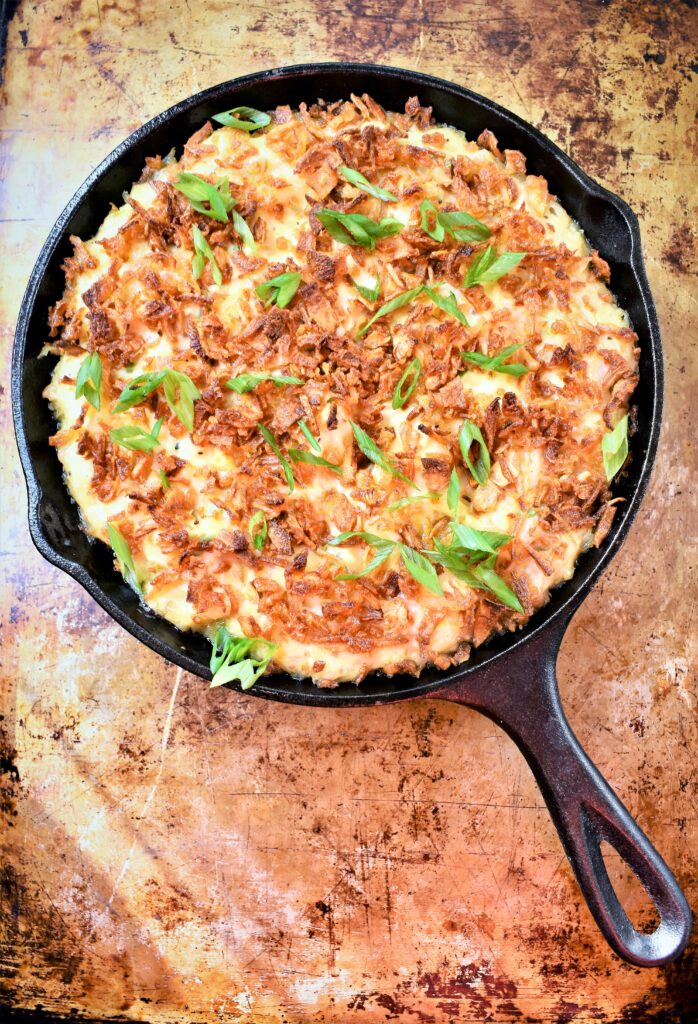 In fact I love appetizers and small bites so much that I can eat it as a meal don't you? Furthermore when I was a caterer most of the menus that I served party guests were a collection of small bites. Therefore I already know the answer that most of us prefer small bites. With this in mind this baked triple onion dip might qualify as a small bite. That depends how much you spread on your cracker or how much you eat by the spoon.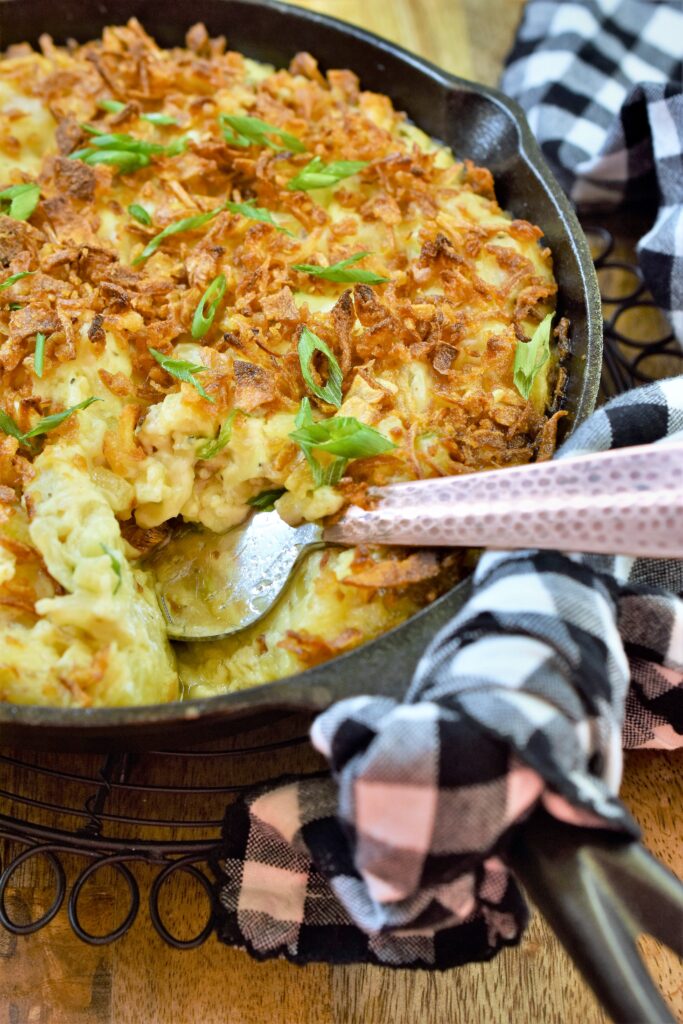 What makes this baked triple onion dip so good?
First of all the combination of three different onions is what makes this dip so good. There is white onion, green onion and those addicting canned fried onions in this addicting dip. In other words this creamy dip is an onion lovers paradise. Another key point is to use a sweet onion in this recipe. I prefer Vidalia onions but when they are out of season they are hard to find. They are typically in season from mid April through September. Instead I use white onions because they are the next best thing. Why are sweet onions a must in this dip you ask? Because sweet onions like white, Vidalia or Maui have more sugar content and less sulfur. Compared to other more pungent onions that would make this dip too strong.
Serving this delicious dip
Okay so it's a no brainer to serve this delicious baked triple onion dip with something crunchy. That said I serve it with toasts, crackers or pita chips. You could serve it with vegetables I suppose but I like warm baked dips on carbs! Because what could be better than spreading a warm gooey dip on sliced toasted crunchy baguette or a cracker? If you crave potato chips please use the ruffled or kettle kind because there is nothing worse than chips breaking into the dip. I say this because it's so frustrating when you're jonesing for this hot dip and you can't shove it in your mouth fast enough, ha, ha. Yes, I have double dipped with another potato chip chasing after the broken one to get my dip because it's mine damn it.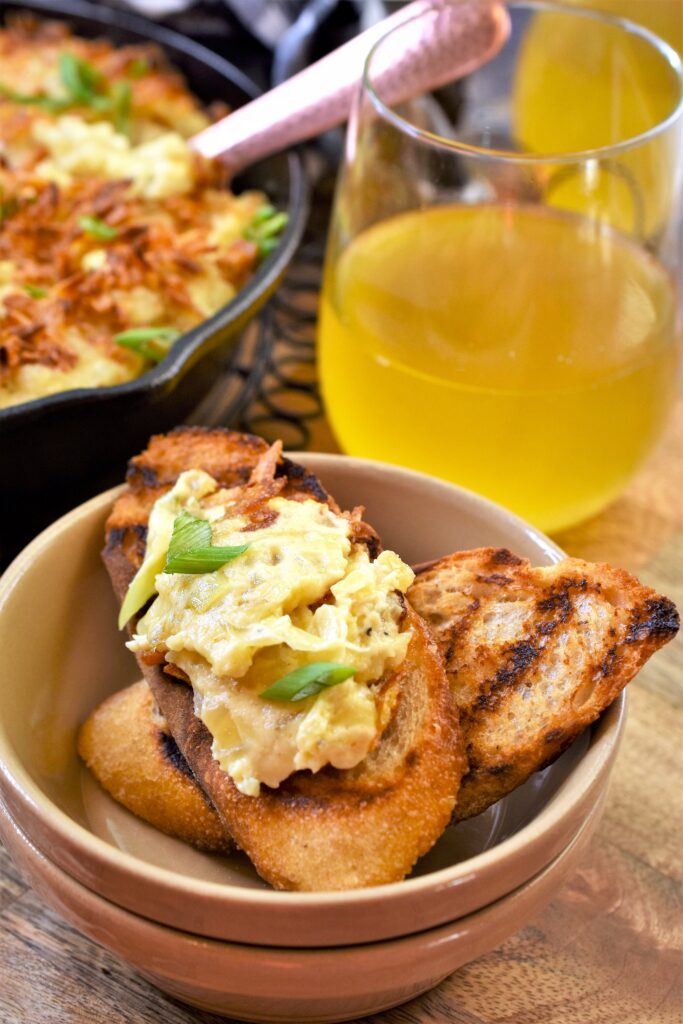 More dip recipes worth celebrating! Dig in…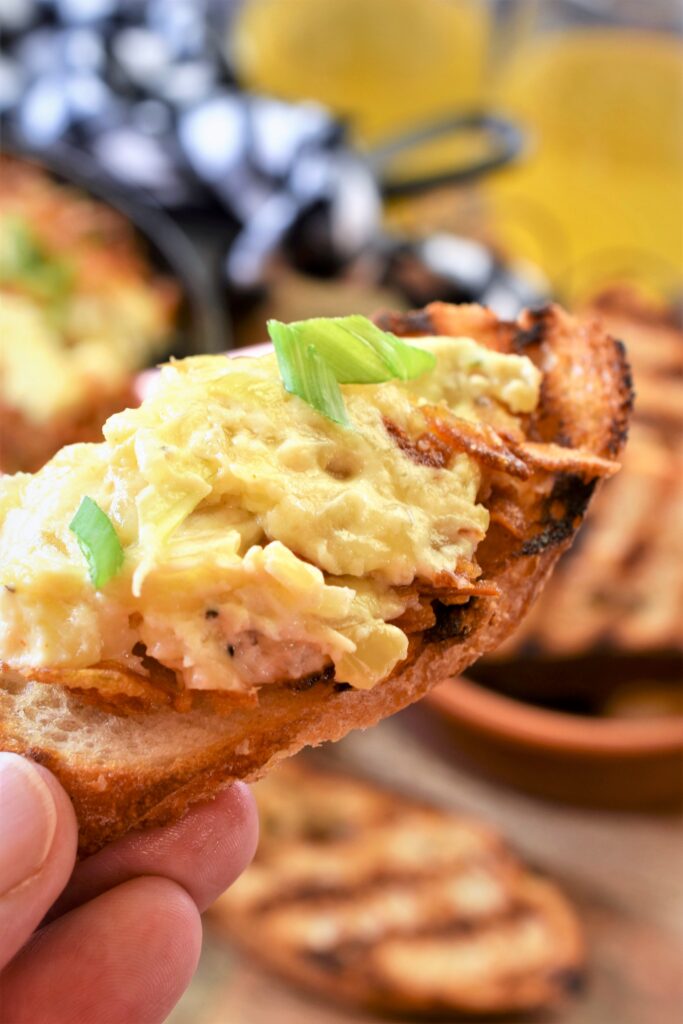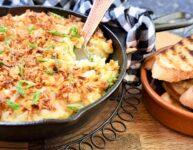 Baked Triple Onion Dip Scrumptious and Vegan
This creamy vegan tip is made with three kinds of onions with vegan cheese. Served warm on toasts is a perfect appetizer for any day of the week or for special occasions.
Ingredients
2

tbsp

olive oil

3

cups

chopped white onion, I used 1 1/2 medium white onion (preferably Vidalia onion when it's in season)

2

tsp

chopped garlic

1/2

tsp

kosher salt

1/4

tsp

coarse ground black pepper

1/4

tsp

cayenne pepper

1

tbsp

apple cider vinegar

8

oz

vegan cream cheese, softened (not sponsored to say this but Trader Joe's brand is the best in my opinion)

1

cup

vegan mayo

3

tbsp

nutritional yeast

2

cups

vegan shredded "mozzarella style" cheese

3

green onion, sliced thin (reserve 2 tbsp of green parts for garnish)

1/2

cup

canned crunchy fried onions
Instructions
Preheat oven to 350 degrees and spray a small casserole or 9 inch oven safe frying pan with cooking spray, set aside

In a skillet over medium/high heat add the olive oil, white onion, garlic, salt, pepper, cayenne pepper and vinegar and sauté for 5 minutes stirring occasionally and then turn down heat to medium low for 15 minutes, stirring occasionally until a deep golden brown, set aside to cool for 5 minutes.

While onion mixture is cooking grab a medium sized mixing bowl and mix together the vegan cream cheese, vegan mayo, nutritional yeast, vegan shredded cheese and green onions

Add the sautéed onions and mix well. Pour into a casserole and spread evenly, sprinkle the fried onions over the top and tent the top of the casserole with foil

Place the dip on a sheet pan into the preheated oven and bake for 20 minutes, rotate and take foil off and bake for another 20 to 25 minutes until dark golden and bubbly. Let rest for 10 minutes, sprinkle the reserved green onions on top for garnish and serve warm with pita chips, toasted baguette or crackers
Recipe Notes
NOTE: if you don't want to use vegan products, by all means substitute with traditional ingredients