My latest recipe for this vegan "Ricotta" eggplant rollatini is scrumptious. You don't have to be vegan to enjoy this classic Italian dish. Furthermore it's a perfect meal for people that have many food allergies. Since it's dairy free, nut free and gluten free. Instead of using ricotta cheese in this recipe my secret is tofu. Even though this eggplant rollatini is vegan, you would never know. Because it's rich and creamy and so familiar. What gives this dish that "Ricotta" flavor and texture? Blending together basil, tofu, lemon juice and nutritional yeast. Not to mention the Italian flavors that bring this dish to the head of the table. Together with eggplant, peppers and marinara, that's amore!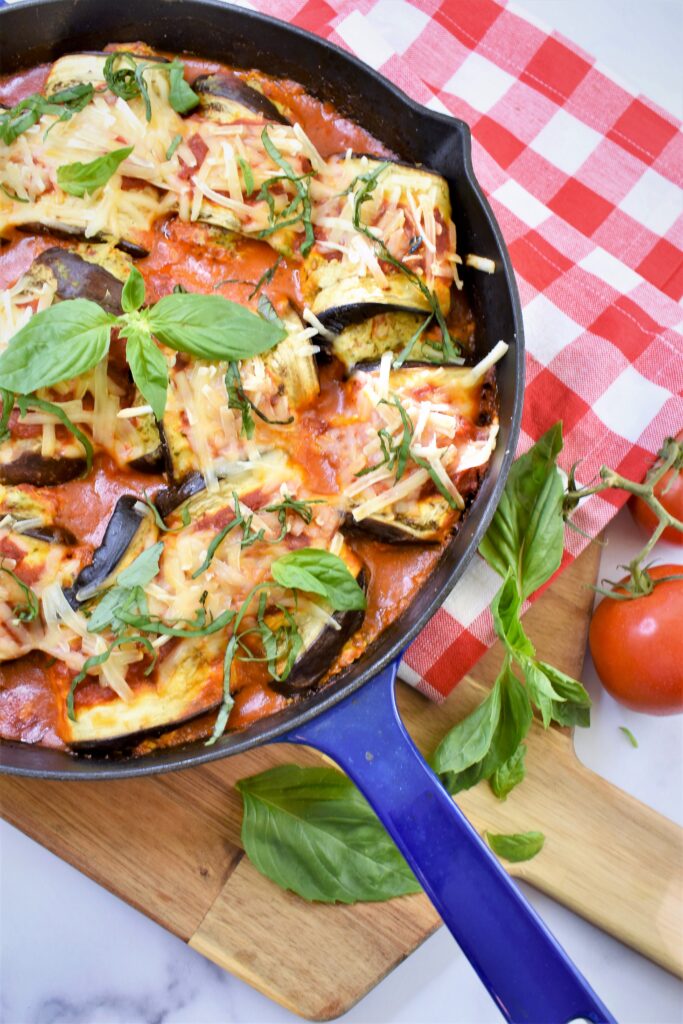 Vegan "Ricotta" Eggplant Rollatini Is The New Italian Classic Dish
You can't argue that Italian food is so comforting, at least in my book. Growing up there was always spaghetti sauce simmering on the stove top. Plates of spaghetti and lasagna on any particular night of the week was the norm. Not to mention pizza and eggplant parmesan. Even though these dishes are so good they can be heavy. That's why this recipe for vegan "Ricotta" eggplant rollatini is the new Italian classic dish. Traditional Italian comfort flavors with less calories and fat. In fact I only use two tablespoons of olive oil in this. But don't let this low fat version of eggplant rollatini keep you from making it. Because it's creamy and everything comforting that you crave.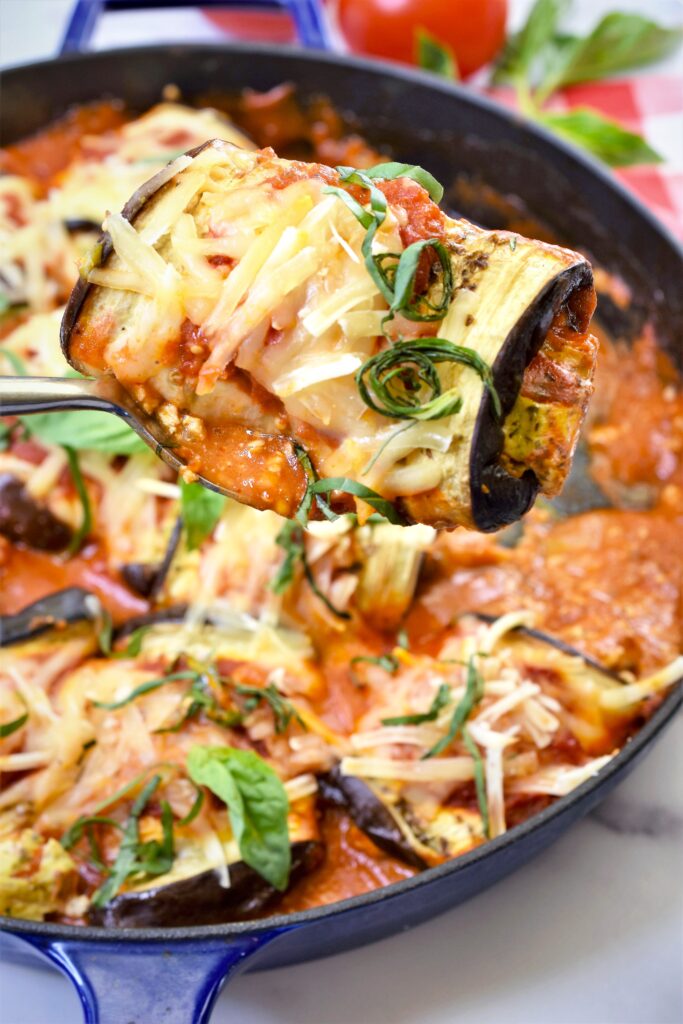 What Is Vegan "Ricotta"?
Vegan "Ricotta" is tofu that is blended to resemble the flavor of Ricotta cheese. Plus it's so simple to make with only a few minutes and a food processor. With only 5 ingredients you can't go wrong. How to make it? Just throw all the ingredients into a food processor and blend until very smooth. Here is what's in it.
Tofu, make sure it's firm or extra firm plus no need to press it, just drain the water from it.
Nutritional yeast, this is a must and it gives a "cheesy" flavor to so many dishes and it the secret in this tofu "Ricotta"
Lemon juice, this gives a nice tang.
Kosher salt
Basil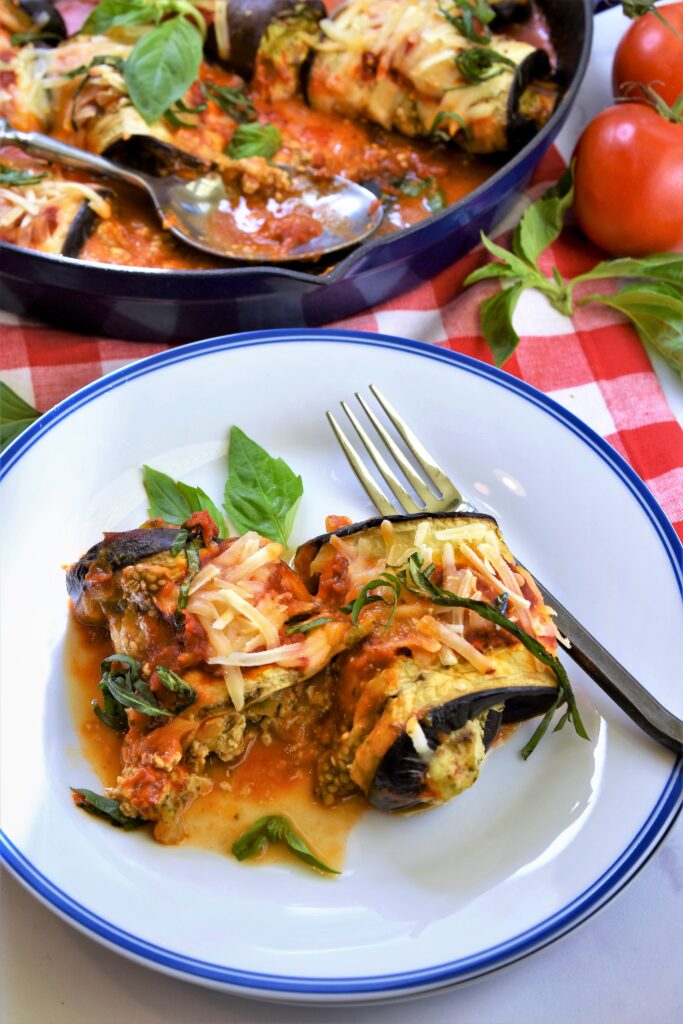 Want More Recipes That Have Nutritional yeast?
Here are a few of my recipes with nutritional yeast, it really is that magical ingredient that gives recipes that cheesy flavor without the cheese. So if you are looking for non dairy or vegan recipes that contain this, try them out.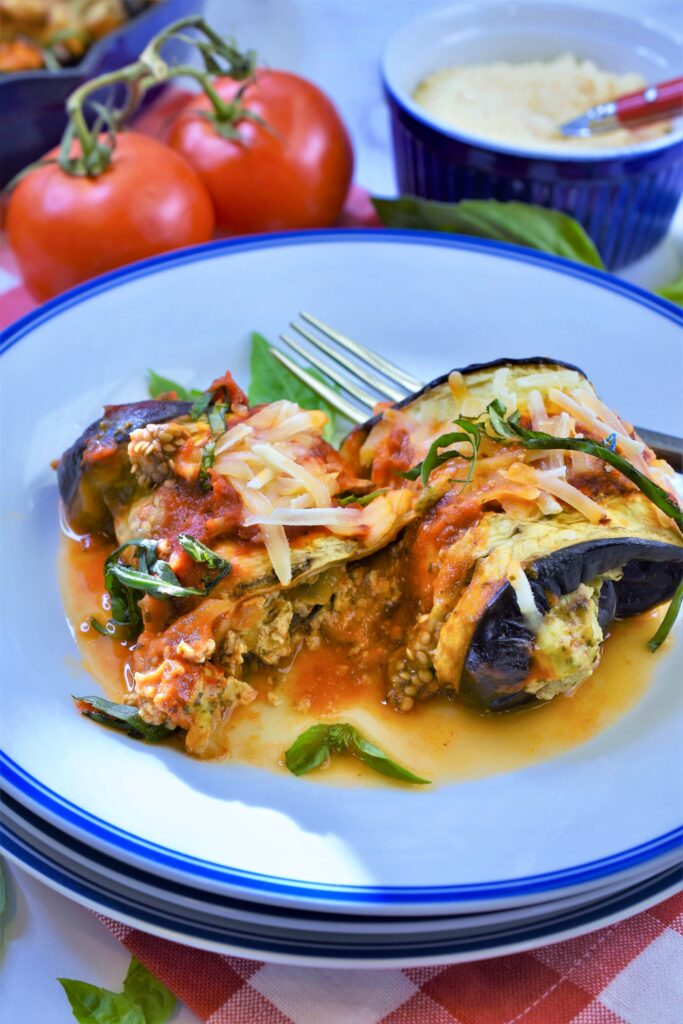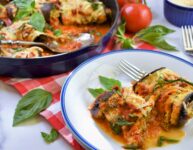 Vegan "Ricotta" Eggplant Rollatini
This creamy Italian classic dish got an update with basil tofu "Ricotta" and it's so delicious…now that's Amore!
Ingredients
2

large eggplants, 12 slices cut lengthwise into 1/2 inch sliced lengthwise, top and curved sides discarded

2

tsp

kosher salt

2

tbsp

olive oil

1

small onion, chopped

3

tsp

chopped garlic

1

small red bell pepper, chopped

2

tsp

Italian seasoning

1/4

tsp

red chili pepper flakes

1/4

tsp

kosher salt

1/4

tsp

freshly ground black pepper

1/4

cup

dry white wine

3

cups

marinara sauce, your favorite jarred brand or homemade would be fabulous

1 1/2

cups

vegan "mozzarella" style shredded cheese
Vegan Tofu "Ricotta"
14

oz

firm or extra firm tofu, drained

1/2

cup

packed basil leaves

3

tbsp

nutritional yeast

3

tbsp

lemon juice

1

tsp

kosher salt
Instructions
Preheat the oven to 400 degrees and prepare two sheet pans with olive oil or cooking spray

Lay the eggplant slices on a work surface and sprinkle kosher salt on both sides and let rest for 10 minutes. Blot dry with paper towels and wipe off excess salt.

Place the eggplant slices on one layer on the two prepared sheet pans and cover with foil and bake in the oven for 10 minutes. Let cool covered for 10 minutes.

While the eggplant is cooking in the oven prepare the vegan Tofu "Ricotta" by adding all those ingredients in a food processor and blend until very smooth, empty into a mixing bowl and set aside.

In a saucepan over medium/high heat add the olive oil, onion, garlic, bell pepper, Italian seasoning, red chili flakes, salt and pepper and sauté stirring occasionally for 5 minutes. Stir in the white wine and sauté until the liquid is absorbed, about another 5 to 7 minutes, set aside to cool.

Spray or brush olive oil on the bottom and sides of a baking dish or a large oven safe skillet and pour 1 1/2 cups of marinara sauce on the bottom of the dish.

Uncover the cooled eggplant and lay a slice onto a work surface and starting with the short end of the slice, place 3 tablespoons of the tofu mixture and roll it up. Place seam side down on top of the marinara sauce. Repeat with the remaining eggplant slices and filling.

Spoon 1 1/2 cups of marinara sauce over the top of each eggplant roll and sprinkle the vegan mozzarella style cheese evenly over the top and cover with foil .

Place in the oven for 35 minutes, remove foil and cook for another 10 to 15 minutes until golden and bubbly. let rest for 10 minutes before serving.

Garnish with fresh chopped basil, vegan parmesan or regular parmesan if you wish and enjoy!