One of the most enjoyable things about helping people entertain is that I learn more about all types of cuisine.  I always strive to help people customize their party menus and part of that is listening to their needs and wants regarding the type of food they want because sometimes what they want is not on my menus.  This particular party had a Greek & Mediterranean menu, my client is Greek and she chose many dishes that reflect her and her family's heritage that everyone would enjoy at the event.  One dish that she wanted was called Yemista and I said, sure but she wanted it served as an appetizer and this dish is usually made in large bell peppers, so we put our heads together and I said that I would make it in a mini bell pepper.  As I developed this traditional Greek dish, I was inspired by the fact that it was a new dish for me to make, especially serving it as an appetizer.  So, that said, I wanted to make sure it had a lot of flavor and many different nuances and this recipe came together for a spectacular crowed pleasing appetizer.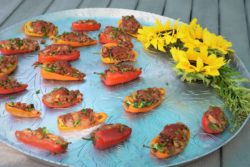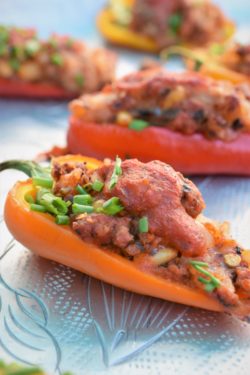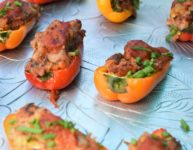 Yemista (Greek Stuffed Peppers)
This traditional Greek dish normally made with large bell peppers are made with mini bell peppers to be served as an appetizer...enjoy!
Ingredients
1

tbsp

olive oil

1/2

cup

onion, chopped

2

garlic cloves, chopped

1/2

lb

ground beef, I used organic grass fed

1/4

tsp

kosher salt

1/4

tsp

coarse ground black pepper

1/4

tsp

cinnamon

1

tsp

dried oregano

1/4

tsp

pepper flakes

3

tbsp

golden raisins

3

tbsp

pine nuts

2

tbsp

fresh mint, chopped

2

tbsp

parsley, chopped

2

tbsp

tomato paste

1/4

cup

dry white wine

1/4

cup

water

1/2

cup

cooked rice

1/2

cup

Manchego cheese, grated

18

mini bell peppers, cut in halve lengthwise

3/4

cup

marinara sauce

3

tbsp

chopped parsley or chives for garnish
Instructions
In a pan over medium/high heat add the olive oil, onion, garlic, ground beef, salt & pepper breaking it up so it's minced for 3 minutes

Add the cinnamon, oregano, pepper flakes, golden raisins, pine nuts, mint, parsley and tomato paste, wine and water stir well so everything is well combined, turn down heat to low and let simmer for 4 minutes

Add the cooked rice and Manchego cheese and mix well, turn off heat and set aside to cool.

Preheat oven to 375 degrees, while oven is preheating cut the peppers in halve lengthwise, no need to remove any seeds or membrane since there are hardly any in these little peppers

Stuff each pepper with the meat filling and drizzle about a teaspoon of marinara sauce on each, place on a parchment lined or cooking sprayed sheet pan

Place the peppers in the oven and bake for 15-20 minutes, pepper should still have an al dente feel so they can be picked up in your hand as an appetizer. Garnish with chopped chives or parsley

Makes 36 mini stuffed peppers and serves 8 to 12