There's something about food on a skewer that really gets people excited at parties.  Satay is popular around the world and originated in Indonesia and many countries have their on versions of it from meat to vegetarian fare.  It is particularly popular at festivals, street fairs and street vendors because of the ease of cooking it and the portability of it, especially since you don't need a fork or knife.  You have to admit there is a moment of excitement as you lick your lips with anticipation when you see that exotic looking food on a stick, you know you are in for a treat, especially if there is a good dipping sauce to accompany it. So fire up your outdoor or stove-top grill and get your party started with this ever popular party food… now this is a recipe for a party.
Make sure to heat your grill up, so when you place the skewers on it, it gets a nice sear…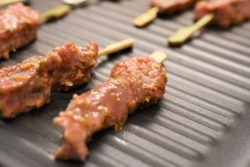 Oh, these are looking good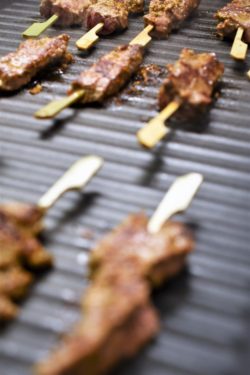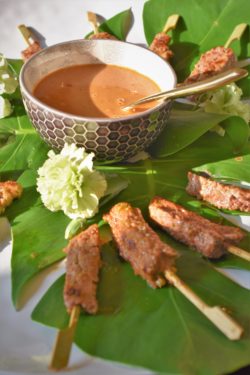 Ok, that girl is about to go in on this…careful, it's really good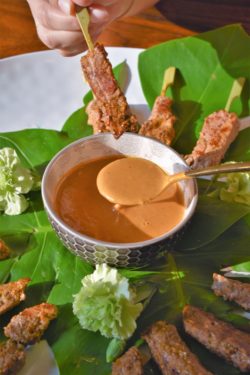 This creamy and not too spicy peanut sauce is a mainstay for many of my dishes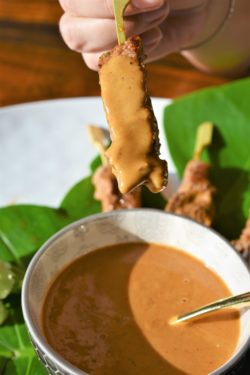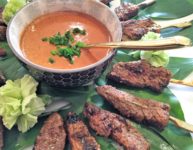 Thai Beef Satay with Peanut Lime Sauce
This delicious beef skewer is really flavorful and perfectly paired with my creamy lime peanut sauce,
a party just would not be a party without meat on a stick!
Ingredients
1/2

cup

fresh lime juice

2

tbsp

vegetable oil

1/4

cup

cilantro leaves, chopped

3

cloves of garlic, chopped

2

tbsp

brown sugar

2

tbsp

soy sauce

1

tbsp

Thai red curry paste

2

tsp

ginger, chopped

1

tbsp

fish sauce

1/2

tsp

red pepper flakes

1

tbsp

lemongrass paste

sold in produce section in most grocery stores

2

lbs

flank or skirt steak

30

bamboo skewers

soaked in hot water for 30 minutes before skewering meat
Instructions
Combine everything but the steak and the skewers in a bowl and mix well, set aside, you could also put everything into a blender or food processor instead of chopping by hand and blend

Cut the steak into strips on the bias across the grain 2 inches wide

Put the steak strips and the marinade together into a seal-able storage bag and refrigerate for two hours

Thread one strip per skewer and discard the marinade

Grill on a stove-top or barbecue grill for 2 to 3 minutes per side

Serve with peanut sauce and enjoy. Makes 30 skewers and serves 10 to 15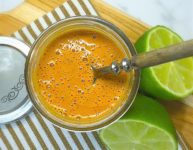 Peanut Lime Sauce
A savory Asian style peanut sauce that is great as a dip for chicken or beef satay and even fresh vegetables!
Ingredients
3/4

cup

peanut butter, smooth

1/4

cup

rice vinegar

2

tbsp

sesame oil

3

tbsp

brown sugar

1/4

cup

reduced sodium soy sauce

1

tsp

chili powder

1

tsp

cumin

1/4

tsp

cayenne pepper

1

lime, juice and zest

1/2

cup

water

1

tbsp

Sriracha

2

tsp

minced ginger

1/4

tsp

kosher salt
Instructions
Put all the ingredients in a blender and blend until smooth and creamy, if too thick add a little more water, if too thin, add a little more peanut butter

Place in an airtight container or jar if not using right away, if using this a s a chilled sauce for salads or other chilled dishes, refrigerate for two hours or make the day before. Makes 2 cups