This crunchy vegan chili cheese cheerios snack mix is simple and perfect for snacking. Additionally what makes this the perfect go to snack is that it's super quick and easy to make. Plus you might already have these snack mix ingredients in your pantry. As much as I wanted to add other things to this vegan chili cheese cheerios snack mix, I didn't want to go to the supermarket and I wanted to use what I had on hand. Instead I made this vegan chili cheese cheerios snack mix from only a handful of flavorful ingredients. Adding to the chili flavors in the Fajita spice mix in this recipe I used nutritional yeast. Because it gives it a cheese like flavor without the cheese.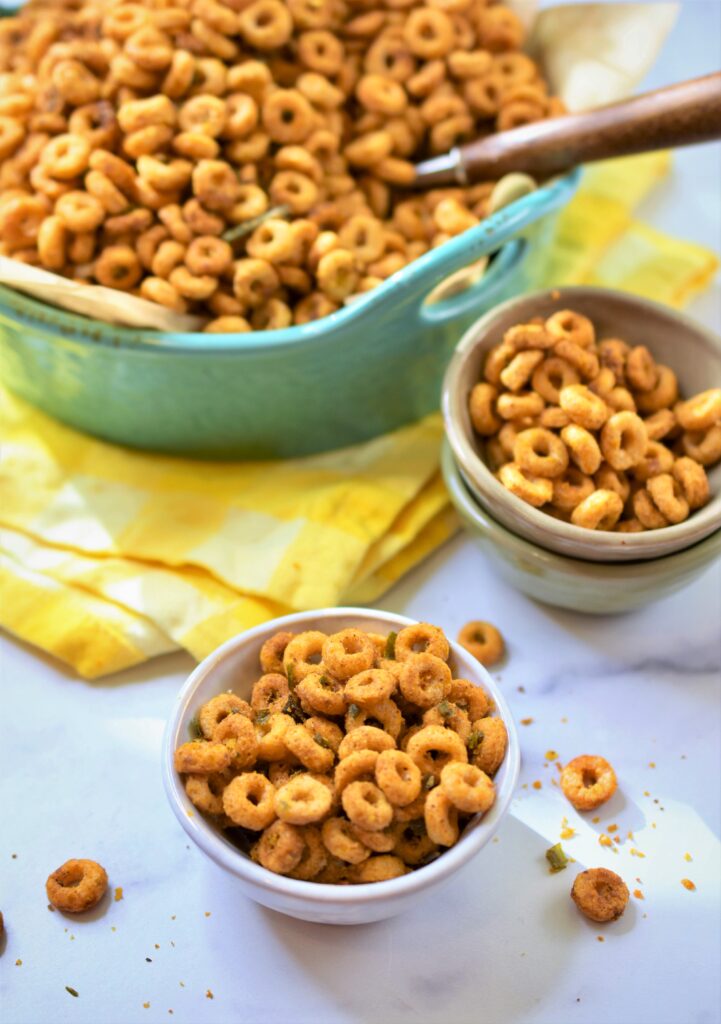 Satisfy your snack attack with this vegan chili cheese cheerios snack mix!
I needed to satisfy my snack attack so I made this vegan chili cheese cheerios snack mix. Furthermore I wanted to make this vegan since I wanted to share this with my partner. Since I have a box of vegan cheerios style cereal that was my first step. Because the brand "Cheerios" uses vitamin D3 from a non vegan source. But if you have a regular box of Cheerios on hand and you don't want to make this recipe vegan than go for it.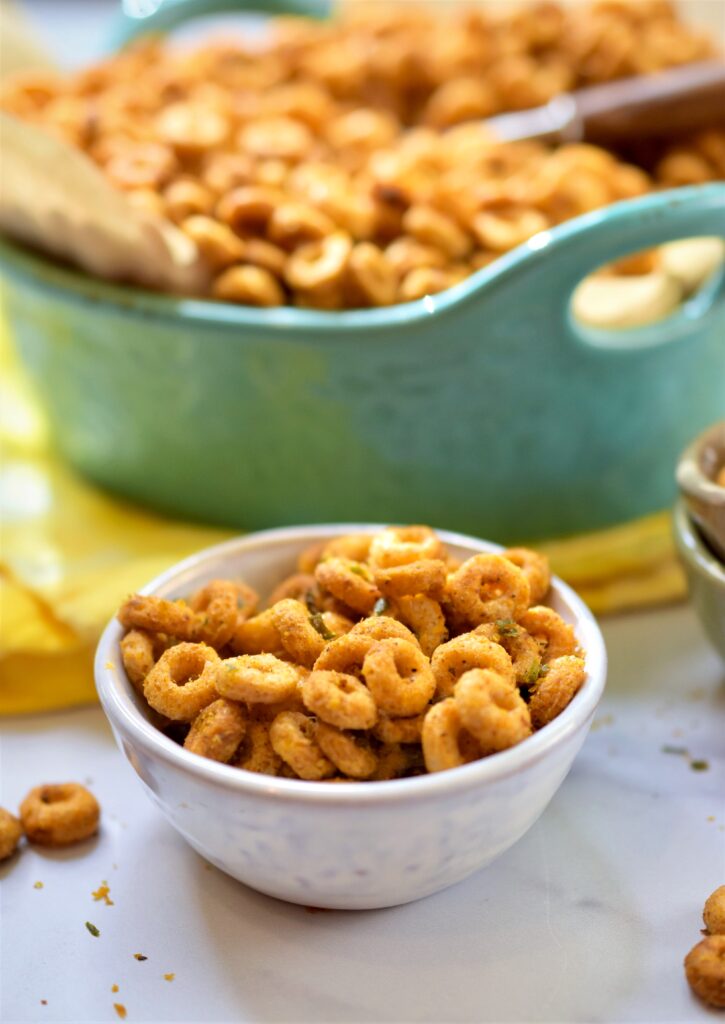 Additionally if you don't need to make this snack mix vegan you can use parmesan or powdered cheese in place of the nutritional yeast. In other words this cheerios snack mix is really versatile. Because you can substitute some ingredients and add in what you have in your pantry. That's why I love pantry recipes; use your own kitchen as a grocery store for this vegan chili cheese cheerios snack mix!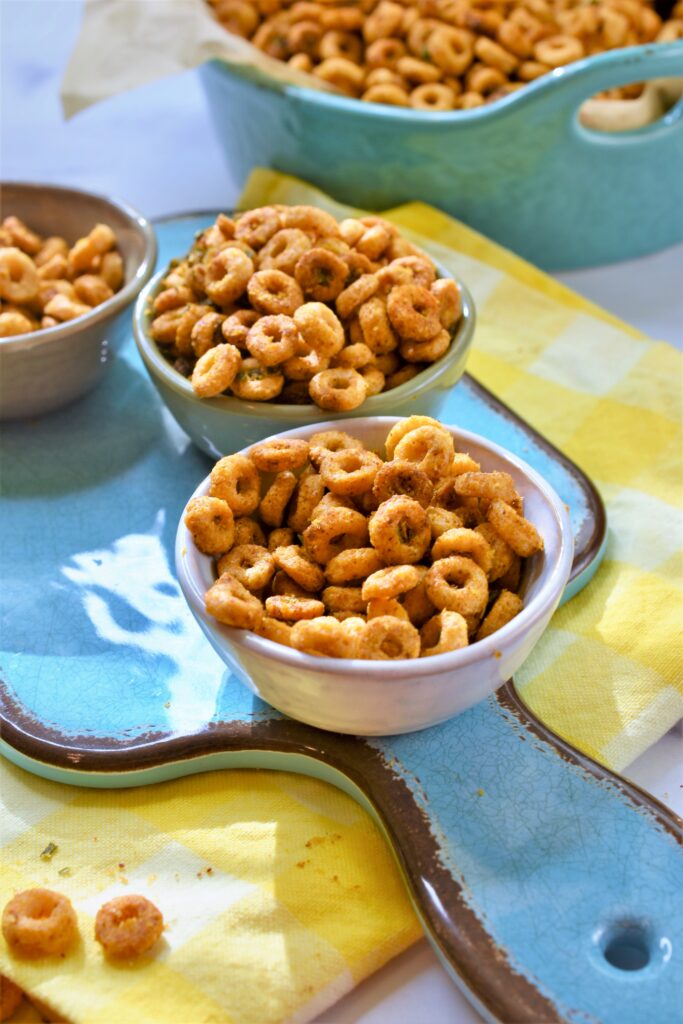 Easy to find ingredients in this snack mix
Raid your pantry to find simple ingredients to make this vegan chili cheese Cheerios snack mix.
Cheerios or other Oat "O" cereal, Chex cereal would work as well.
Vegan butter or if you don't want to make this vegan you can use regular butter or margarine.
Fajita seasoning or Taco mix works too but I had Fajita seasoning on hand plus I liked the lime flavor that's in this mix.
Ancho chili powder gave this a nice smoky flavor but smoked paprika would also work well.
Cayenne pepper gives this vegan chili cheese cheerios snack mix the kick that I craved!

Nutritional yeast flakes

are a staple in my house, it gives a cheese flavor without the cheese but if you don't have it Parmesan or powdered cheddar cheese is awesome too if you aren't making this recipe vegan.
Dried chives gives this recipe a nice onion flavor.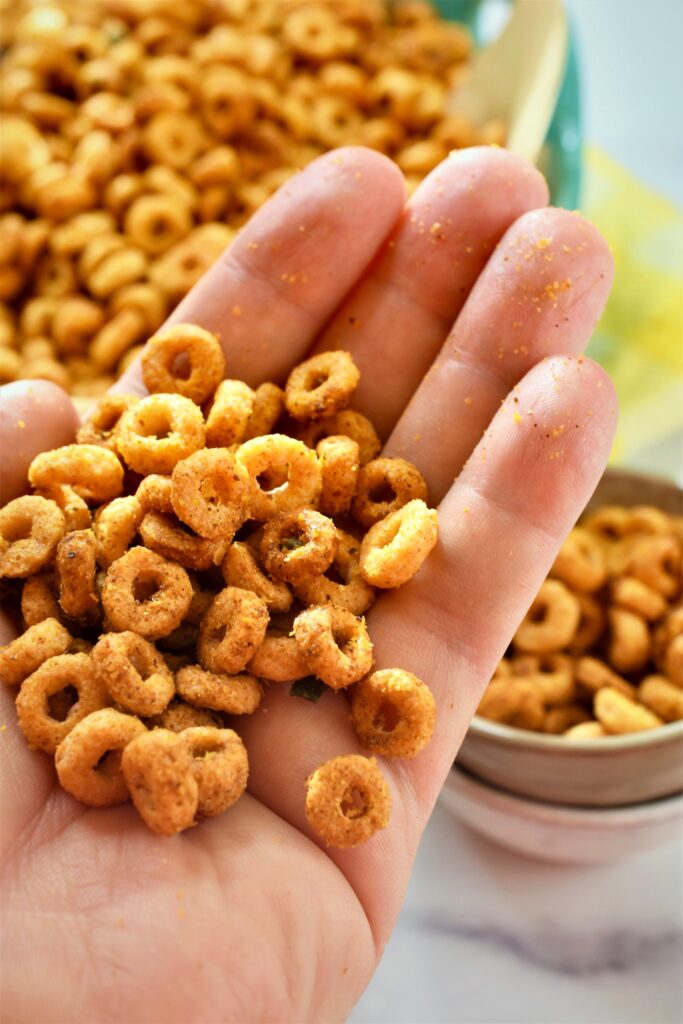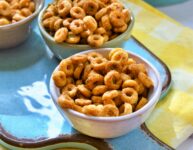 Vegan Chili Cheese Cheerios Snack Mix
This simple easy to make snack mix only has a handful ingredients with bold Mexican flavors.
Ingredients
12

cups

vegan cheerios style cereal

1

cup

vegan butter, melted

2

oz

(2 )- 1 ounce packages of Fajita seasoning

2

tsp

Ancho chili powder

1/2

tsp

cayenne pepper

1/2

cup

nutritional yeast flakes

4

tbsp

dried chives
Instructions
Preheat the oven to 300 degrees and line two sheet pans with parchment paper

Place the cheerios into a large bowl and set aside

In a small bowl whisk together the Fajita seasoning, ancho chili powder, cayenne pepper, nutritional yeast and dried chives, set aside.

Melt the vegan butter in a saucepan or in a microwave safe bowl in the microwave and pour the butter over the Cheerios and toss well until combined

Pour the mixed spices over the cheerios and toss well until combined.

Divide the mixture onto the prepped sheet pans and bake in the oven for 15 minutes, take them out, stir well and rotate. Bake for another 15 minutes.

Let cool completely and store in an airtight container until ready to serve.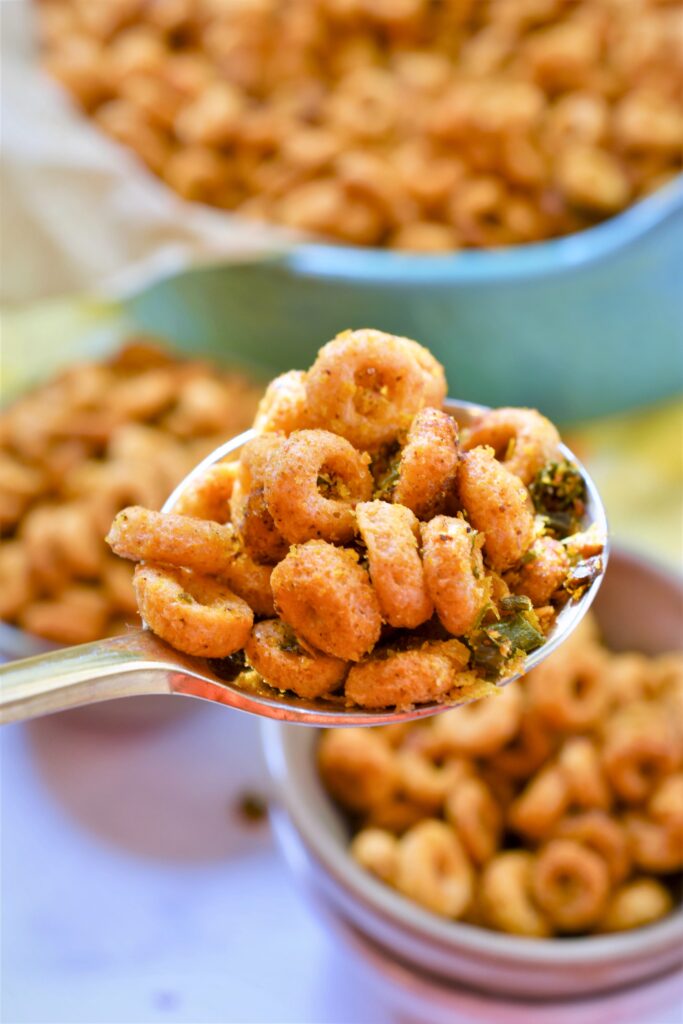 Craving the crunch? Look here for more snacking recipes