Nuts, bar mix and pretzels are a staple at bars and parties because everyone craves something salty and crunchy when they are having a libation.  My recipe for Bombay Cocktail Nuts is a blend of Indian spices with a hint of sweetness and a touch of spiciness that is so addictive. Keep a dish at your bar when guests come over just to temp their appetite for the other party food that awaits them.  This is definitely a chic and sophisticated alternative to peanuts or pretzels; your guests will think you slaved all day long in the kitchen making them, don't tell them that this recipe is super easy to make.  Oh by the way…these make great gifts!
You will go nuts over these…I promise!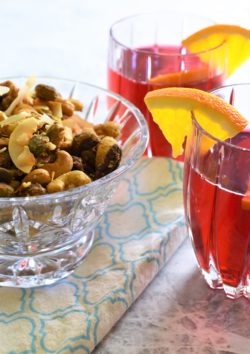 Exotic spices with a hint of sweetness go perfect with any drink and any party!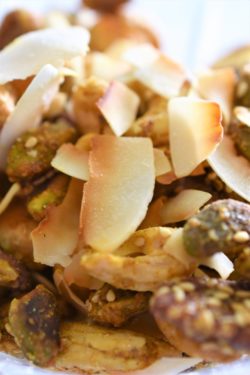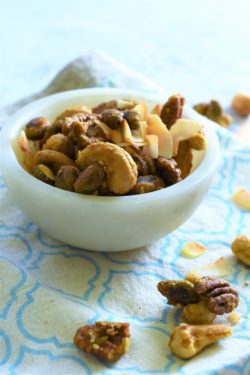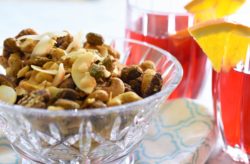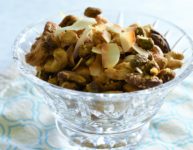 Bombay Cocktail Nuts
A sophisticated blend of nuts and exotic spices, great for snacking and definitively perfect to serve at parties!
Ingredients
4

tbsp

coconut oil, melted

1/3

cup

sugar

1

tsp

ground ginger

4

tsp

yellow curry powder

1

tsp

cayenne pepper

1

tsp

cumin

1

tsp

kosher salt

1/2

tsp

coriander

1/2

tsp

cardamon

3

cups

cashews

raw and unsalted

2

cups

pistachios, roasted

2

cups

pecan halves

unsalted

4

tbsp

sesame seeds

2

cups

unsweetened coconut chips
Instructions
Preheat oven to 350 degrees F

In a large bowl mix the melted oil with the sugar, ginger, curry, cayenne, cumin, salt, coriander and cardamom

Add the nuts and mix and toss well so all the nuts are coated

Spread evenly on two parchment or silicone mat lined sheet pans and bake in the oven for 15 minutes

Take out of oven and add the sesame seeds and coconut between both pans and mix well, stirring the nuts so they cook well evenly

Place back in oven for another 5 to 10 minutes until dark golden brown, carefully watch this last step, the coconut take no time at all to brown…careful not to burn.

Let cool completely and store in a cool dry place for up to 2 weeks
If there are any nuts left after eating them all night long…they make perfect gifts