I served this bruschetta at last night's barbecue birthday party and the party guests were all smiles as my server approached them with this unique appetizer.  Strawberries are in abundance this time of year, take advantage of that and serve them as an appetizer, in a salad and of course dessert. This bruschetta combines the sweetness of summer's berry, the tanginess of goat cheese and balsamic glaze for a satisfying appetizer with crunch.   Strawberries are known for dessert but why not serve them as a savory dish, the combination of flavors is unique and surprising. Serve this at your cocktail parties, cheese & wine tasting event or your family barbecue.
This sure is a fantastic summertime appetizer, full of flavor…surprise your guests with a great alternative to the classic bruschetta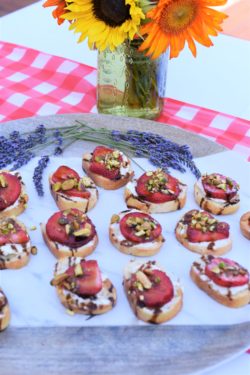 So quick and easy to put this together…I promise!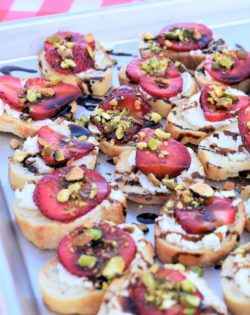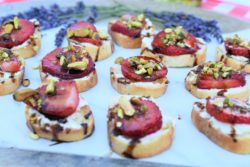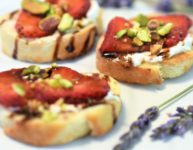 Strawberry & Goat Cheese Bruschetta
Take advantage of the seasons fresh strawberries and make an appetizer with them for a change, the tanginess of the goat cheese with the sweet strawberries go so well together
Ingredients
1

baguette of sour dough or French bread, sliced into 1/2 inch slices

2

tbsp

olive oil

8

oz

goat cheese, softened

1

pint

strawberries, sliced

1

bottle of balsamic glaze for drizzling

3/4

cup

crushed pistachios

2

tsp

cracked ground pepper
Instructions
Preheat the oven to 425 degrees F

Place the baguette slices onto a sheet pan and brush each one with olive oil and toast until lightly browned around the edges, about 5 to 6 minutes, let cool for 5 minutes

Spread some goat cheese on each toast, followed by a slice or two on top

Drizzle balsamic glaze on top, followed by a sprinkling of crushed pistachios and a pinch of black pepper

Makes approximately 24 pieces, serves 8 to 12 as an appetizer