I'm crazy right making these vegan rice krispie treats while recovering from surgery. Since I wanted to comfort myself making these treats really put a smile on my face. Not to mention bringing back memories of making rice krispie treats as a kid and how much I enjoyed them. Furthermore you would think I should be resting but this was a simple enough task. Because creating something with food or crafts keeps my mind occupied and I believe that it promotes healing. Plus the anticipation of waiting for these to cool is almost to much to bare. Because taking my first bite into these familiar rice krispie treats brings back comforting happy childhood memories. Not to mention the crispy puffed rice, peanut butter and the dark chocolate tipping the flavor scale to tilt.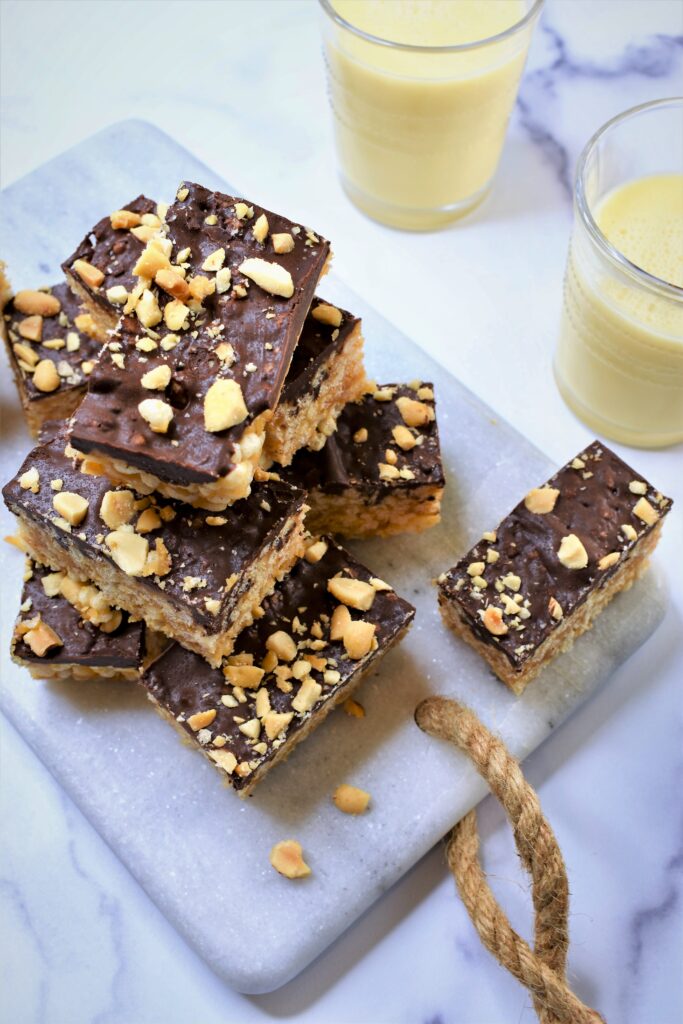 Why make make these vegan rice krispie treats vegan?
Choosing to make these rice krispie treats vegan was a no brainer since my partner is vegan. Furthermore I couldn't eat a whole pan of these myself if they weren't vegan. Or could I…ha, ha? Since simple ingredients are in making these treats, it's super easy and quick. For one thing I used vegan marshmallows because regular marshmallows contain gelatin. Second, I used vegan butter and vegan crispy rice cereal since some rice cereal contains vitamin D3 derived from animal sources. Adding to these tasty ingredients is vanilla, creamy peanut butter and dark chocolate not to mention crushed peanuts on top!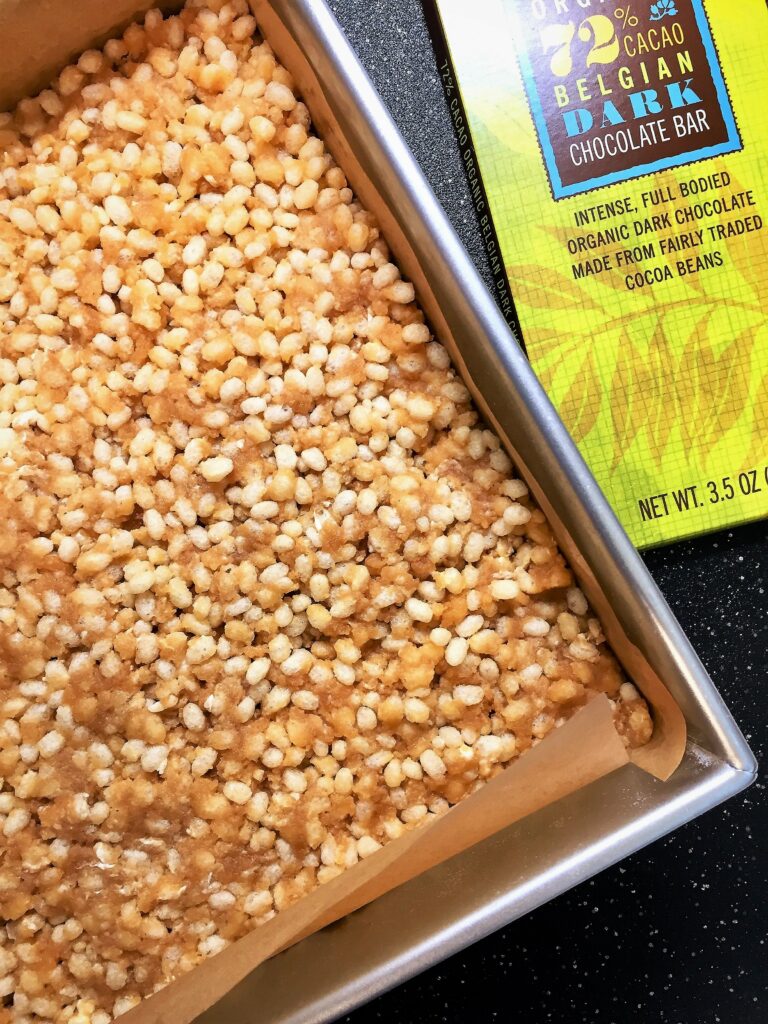 These vegan rice krispie treats with peanut butter and chocolate made a good sized batch. So if you want to share them, it's a perfect size. Additionally it will keep yourself from eating them at midnight over the kitchen sink; yes, true story. Furthermore I have many vegan treats on this website that you will enjoy so look below.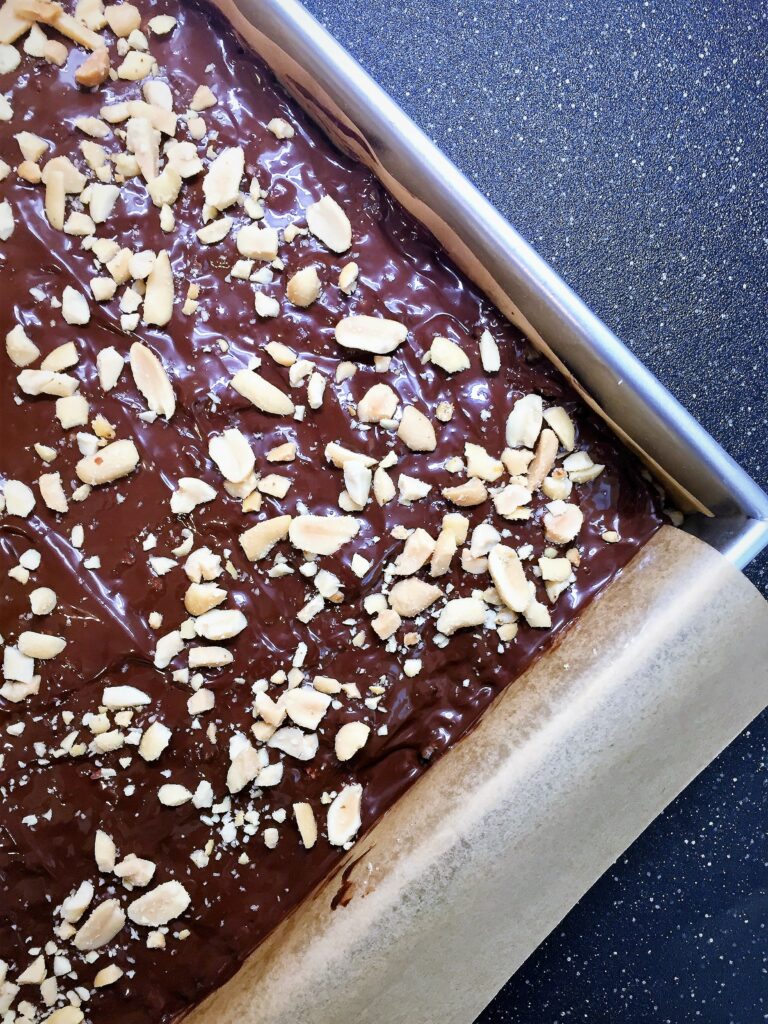 Get baking with these other vegan treats!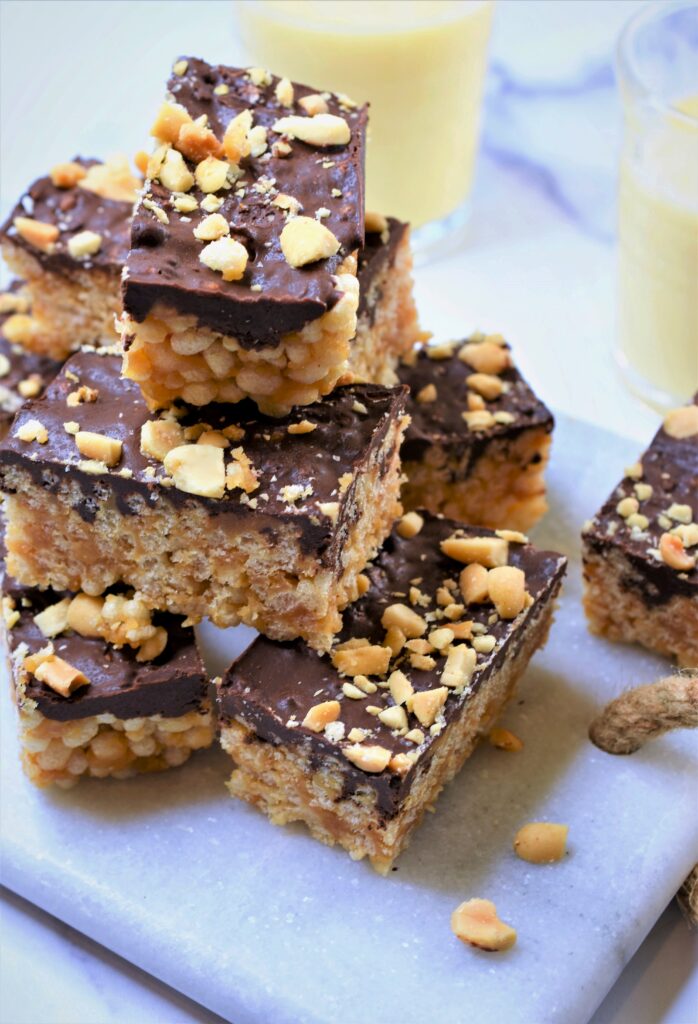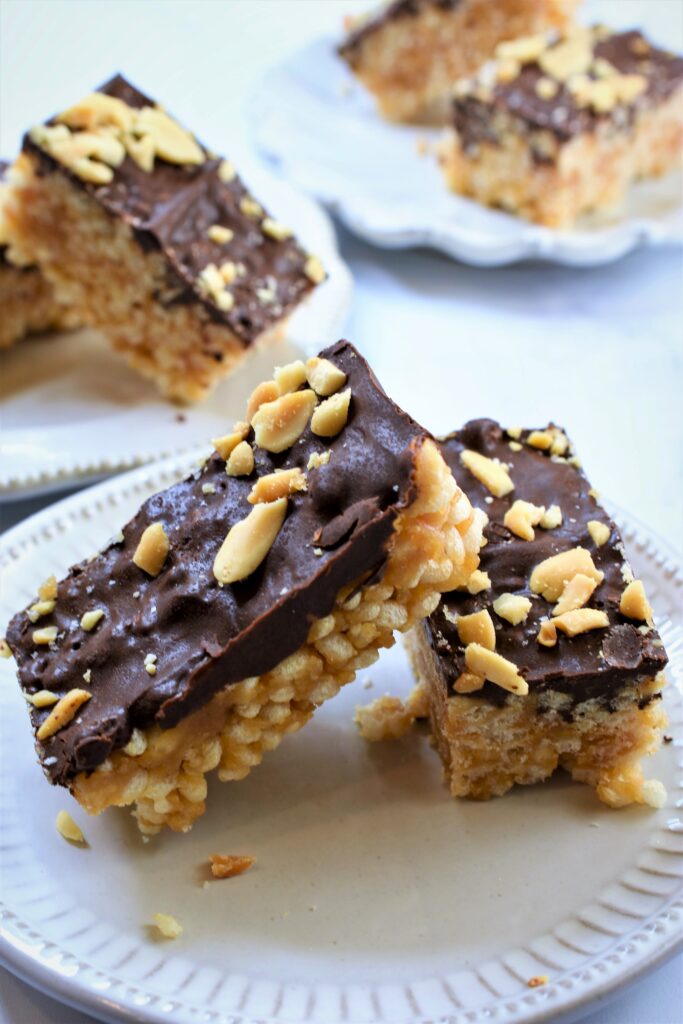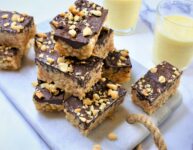 Vegan Rice Krispie Treats with Peanut Butter and Chocolate
These crunchy and peanutty bars are a twist on a classic treat that will put a smile on your face every time you snack on them, I promise!
Ingredients
8

tbsp

vegan butter

6

cups

mini vegan marshmallows (2-10 ounce bags) I used Trader Joe's brand

1

cup

creamy peanut butter

1

tsp

vanilla

7

cups

vegan crispy rice cereal

7

oz

dark chocolate

2

tsp

coconut oil, the solid kind

1/2

cup

crushed salted peanuts
Instructions
Line a 13X9 baking pan with enough parchment paper for an overhang for ease to remove treats and set aside.

In a large pot over medium heat melt the butter and add the marshmallows until completely melted, stirring occasionally. (I used a nonstick pot for this)

Add the peanut better stirring vigorously until well combined and simmer until the mixture is hot again and stir in the vanilla.

Add the rice cereal and stir until mixed well and coated, work fast because this sets fast.

Pour into baking pan and pat down so it's even. I found that using my hand to push down the mixture into the pan worked well, since it's hot use a piece of parchment and your hand over that to protect yourself from being burned. If you use a large spatula to do this, spray it with a nonstick cooking spray and that will help it not stick. Use a bit of elbow grease because you want this compacted well on all areas. Set aside to cool.

While the treats are cooling melt the chocolate and coconut oil together until smooth. Using a double boiler for this or I used a microwave set at 50% power and microwaved in 1 minute intervals and stirring in-between until smooth.

Pour chocolate over the top of the treats and use a rubber spatula to scrape bowl to get all the chocolate out of the bowl and smooth evenly all over the top.

While chocolate is still fresh, sprinkle the crushed peanuts all over the top and let the treats set for an two hours or so on the counter or in the fridge. Lift the bars out with the parchment paper and cut into large or small bars and enjoy