I'm always surprised where inspirations for new recipes come from and this is an example of that. This moist banana, zucchini, carrot & walnut bread turned out delicious for all the right reasons. After the first bite into this bread you will taste all the flavors of this quick bread for a baked treat that is out of this world. This baked treat is tender, dense, sweet and crunchy from the nuts.
Accidental Inspiration
The other day Patrick asked me to move the zucchini that was on the kitchen counter because his hands were full of groceries that he had to put down. So I placed the zucchini on top of the bananas that were in a bowl. I knew that making a recipe with zucchini was in my future but seeing the bananas with the zucchini gave me an idea to combine the two. Therefore, I decided to make a quick bread. He noticed a bunch of carrots and asked me to throw them into the recipe as well. We both love carrot cake and the sweetness of them is a great addition to this home baked recipe.
Your zucchini is in my banana bread, no, your carrots mixed up in my banana bread…ha, ha. Oh and one thing I forgot to tell you, this scrumptious recipe is vegan. As can be seen, vegan baking tastes just as good as it looks.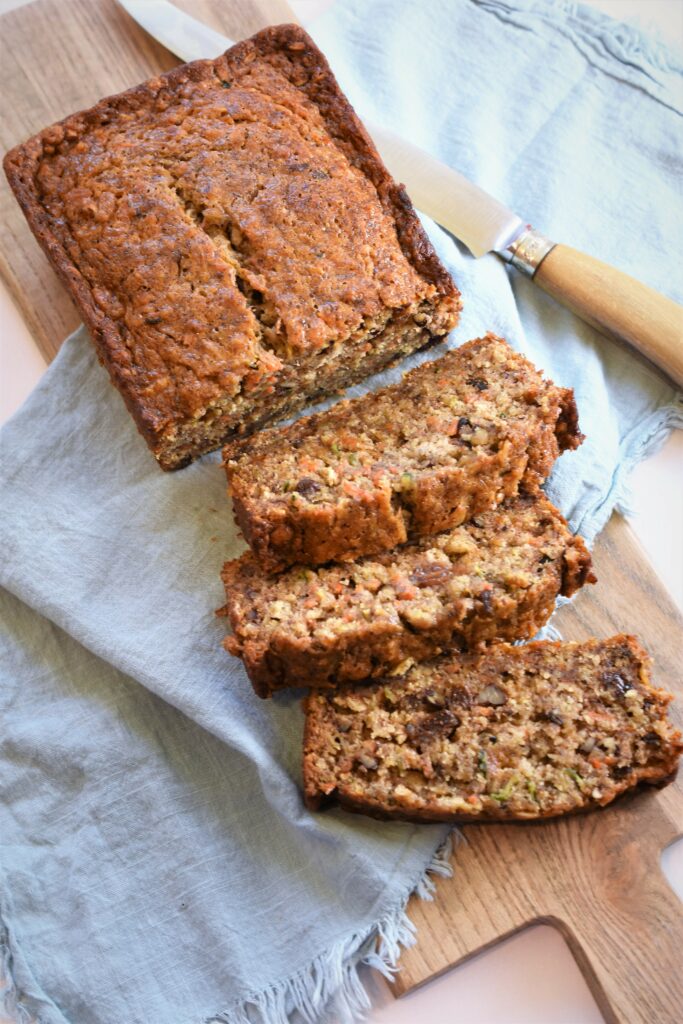 Don't make separate banana bread, zucchini bread and carrot cake when you can have all three in one! The convenience factor alone should be the reason for baking this quick bread.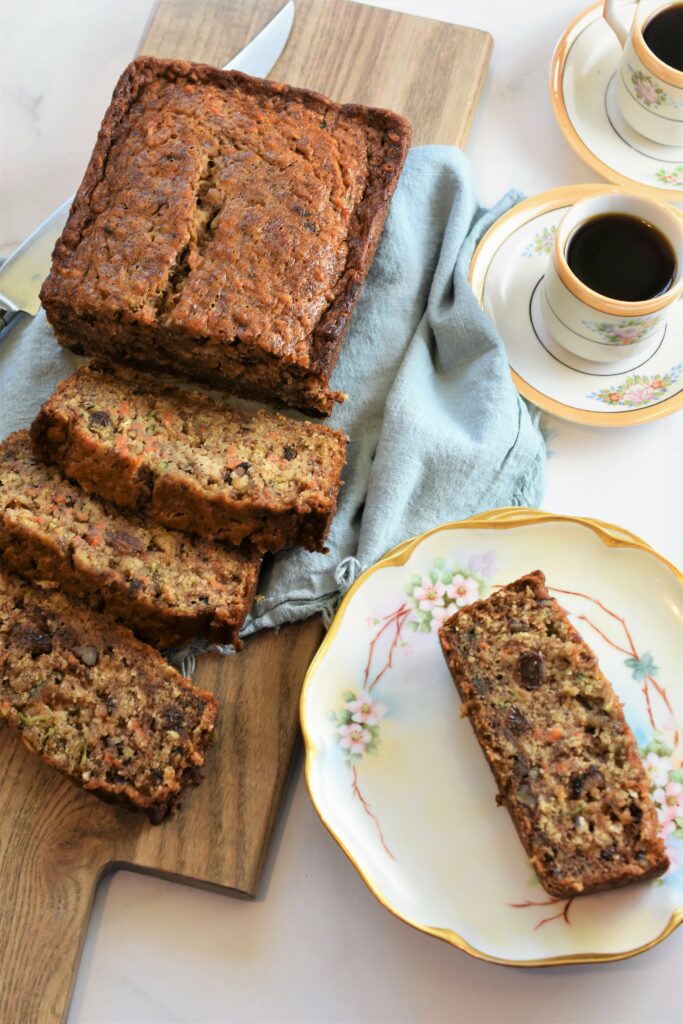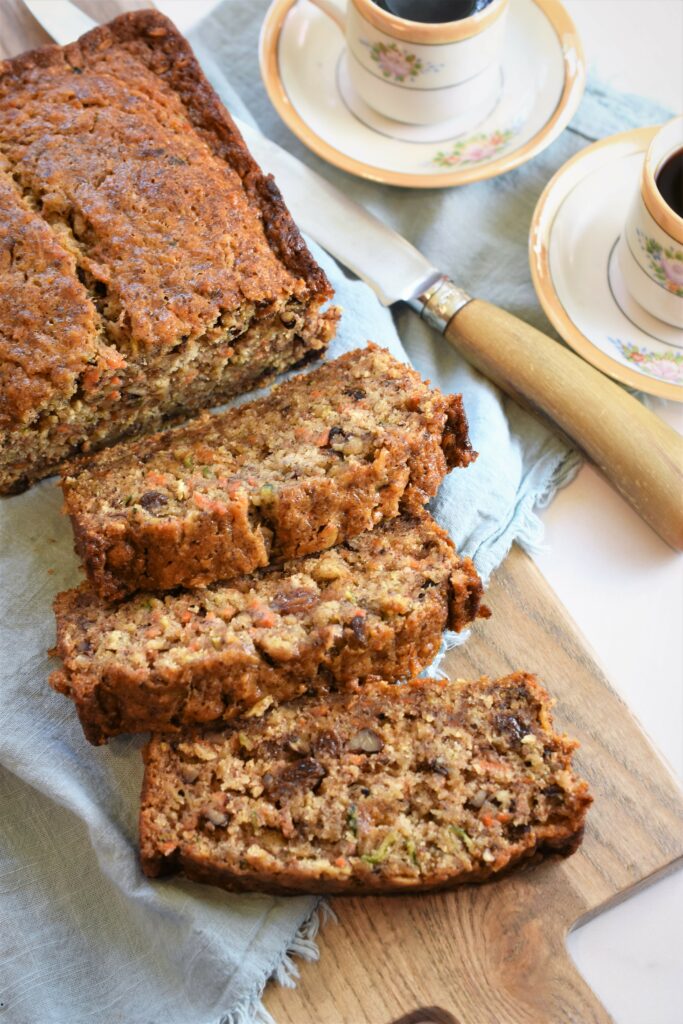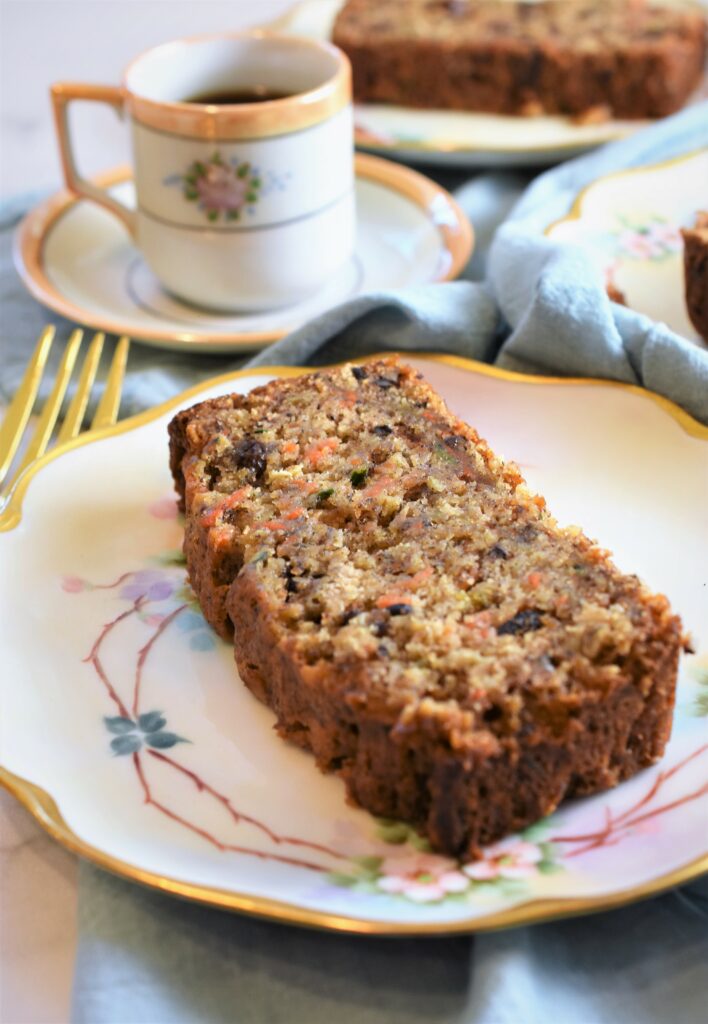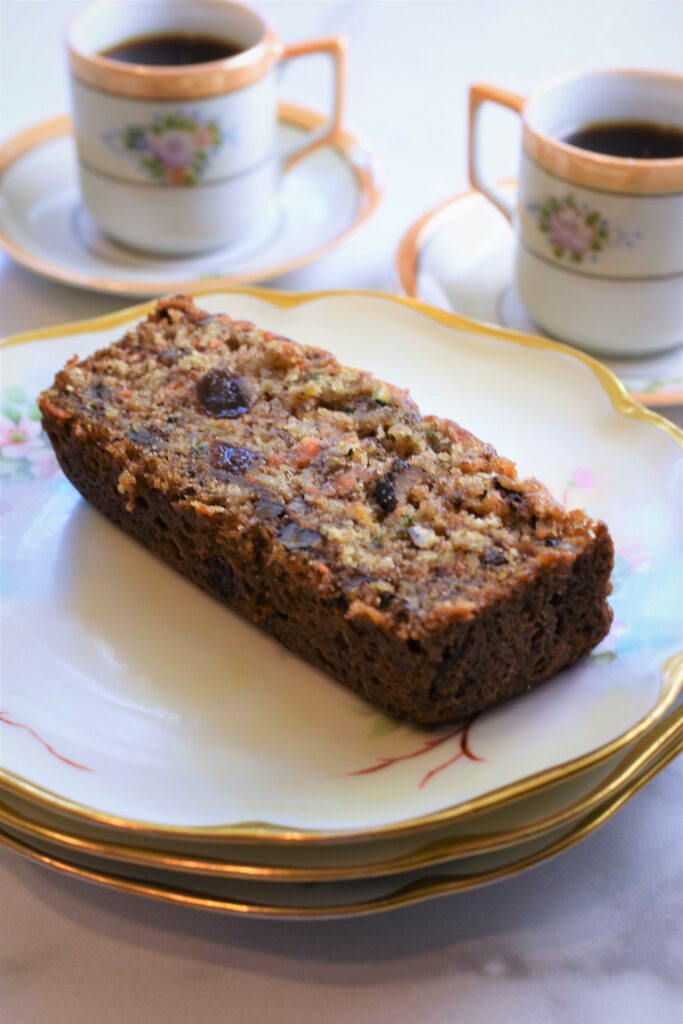 Like This Banana Zucchini Carrot Bread? Try these other vegan sweets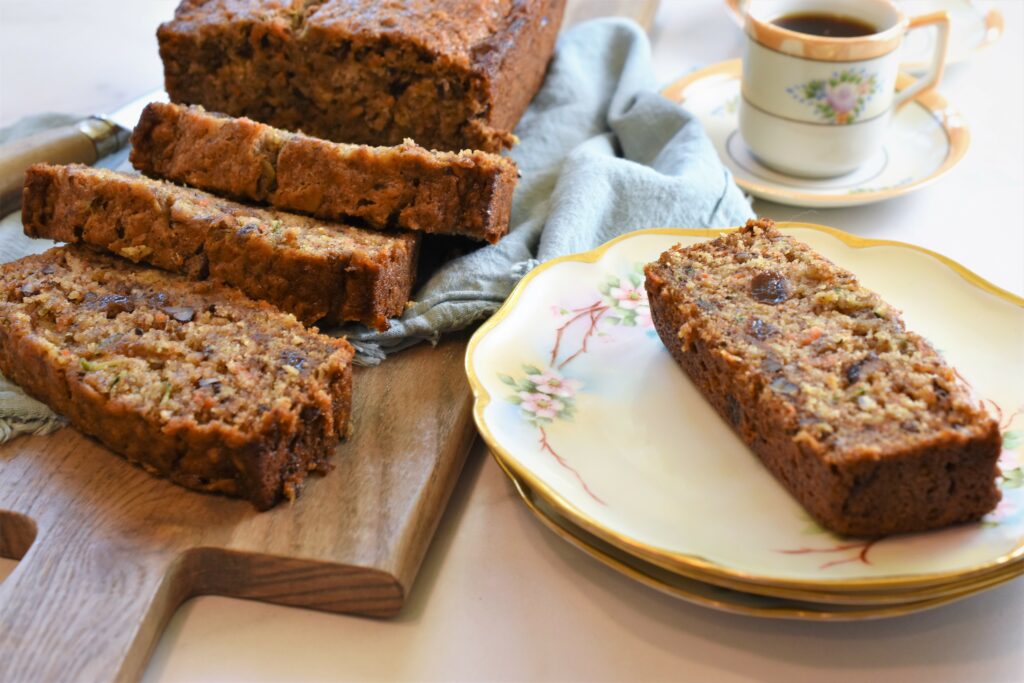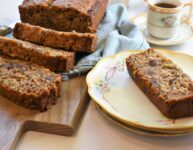 Banana, Zucchini, Carrot & Pecan Bread
This delicious vegan bread combines all the fabulous elements of banana bread, zucchini bread and carrot cake in one hand loaf….great for brunch or an afternoon snack with a cup of coffee
Ingredients
1 1/2

cups

almond milk or other plant based milk

4

tbsp

flaxseed meal

2

tsp

vanilla

1

cup

coconut oil, melted

1 1/2

cups

sugar

2 1/2

cups

all-purpose flour

2

tsp

baking soda

1

tsp

baking powder

1

tsp

cinnamon

1/2

tsp

kosher salt

1

cup

quick oats

1

cup

chopped pecans

3/4

cup

raisins

1 3/4

cup

shredded zucchini

1 3/4

cup

mashed banana

1 3/4

cup

shredded carrots
Instructions
Preheat the oven to 350 degrees and prepare 2 loaf pans with cooking spray or oil

In a mixing bowl or in a stand mixer add the almond milk, flaxseed meal and vanilla and let sit for 10 minutes so the flaxseed can gel a bit.

Add the coconut oil and sugar and mix well

Sift together the flour, baking soda and baking powder and add to the mixing bowl along with the cinnamon, salt and oats and mix slowly on low until combined

Stir in the pecans, raisins, zucchini, banana and carrots until mixed well

Evenly divide the batter between two loaf pans and smooth over and tap down on the counter a few times

Place in the oven for 50 to 60 minutes or until the toothpick test comes out clean

Let cool for 10 minutes before taking the loaves out of the pans and continue to cool for anther 10 minutes on a cooling rack before slicing and serving. Cover and refrigerate what is not eaten
Recipe Notes
This recipe is for 2 loaves…eat one for breakfast and gift the other one to someone special
Making zucchini recipes from your own garden is the best way to add that garden fresh flavor. If you haven't planted your own vegetable garden yet, here's some advice from my favorite garden blog "Garden Answer" How to plant a vegetable garden