I don't know where my inspiration came from making my new recipe for cast iron black grape pizza with gorgonzola, balsamic onions and walnuts came from. I had a bunch of black grapes in the fridge and I've been making bread lately and I was craving pizza, yes that's it…craving pizza. Don't we all crave pizza from time to time? My method of cooking this in a cast iron skillet came from the fact that I did not have a pizza stone and I wanted a crispy crust with everything cooking evenly like you get when you eat pizza out or delivery. I have to admit that I don't remember when I ever made pizza dough before so I was a bit nervous about it and it came out so easy plus the cast iron method of cooking it yielded a pizzeria style pizza in 20 minutes from stovetop/oven to table.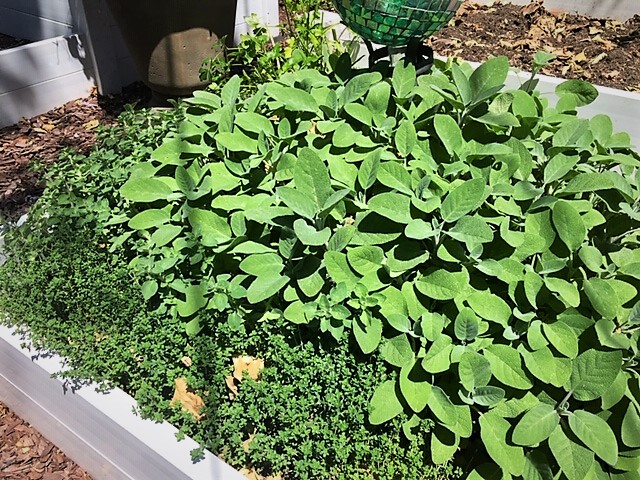 I loved my combination of the balsamic caramelized onions paired with the sweetness of the black grapes along with the buttery bite of the Gorgonzola cheese and crunch of the walnuts, I have to admit while I was taking the photos of this pie, I ate three pieces meanwhile Patrick screaming in the background to make him a vegan pizza…yes, hang on, I did plan for that and made extra dough and that's in the fridge. In conclusion this was a successful day in the kitchen even though today was quite a warm spring day and cooking pizza in a 475 degree oven was a bit warm, but hey, I'm a slave to my cravings… "Slave to the Crave!!" baby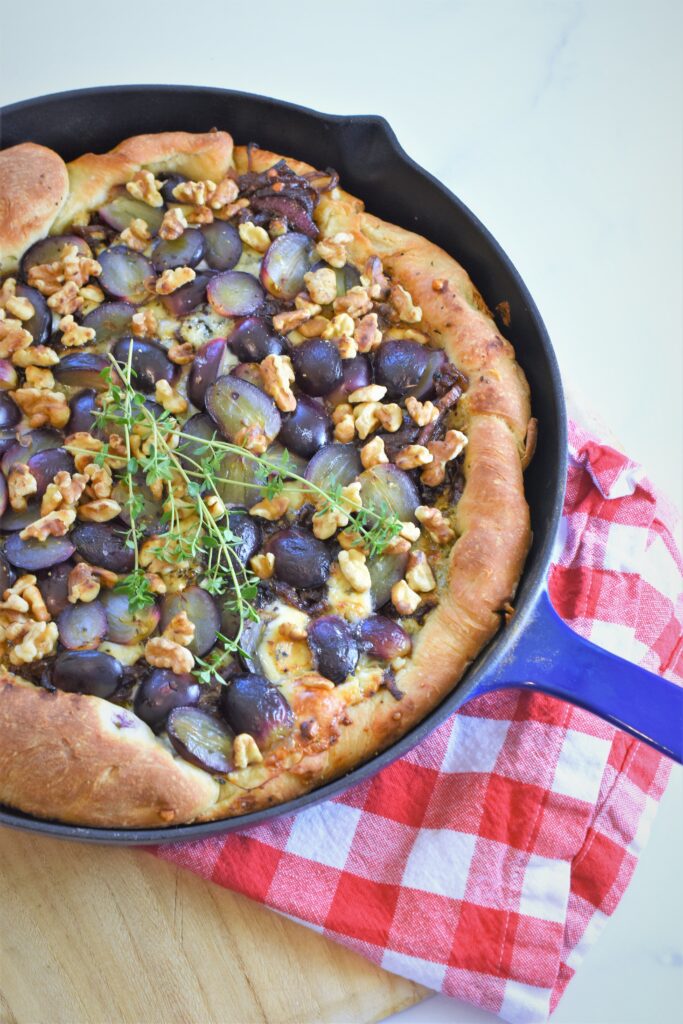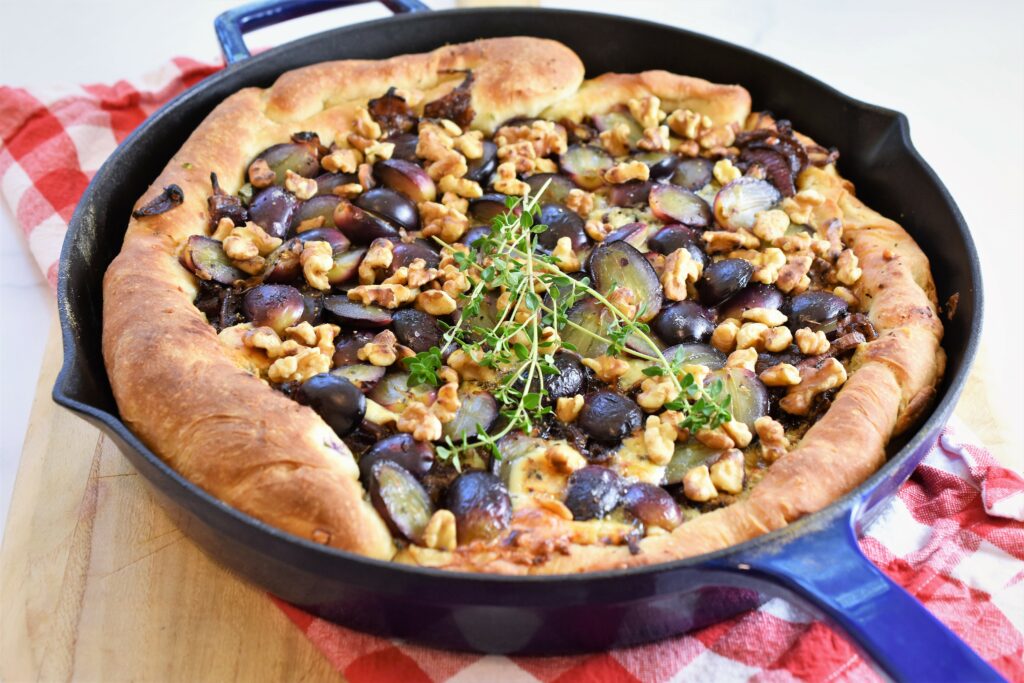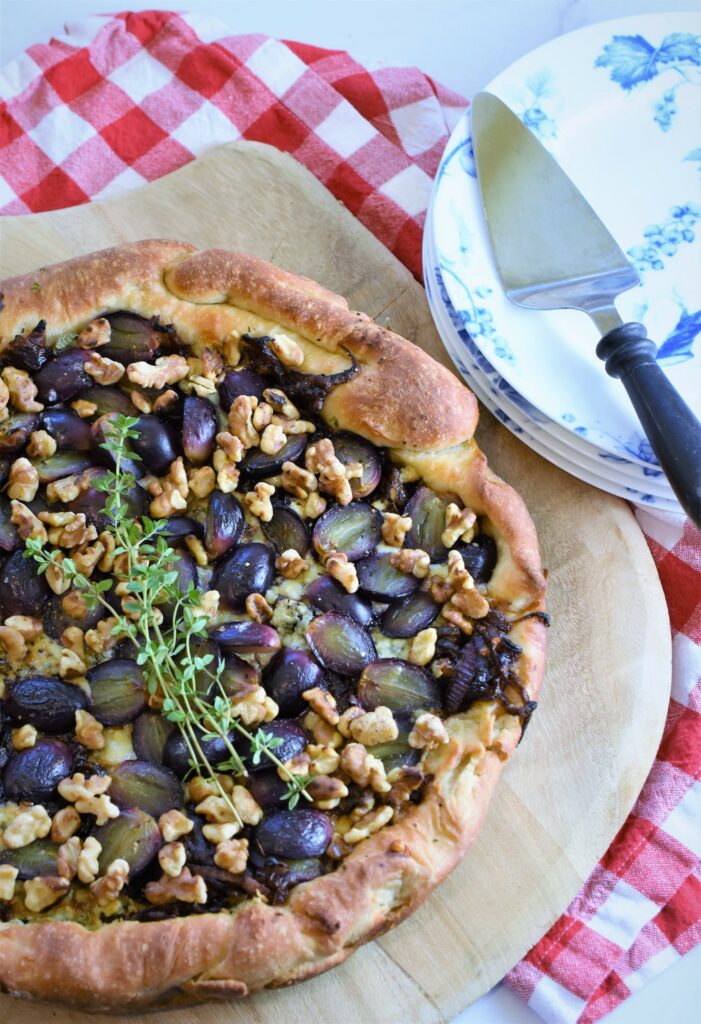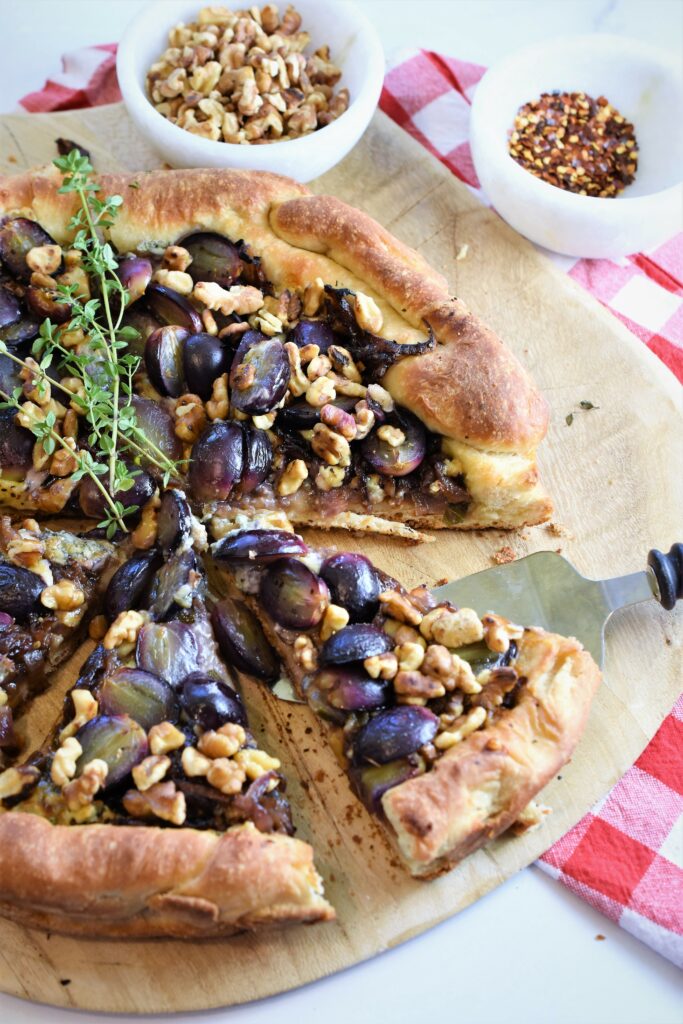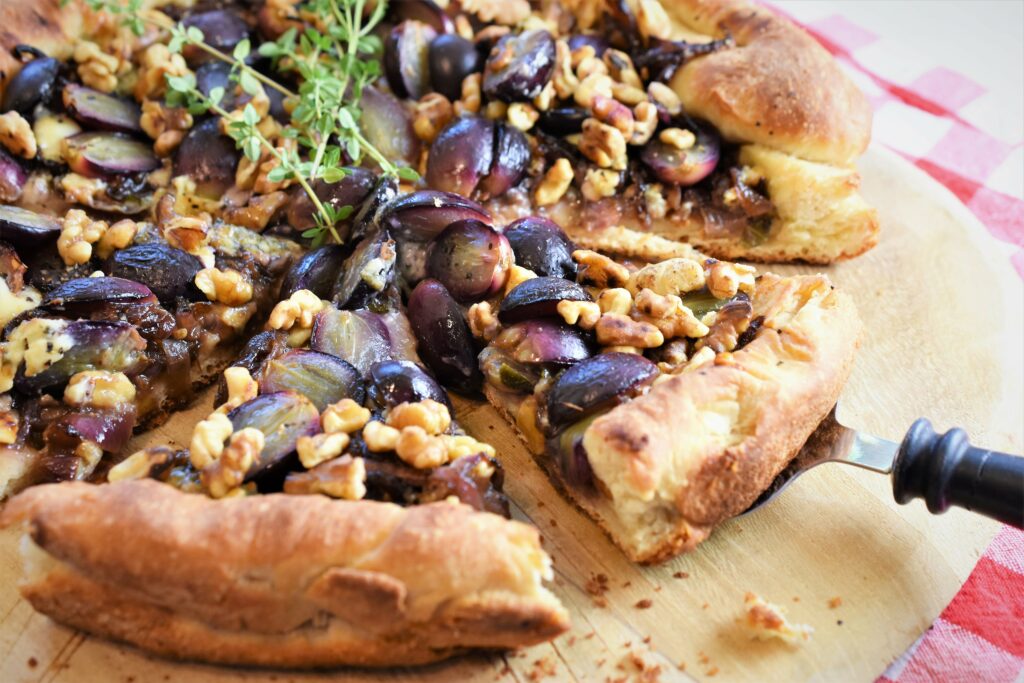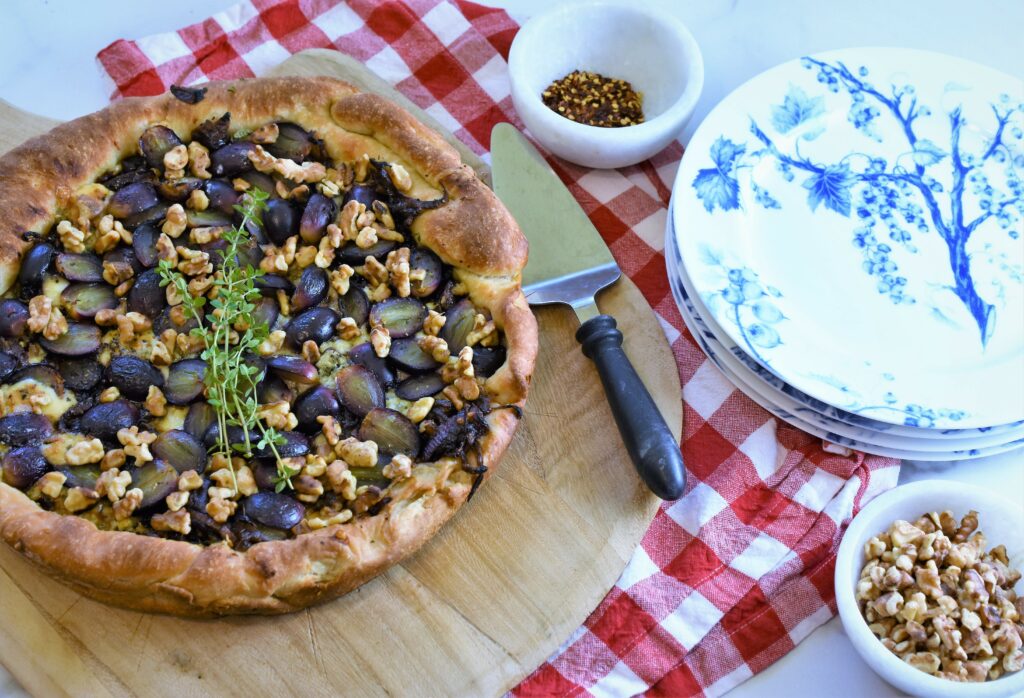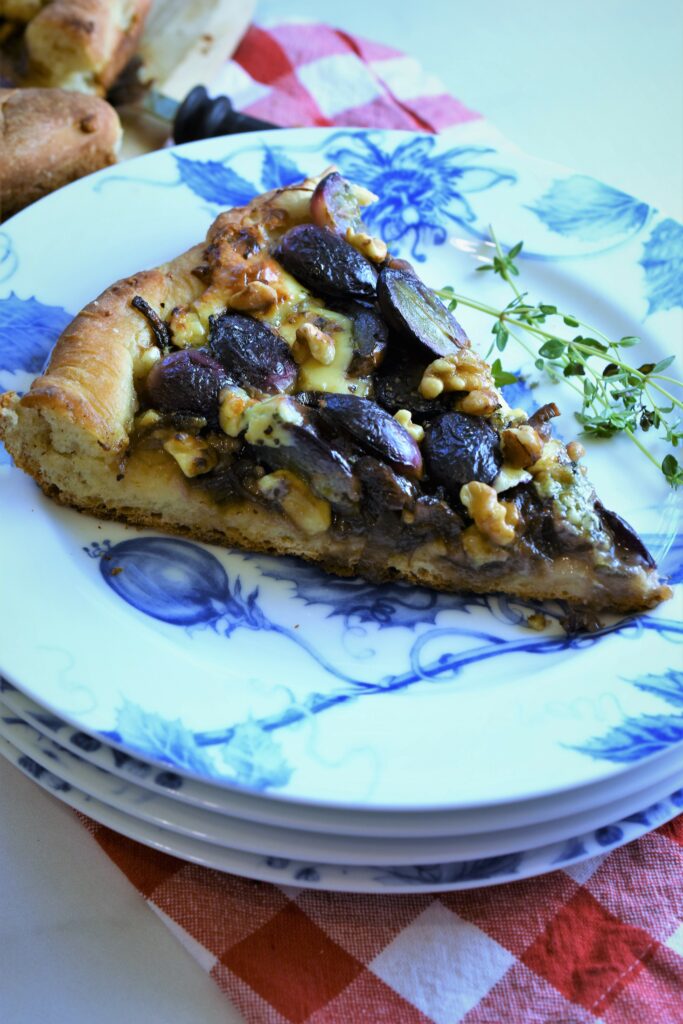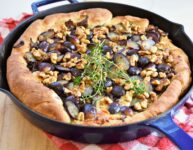 Cast Iron Black Grape Pizza with Gorgonzola, Balsamic Caramelized Onions and Walnuts
This pizza has the best of both worlds, savory and sweet with a crunch from the toasted walnuts, pour yourself a glass of wine and sit out on the terrace as you enjoy this wine country inspired pie.
Resting Time
1
hour
11
minutes
Ingredients
Pizza Dough
1

envelope of active dry yeast

1

tsp

sugar

1

tsp

kosher salt

2 1/2

cups

all-purpose flour

2

tbsp

olive oil

1

cup

hot tap water
Pizza Toppings
1

tbsp

butter

3

tbsp

olive oil, divided

1

large red onion, cut in half and then sliced

1/2

tsp

kosher salt

1/4

tsp

coarse pepper

1/4

tsp

red chili flakes

2

tbsp

balsamic vinegar

1

tbsp

brown sugar

1

tsp

fresh thyme, crumbled

1

tbsp

fresh sage, chopped

1

cup

Gorgonzola, crumbled (I used a 5 oz package)

2

cups

Black grapes, halved

1/2

cup

toasted walnuts, chopped
Instructions
Pizza dough
Add all the dry ingredients plus the olive oil in a stand mixer fitted with the dough hook and while running at low speed add the water and work up the speed to medium until the dough has gathered from the edges of the work bowl to form a ball

If the dough is too sticky add a bit of flour, if too dry, add a bit of water. You want to be able to hand the dough into a smooth large ball shape

Place the dough into a bowl prepped with cooking spray or olive oil, cover with plastic wrap and set on the counter in a warm place for one hour

Take the plastic off and punch the dough a few times and reshape it into a ball again and let rise for another 10 minutes.

This dough will work in a 12 or 14 inch skillet, I had a 12 inch skillet and it made a deep dish style crust.
Caramelizing the onions and assembling the pizza
While the dough is rising, heat the butter and 1 tbsp. olive oil in a skillet over medium high heat; add the onions, salt, pepper and pepper flakes, saute stirring occasionally for 7 minutes

Turn the heat to medium; add the balsamic vinegar and brown sugar, stirring occasionally for 15 minutes, set aside to cool

Preheat the oven to 475 degrees and position the rack to about one shelf up from the middle of the oven

Turn the dough out onto a floured service and roll the dough out in a circle to 12 or 14 inch size

Brush the bottom and sides of a cat iron skillet with 1 tbsp olive oil

Place the dough into the skillet and press down on the bottom and a bit up the sides of the skillet, turning the edges under like a pie, I had a 12 inch skillet, so mine was like a deep dish when cooked

Brush the top of the dough with 1 tbsp of olive oil and sprinkle the thyme and sage over the surface, followed by the onions, Gorgonzola and the grapes.

Sprinkle the top with a pinch of salt and pepper

Place the cast iron pizza on the stove-top over medium/high heat until the bottom of the pizza starts to get golden brown, this took about 5 minutes, lift the edges with a spatula to peek at the bottom to make sure.

Place in the preheated oven for 10 to 15 minutes or until golden brown, mine took exactly 15 minutes

Take out of the oven and sprinkle the toasted walnuts evenly over the top and let the pizza rest for 10 minutes before taking out of the skillet and cutting on a cutting board, serves 4