I'm craving Italian food and have a bunch of zucchini on hand and wanted a happy hour snack that was healthier. My latest recipe for Sicilian zucchini corn gusto blends together the best of fresh harvested vegetables. I snack on chips and dip from time to time like everyone does. Although this may be true I need something fresh to satisfy my hunger with robust flavor.   Calling on my Sicilian roots I made a relish that I call Sicilian Zucchini & Corn Gusto. My grandma Maria would be proud of this, may she rest in peace. I can see her now looking down on me saying, mangia your pasta Joseph Anthony. 
Memories of Grandmas Cooking
I always admired my grandma in the kitchen when I was a little boy. My inspiration for this Sicilian zucchini corn gusto came from her. I always tugged on her apron wondering what she is cooking when we would visit her.  She simmered meatballs and sauce or Cioppino on the stove all day. Plus I always tasted some sauce with a piece of sourdough before dinner and I called them sauce sandwiches. My grandma was a great cook and I think of her often when I make Italian foods. Not to mention that family is always a great inspiration for so much in my life, especially cooking.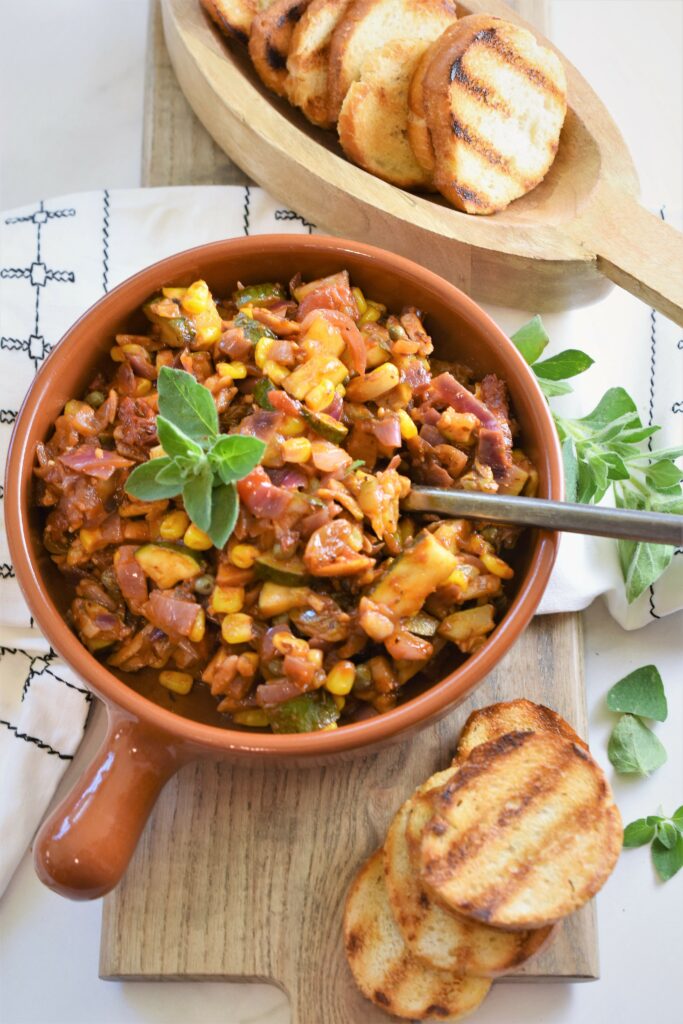 Similarly this Sicilian zucchini and corn gusto contains many Mediterranean elements like eggplant Caponata. Especially the sweet & sour tangy flavor from the vinegar and capers that Caponata is known for.  This relish is amazing and is ready to serve right after making it. Regardless how hungry you are it is better the next day. While the relish sits in the fridge it has time for the flavors to get to know one another.  When serving it right from the fridge bring it to room temperature, because it's much better.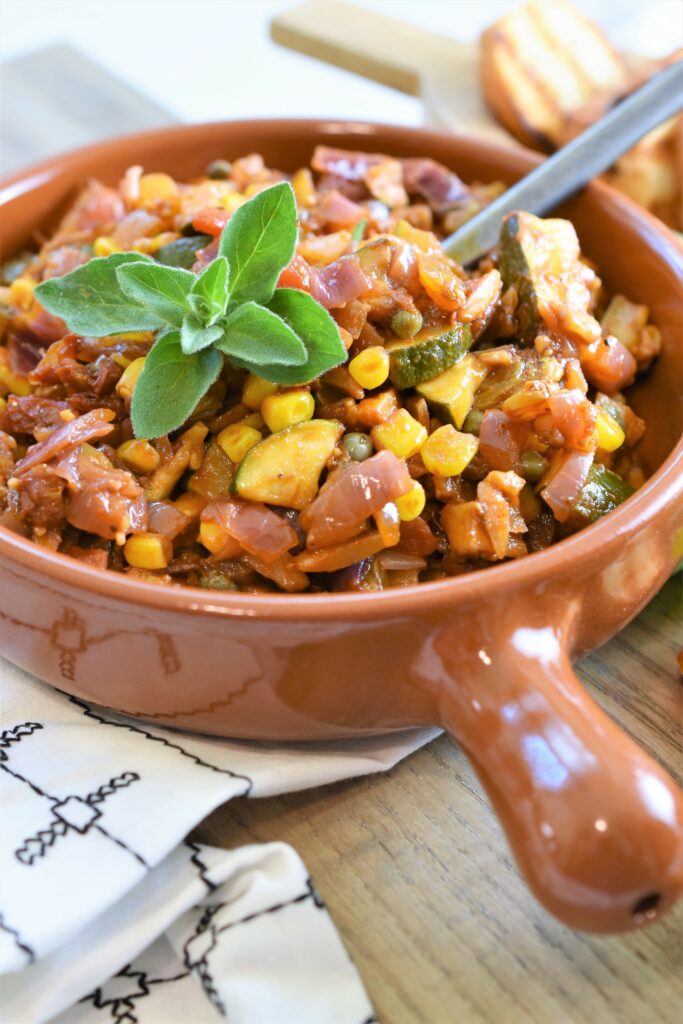 More outstanding dips to keep your party guests more reasons to R.S.V.P. at your next party!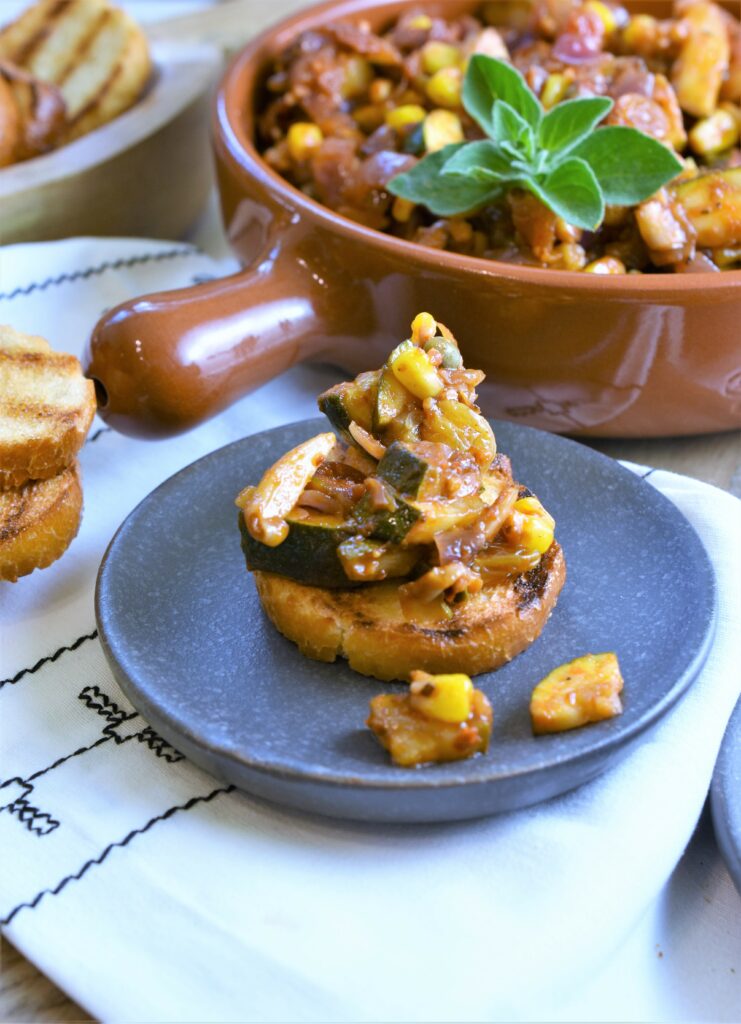 More ways to enjoy this Sicilian Zucchini and Corn Gusto
On a low-carb diet? Spoon some of this relish over cucumber slices or in endive leaves. Plus you don't have to serve this zucchini and corn gusto as an appetizer. This is great stirred into pasta or spooned over some fish, chicken or pork for a fantastic way to add zing to your entrees! Plus don't forget to use this as a fabulous sandwich or panini filling.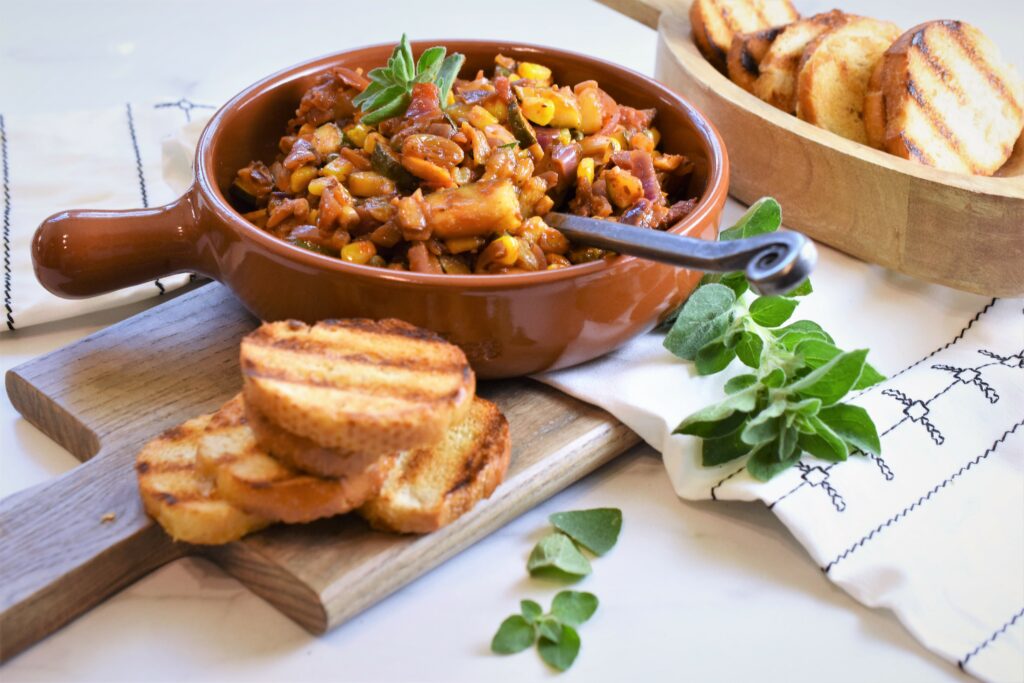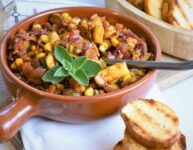 Sicilian Zucchini & Corn Gusto
A fresh relish with a blend of fresh veggies with a nice sweet & sour tang and very versatile as an appetizer and so much more…
Ingredients
2

cups

red onion, chopped (1 medium onion)

2

cloves

garlic, chopped

3

zucchini, medium or 4 cups, chopped

2

cups

corn, fresh, frozen or canned

3

tbsp

sun dried tomatoes packed in oil, drained, chopped

2

tbsp

balsamic vinegar

1/2

tsp

kosher salt

1/4

tsp

pepper

1/2

tsp

red chili flakes

2

tsp

sugar

1

tsp

Italian seasoning

2

tbsp

tomato paste

1

cup

canned chopped tomatoes

1/2

cup

golden raisins

2

tbsp

capers, drained and rinsed

1/2

cup

slivered almonds
Instructions
Add the olive oil to a large skillet over medium/high heat; add the onions and garlic and saute for 4 minutes, stirring occasionally

Add the zucchini, corn, sun-dried tomatoes, balsamic vinegar, salt, pepper, red chili flakes, sugar and Italian seasoning and saute for another 5 minutes, stirring occasionally

Turn down the heat to medium and add the tomato paste, chopped tomatoes, golden raisin, capers and slivered almonds and saute for 8 minutes more, stirring well to break up the tomato paste and make sure everything is mixed in well, you don't want the mixture to become mushy so don't over cook, the zucchini should be just done and tender

Take off heat and let cool to room temperature and serve with toasted baguette slices, pita chips or crackers

I really like this "relish" best served the next day allowing the flavors to meld overnight.

Makes 6 cups, serves 12 as an appetizer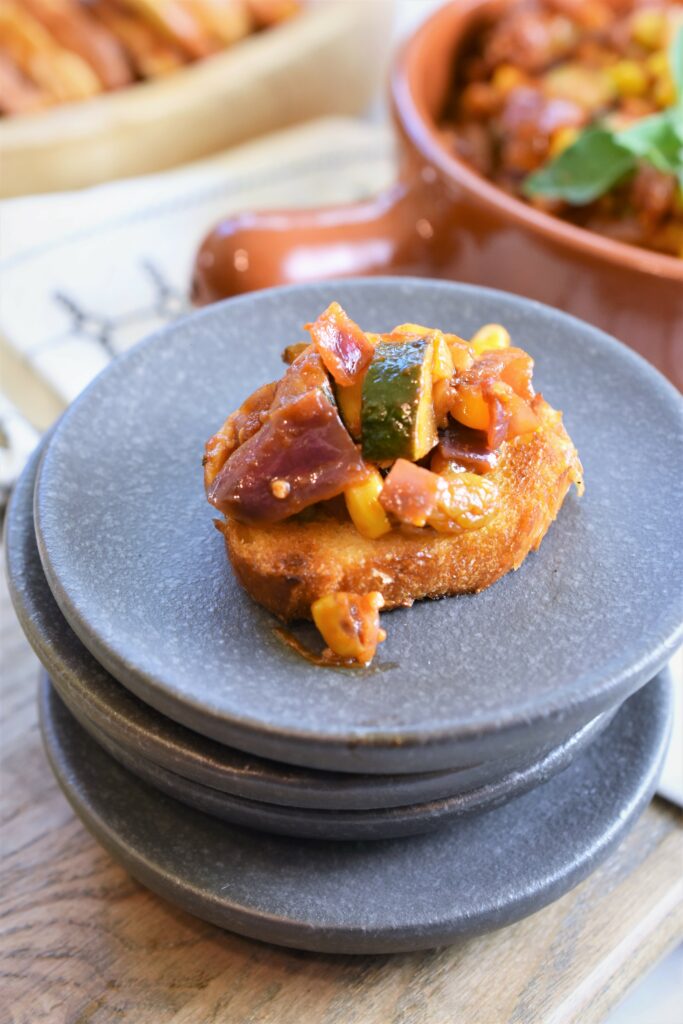 I love Country Living Magazine and they have an article on 55 Easy Dip Recipes That Your Party Guests Will Devour in No Time….now that's dip crazy!