I thought I would take my hand at making bread again so I came up with a new recipe called crazy Dutch oven bread….it's basically everything but the kitchen sink in a loaf, ha ha.  I was craving a nut and seed bread because I love the texture and when it's toasted, it's so good. I wanted to use what ingredients I had on hand in my pantry, like many I can't go to the grocery store right now so I've been making due with what I have and/or I compile a list and I send Patrick to the store but not to get things that I blog, well not really…I'm trying to be frugal during these hard times.
Don't be intimidated with bread making, I was for years until a friend of mine pointed out to me that you can make a super easy rustic loaf of bread without much kneading or rising. All you need is a Dutch oven and a hot oven for this crazy Dutch oven bread.  She was right, this is my only 3rd loaf of bread that I ever made, besides a stint in the 90's with a bread maker and that thing was loud and took hours to make an oddly shaped square loaf…I donated that thing to the thrift store long ago.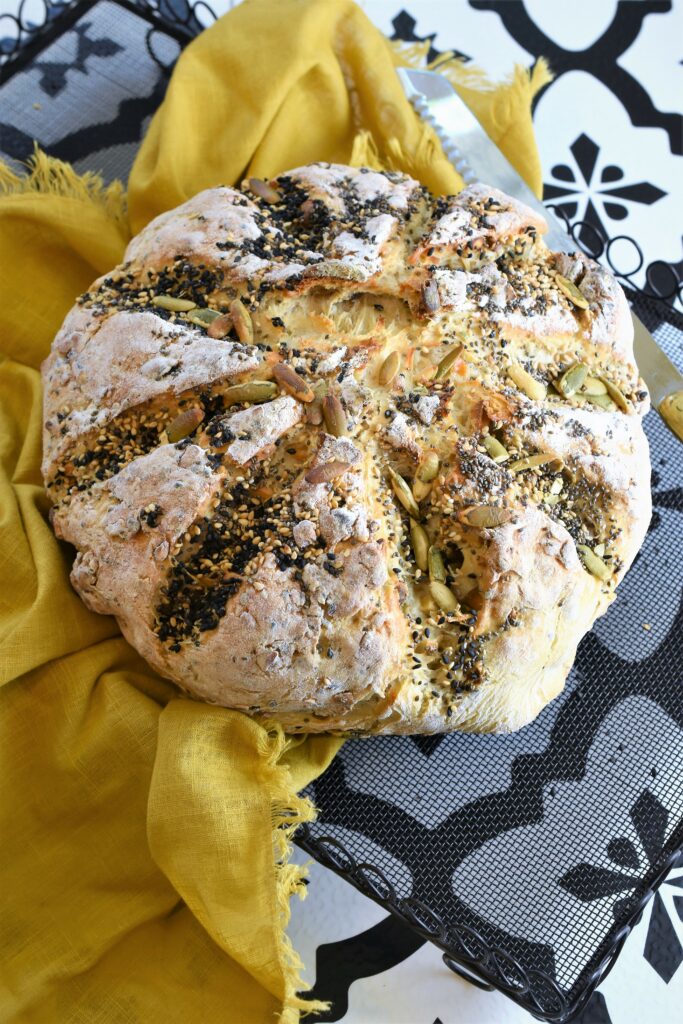 My recipe came out great for this crazy Dutch oven bread and I love it toasted. In fact, toasting it really brings out the flavor more and gives it a nice crunch plus I'm sure this would make awesome sandwich bread as well.  A friend asked me today what I had for lunch and I said bread. Then she asked me what am I having for dinner and I said bread….why have anything else?
Liking this Crazy Dutch Oven Bread? Try some of my other recipes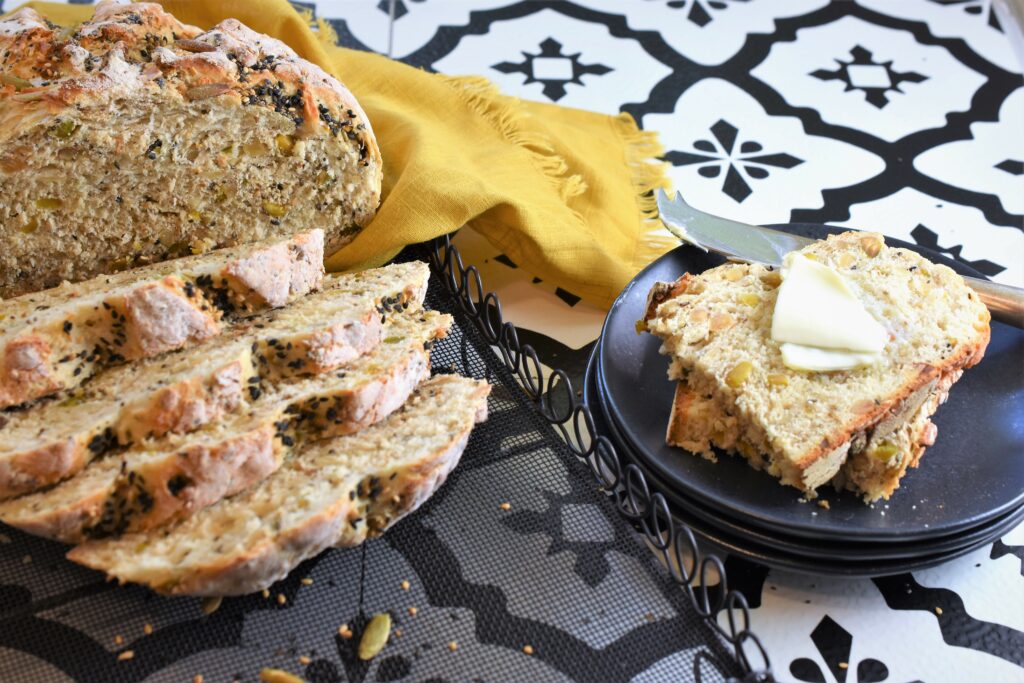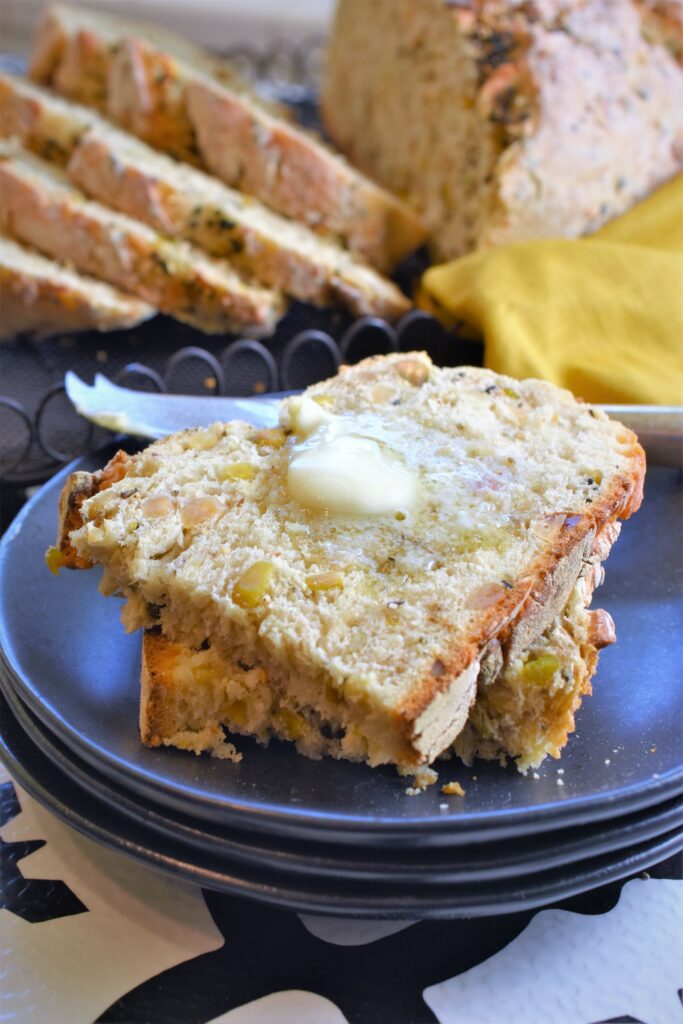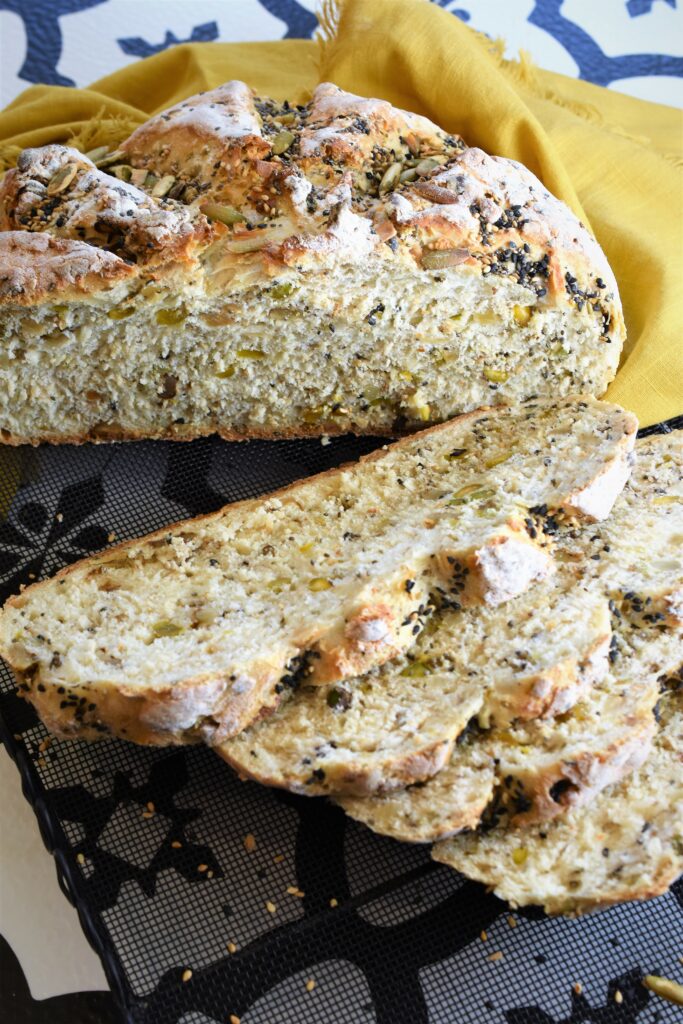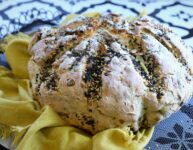 Crazy Mixed Up Nut and Seed Dutch Oven Bread
This bread has all the texture of nuts and seeds in it that you crave and so easy to make
Ingredients
2 1/4

tsp

active dry yeast, or one envelope

1

tbsp

sugar

1 1/2

cups

hot tap water

4

cups

all-purpose flour

1 1/2

tsp

kosher salt

1/2

cup

slivered almonds

1/2

cup

chopped walnuts

1/2

cup

chopped pistachios

2

tbsp

brown sesame seeds (reserve 1 tbsp. for top)

2

tbsp

black sesame seeds (reserve 1 tbsp. for top)

3

tbsp

pumpkin seeds (reserve 1 tbsp. for top)

2

tbsp

chia seeds (reserve 1 tbsp. for top)
Instructions
Preheat the oven to 175 degrees, once preheated Turn Off

Cut a piece of parchment big enough to fit into a 5 or 6 quart Dutch oven, bottom and sides, set aside. I used 2 pre-cut sheets

Combine the active dry yeast, sugar, hot water, flour and salt in a stand mixer with the hook attachment and mix until just combined or you can do this by hand

Add the almonds, walnuts, pistachios, 1 tbsp brown sesame seeds, 1 tbsp black sesame seeds, 2 tbsp pumpkin seeds and 1 tbsp chia seeds. Mix well until the dough starts to form a ball and comes away from the sides of the mixing bowl and all the nuts and seeds are mixed in.

Cover the bowl with a towel or plastic wrap and place in the warm but (off) oven on a sheet pan and let rise for 2 hours

Take bowl of dough out of the oven and turn onto a floured surface, making sure to get all the dough from the mixing bowl and turn the dough onto itself a few times to form a nice uniform shape and place on the parchment paper and with a sharp knife, cut a few slits on the top of the dough and sprinkle the top with the reserved seeds

Preheat oven to 450 degrees with the empty Dutch oven with the lid on in the oven

carefully take out the Dutch oven with mitts and take the lid off and set the dough on the parchment paper and place that in the Dutch oven, put the lid on and return to the oven and bake for 30 minutes

Turn down the oven to 400 degrees and take the lid off and bake for another 15 to 20 minutes until the crust is brown (mine came out perfect at 15 min. so total time in oven was 45)

Take the Dutch oven out and lift the bread out with the parchment paper and let cool for 30 minutes before serving
Recipe Notes
You can substitute the nuts and seeds with any kind of nuts and seeds that you like and that you have on hand, this recipe is versatile, make it as crazy as you like. 
I love Martha Stewart and have many of her cookbooks, here she has 20 Bakery-Worthy Bread Recipes You Can Make at Home….thanks Martha!