Scones can be served any time of day but a lot of people love them for brunch.  I made this scone mix and gave them out to the guests at a small brunch garden party that I catered recently.  Today I thought I should blog this since I had a few bags leftover.  I opened the bag and proceeded to use my short edited instruction sticker that was on the back of the bag and oops, I forgot to put the egg as one of the additional ingredients needed to make these.  I laughed and also panicked knowing there were about 20 women that took this as one of their parting gifts at the shower and if they made it without the egg; they would certainly not be that great.  I ran over to my computer and emailed my client and asked her if she can email everyone that may have taken a bag and tell them to add an egg.  I strive for perfection but I'm only human and mistakes happen…oh well.  Anyway, enjoy these delicious scones for breakfast or afternoon tea.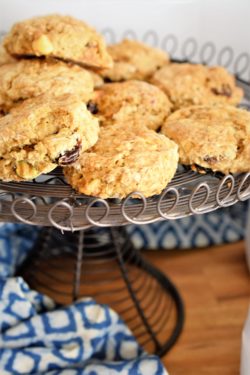 Add jam, clotted cream, butter or just eat them the way they are!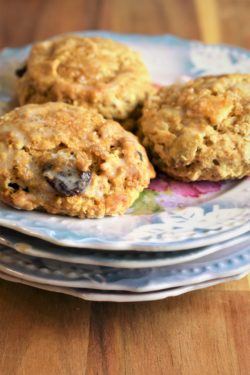 These make great gifts for any occasion, just make sure when you make an instruction label  that the wet ingredients are needed for this recipe to not forget the egg…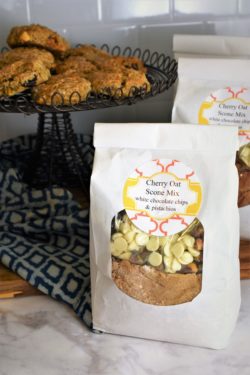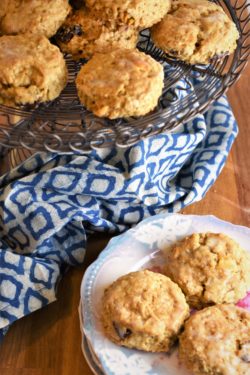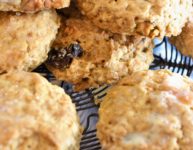 Oat, White Chocolate Chip, Pistachio & Cherry Scones
This delicious oat scone is full of texture and flavor and are great for a brunch bite for sure.
Ingredients
2

cups

all-purpose flour

1

cup

rolled oats

1/2

cup

brown sugar

1/4

cup

sugar

2

tsps

baking powder

1/2

tsp

baking soda

1

tsp

cinnamon

1/4

tsp

nutmeg

1/2

tsp

kosher salt

4

oz

cold butter, cut into pats

1

egg

beaten

1

tsp

vanilla

3/4

cup

buttermilk

1/2

cup

white chocolate chips

1/4

cup

pistachios, chopped

1/4

cup

dried sweet cherries

3

tbsp

turbinado sugar

2

oz

butter, melted
Instructions
Preheat oven to 375 degrees

Line 2 sheet pans with parchment paper

In a medium mixing bowl whisk together the flour, oats, brown sugar, sugar, baking powder, baking soda, cinnamon, nutmeg and salt

Add the butter pats and with a hand pastry blender or an electric mixer, mix the butter into the dry ingredients until it looks crumbly

Add the egg, vanilla and buttermilk and mix together until it starts to stick together

Mix in the white chocolate chips, pistachios and dried cherries

Form into a ball and make sure to gather any batter that is stuck to the bowl, it will be sticky. Place it on a floured surface and sprinkle a bit of flour on top and smooth over and flatten out the dough with your hands to about 1/2 inch deep

With a 2 inch biscuit cutter, cut out rounds and place them on the baking sheet

Sprinkle a small amount of turbinado sugar on top of each scone and place in the oven and bake for 20 minutes

Brush each scone with melted butter and serve immediately, makes 18