If you're like me there is nothing better than a warm dip at parties that you can scoop crispy toast or chips in, it's the ultimate comfort party food.  When you can't sleep at night do you lay awake at night dreaming of a luscious and cheesy dip instead of counting sheep? What's your favorite warm dip at get-togethers that you dream about?   Mine is crab dip and it's such a popular dip because it is so full of flavor and goes so well with the melty warm goodness of cheese.  One dip I make a lot at parties is artichoke dip and it's a very popular classic for sure; so I thought I would mix the two together and add the flavor of artichokes to my crab dip and it turned out delicious.  One thing I don't like is that when warm dips that are full of fat start cooling off, they become a bit oily so I lightened up the fat and calories a bit by using Neufchatel cheese and low fat Greek yogurt instead of full fat cream cheese and mayonnaise like most recipes call for, don't worry it's still gooey and cheesy.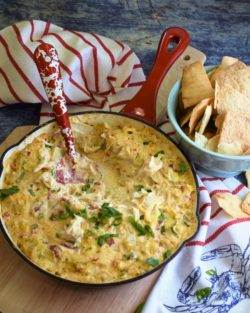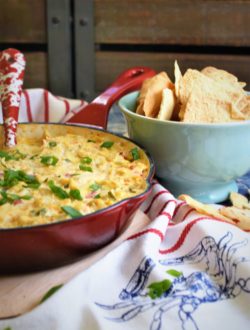 There is nothing better than warm crab dip on a crunchy pita chip…are you hungry yet?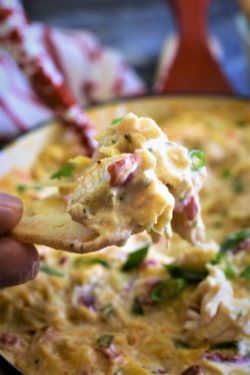 So good you can eat it by the spoonful…forget the crackers!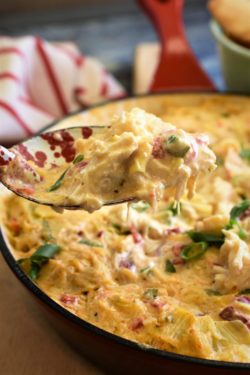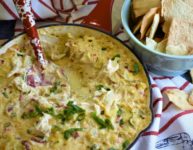 Baked Crab, Artichoke & Gouda Cheese Dip
This updated warm classic crab dip with artichoke hearts, Gouda and Greek style yogurt is a nice surprise and perfect for so many parties
Ingredients
1

8 oz

package of Neufchatel cheese, softened

1

cup

low fat Greek style yogurt

1/3

cup

grated Parmesan & Romano cheese blend

2

tsp

Old bay seasoning

1/2

tsp

cayenne pepper

1

small lemon, juice & zest

1/4

cup

green onions, chopped

1

tbsp

fresh chopped tarragon or 1 1/2 tsp dried

2

oz

jar of pimentos, drained

1 1/2

cups

Gouda cheese, shredded

14

oz

can artichoke hearts, drained well & chopped

1

lb

lump crab meat
Instructions
Preheat the oven to 350 degrees

Stir together the softened Neufchatel cheese, yogurt, Parmesan/Romano cheese, Old bay seasoning, cayenne, zest and juice of the lemon, green onions and tarragon

Add the diced pimentos, Gouda cheese and artichoke hearts and mix well

Lastly fold in the crab meat until well mixed

Spread in a 2 ½ quart casserole or oven proof pan and bake for 25-30 minutes until heated through and bubbly.

Serve with crunchy pita chips, sliced baguette or crackers.