Classic tomato bruschetta is a very popular appetizer and I get requests for it all the time but during winter, tomatoes are not the best for this dish.  I have a cocktail party coming up whereas my client asked for bruschetta and I mentioned that if she would like that dish for this time of year, I will make it with cherry tomatoes and for a twist with mozzarella. Cherry tomatoes never disappoint, year round they are sure to be sweet and they are perfect for this recipe. My client was thrilled with my take on the classic Caprese Salad turned into a small and crunchy cocktail bite, in January no less.  This recipe is only 5 ingredients plus salt & pepper, so get in the kitchen and cook!
Caprese Salad, a summertime classic…as a bruschetta to enjoy at parties as an appetizer any time of year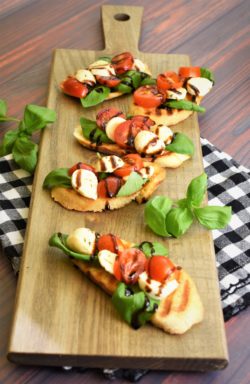 Display your food with color and interest to entice your party guests… no one wants to eat from a foil pan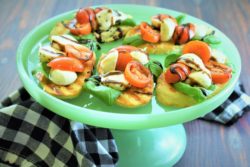 Garden fresh appetizers…not my garden right now…but someones, right?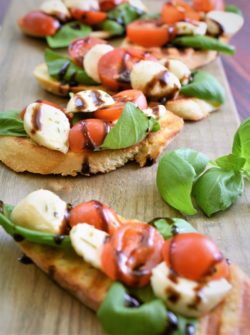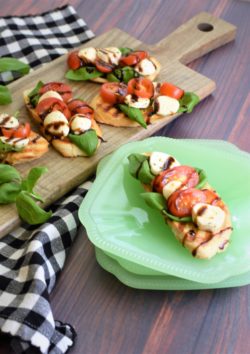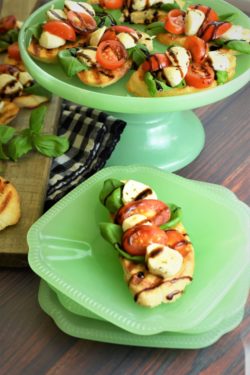 Here is a picture of the bruschetta at the party…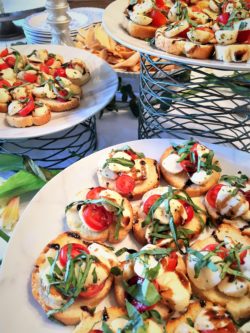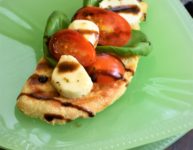 Caprese Salad Bruschetta
This Caprese Salad classic turned bruschetta is a great crunchy party bite with salad on top...YUM
Ingredients
1

baguette of sour dough or French bread

olive oil spray

12

oz

container of mini marinated mozzarella balls, drained and each one cut into thirds

24

large cherry tomatoes, cut into thirds

1

bunch of basil

balsamic glaze

1/4

tsp

freshly cracked ground pepper

1/4

tsp

kosher or sea salt
Instructions
Preheat oven to 425 degrees F

Slice the baguette into half inch slices on the diagonal and place on a parchment lined cookie sheet, you should have about 24 slices of bread, and spray each one evenly with olive oil spray, alternatively you can grill them in a grill pan or use a Panini press like I did.

Place in oven and toast until lightly browned around the edges, about 8 minutes, take out and let cool.

Place some basil leaves on top of the bruschetta, depending on the size of them, one to three leaves on each.

Top with 3 slices of cheese and 3 slices of tomato, layering them as you lay them down

Drizzle with balsamic glaze and sprinkle with a pinch of salt & pepper and serve.

Makes 24 and serves 8 to 10 as an appetizer.