Is there nothing better than a cheesy baked dip at a party? Gooey, stringy, melted cheese with crackers, toasts or chips is a party favorite for so many people whether it's fondue or nachos, cheese really is addictive and so is my recipe for this luscious baked mushroom and Gruyere dip with porcini & brandy it's so satisfying and yet sophisticated. Your taste buds will scream with the rich flavor that comes from the porcini mushrooms and the brandy. I've been using dried porcini mushrooms for years in soups, stocks and sauces and in making my homemade porcini mushroom salt; they are definitely my favorite flavor enhancer. I added some of the leftover dip this morning in my egg whites for breakfast, OMG so yummy.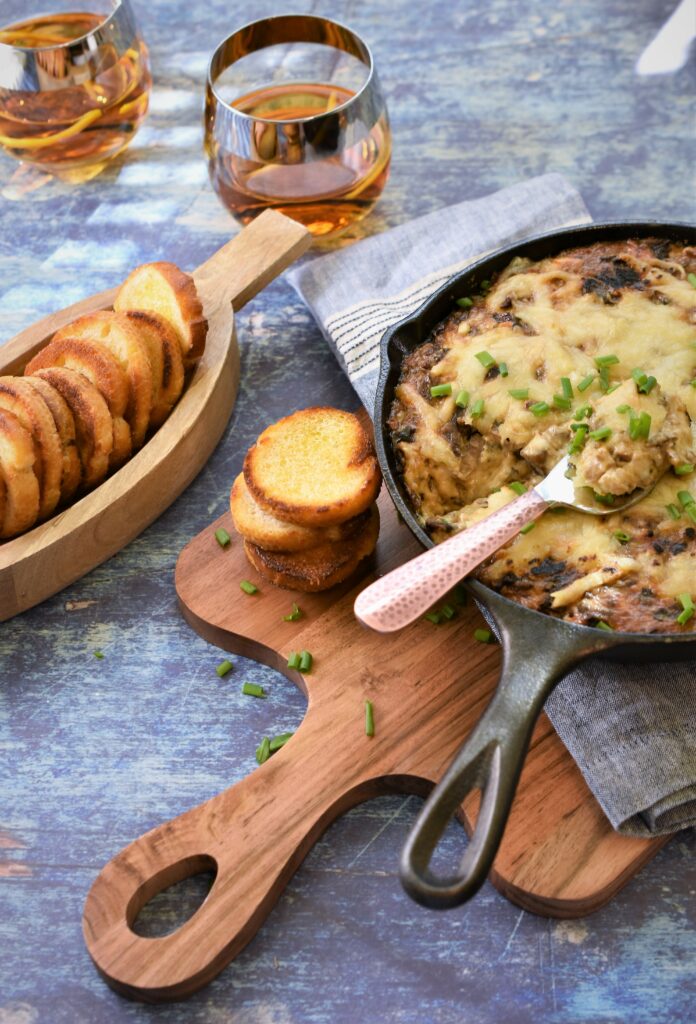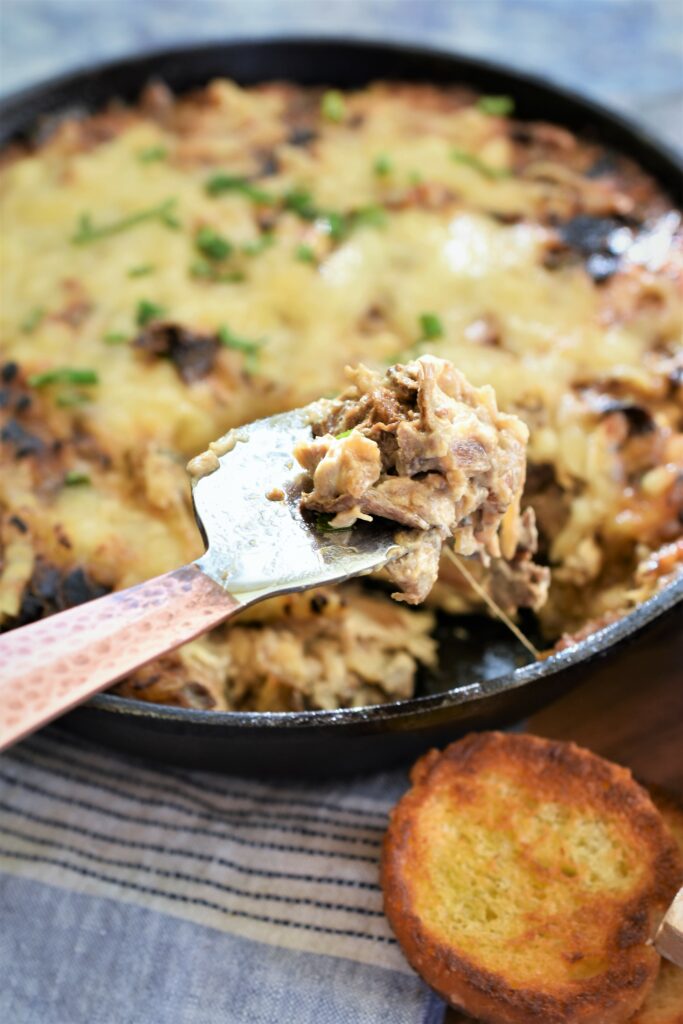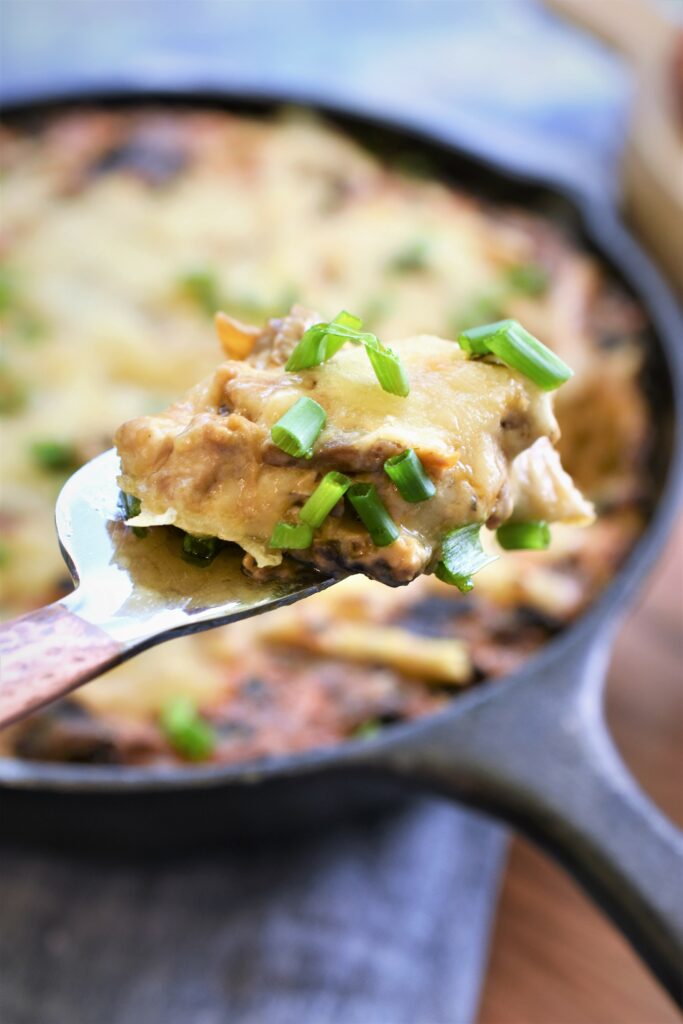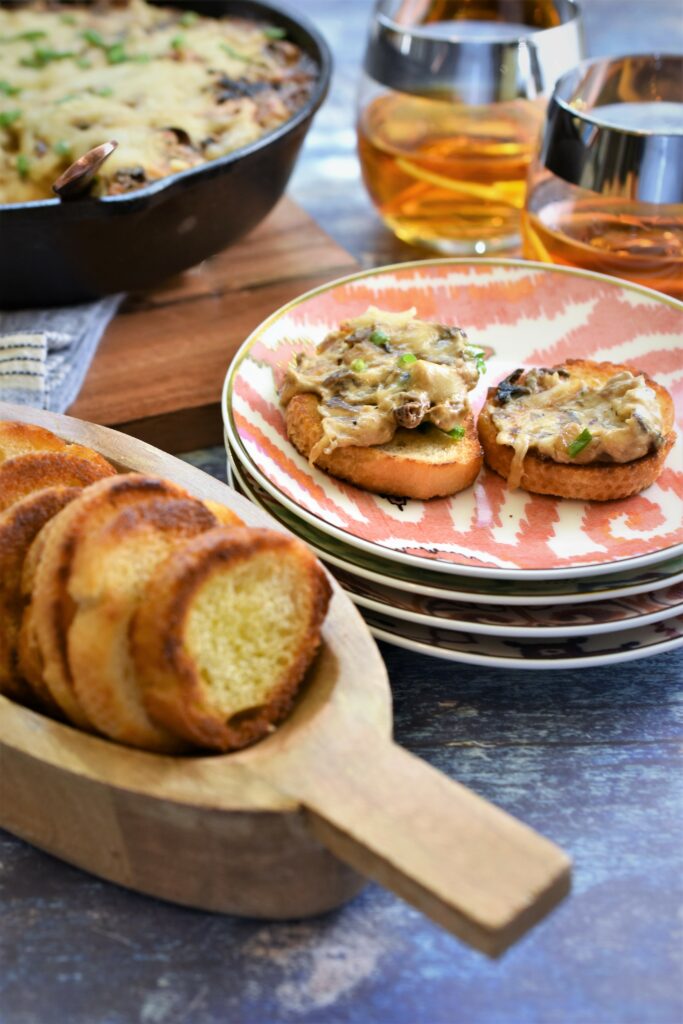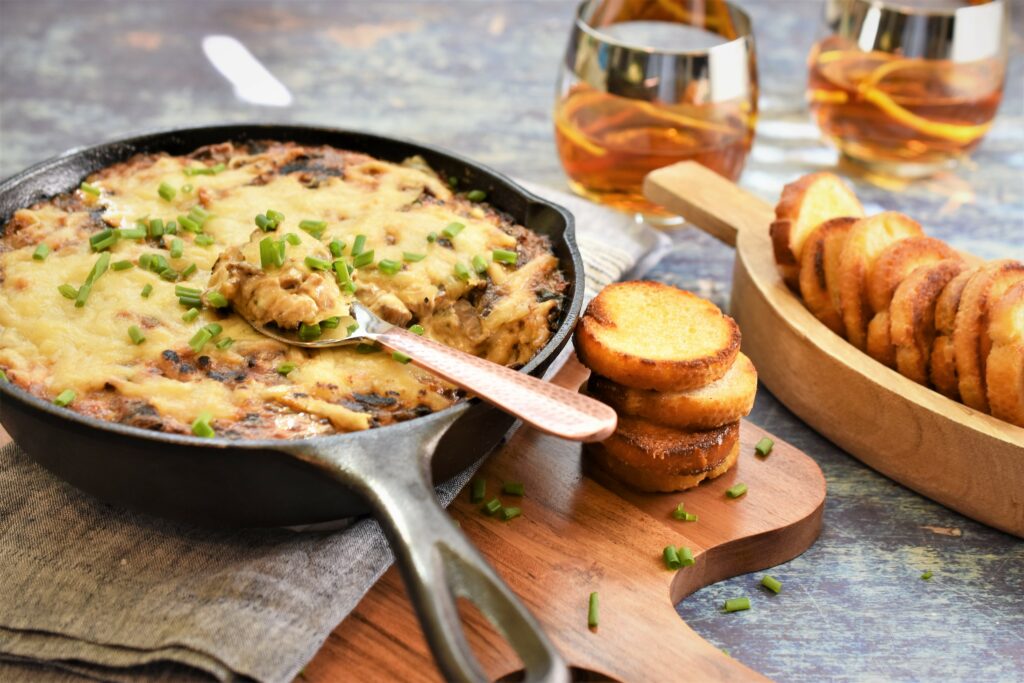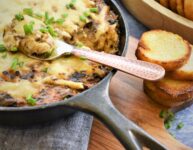 Baked Mushroom and Gruyere Dip with Porcini & Brandy
This warm cheesy dips with notes of brandy and rich flavor of porcini mushrooms will be a hit at any party you serve it at.
Ingredients
1

oz

package of dried Porcini mushrooms

1/2

cup

water

1/2

cup

brandy

1

tbsp

unsalted butter

1

tbsp

olive oil

1

cup

chopped yellow or white onion

2

garlic cloves, chopped

1

tbsp

fresh rosemary, minced

1

lb

crimini or white mushrooms, roughly chopped

1/2

tsp

kosher salt

1/2

tsp

course ground pepper

3

cups

Gruyere cheese, shredded, reserve 1/2 cup for top

8

oz

cream cheese, softened
Instructions
Place the dried porcini mushrooms, water and brandy in a microwave safe covered bowl, making sure the bowl is small enough that the mushrooms are submerged in the liquid and microwave on high for 2 minutes and let sit for 5 minutes.

Drain the porcini mushrooms with a small sieve into another bowl pressing the mushrooms with the back of a spoon to get all the liquid out, you will want to save the liquid, chop the mushrooms and set aside.

Heat the butter and olive oil over medium/high heat in a frying pan and add the onion, garlic and rosemary, saute for 3 minutes.

Add the mushrooms and the porcini mushrooms along with the salt and pepper and saute for 3 minutes stirring occasionally until mushrooms start to brown. Add the reserved mushroom liquid and stir and cook until most of the liquid has been cooked off, this will take an additional 5 or so minutes; set aside to cook for 5 minutes.

Preheat oven to 400 degrees

In a mixing bow, mix together the Gruyere cheese and the softened cream cheese, add the sauteed mushrooms and mix really well into the cheeses

Pour into a greased or sprayed casserole dish and top with the reserved 1/2 cup of cheese and bake for 20 to 25 minutes until golden and bubbly.

Let cool for 5 minutes before serving with crackers, pita chips and/or toasts