I love this simple recipe with flavors that you would find in a plate of Carbonara pasta; this crunchy flatbread pizza could not be any easier, especially on busy weeknights.  This is a very family friendly recipe and the kids will love this, what kid or adult for that matter doesn't like pizza? As long as you keep this recipe handy, you can wave goodbye to the pizza delivery driver as he passes by your house because it's a pizza party!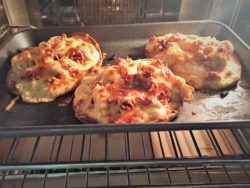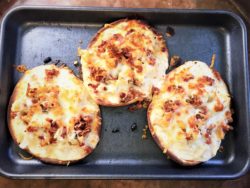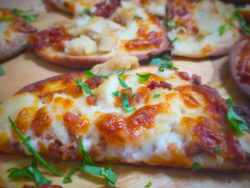 Ingredients:
8 pieces naan flatbread approximately 5 inches in diameter
2/3 cup to 1 cup of prepared refrigerated Alfredo sauce
¾ cup of chopped onion, about ½ of a medium one
8 slices of cooked bacon, chopped
2 cups of diced cooked chicken, about 2 chicken breasts
8 oz. package of shredded Italian blend cheeses
Freshly cracked black pepper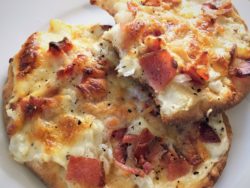 Directions:
Preheat oven to 400 degrees F
Line 2 baking sheet pans with parchment paper or silicone mats, place 4 flatbreads on each
Spoon a heaping tablespoon of Alfredo sauce on each flatbread and sprinkle chopped onion on top
Divide the chopped bacon among the flatbread on top of the onion
Add the chopped chicken on top, followed by the cheese and a sprinkling of pepper on each
Bake in oven for approximately 15 minutes or until golden brown and crispy around edges
Garnish with fresh chopped basil if you like
Variations: if you can't find naan flatbread, you can substitute with same sized pita bread
Yield: 8 Individual flatbread pizzas
Cut each one into thirds so you have a total of 24 small pieces for an appetizer party!
Serves 4 to 8