There is something about Sundays, sleeping in and enjoying a leisurely morning and having brunch. In my opinion breakfast tastes so much better on Sundays and your brunch will be amazing with my recipe for these decadent vegan baked ginger, pecan and banana Brulee donuts…Brulee donuts? Yes, why not have that delicious caramelized sugar crunch that you experience with crème Brulee but on top of your donut, OMG! Once you take a bite out of these tender donuts you will first get that caramelized crunch through the banana topping and into the pecan banana donut , the rest of your Sunday will be on a happy note… you may not get much done with the rest of your day because you will be daydreaming about what you had for breakfast. I honestly think these are one of the best baked recipes that I have come up with and I don't really even care much for bananas and I had one.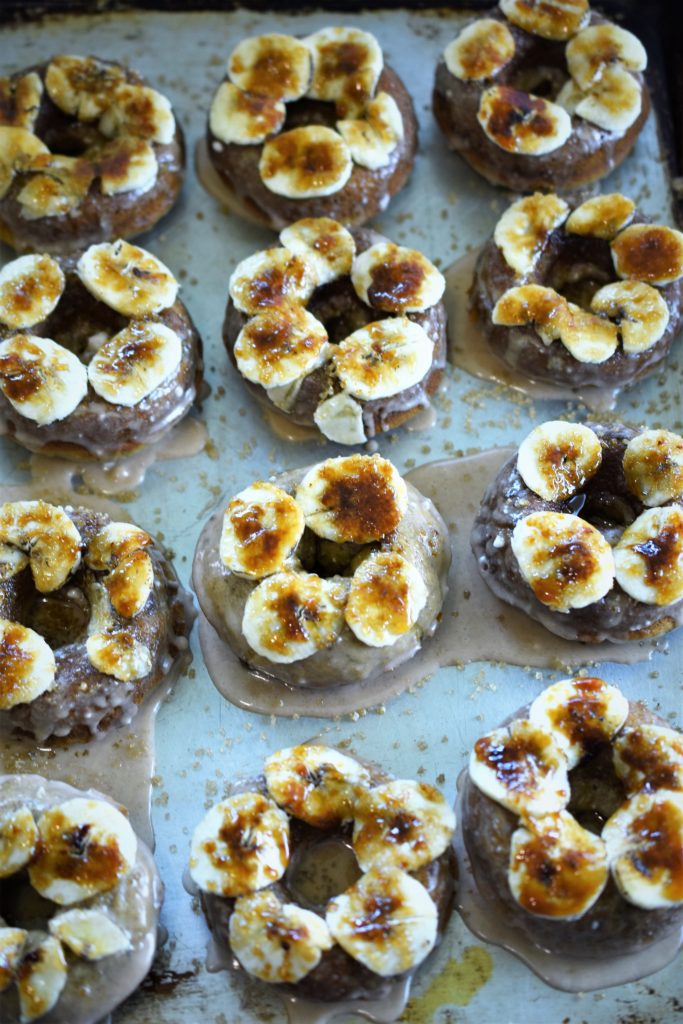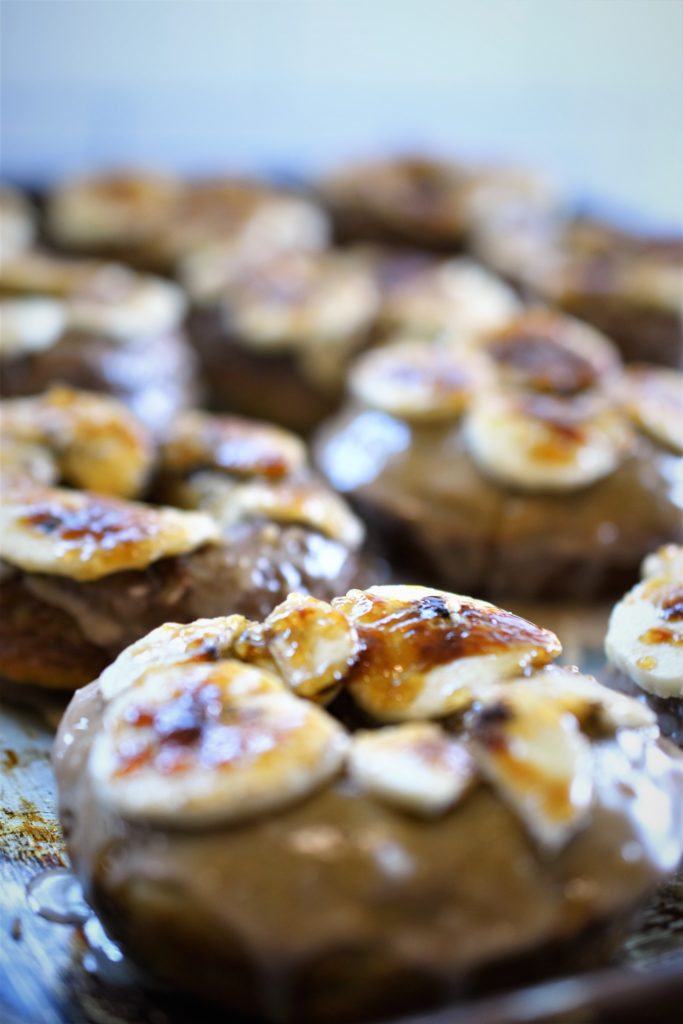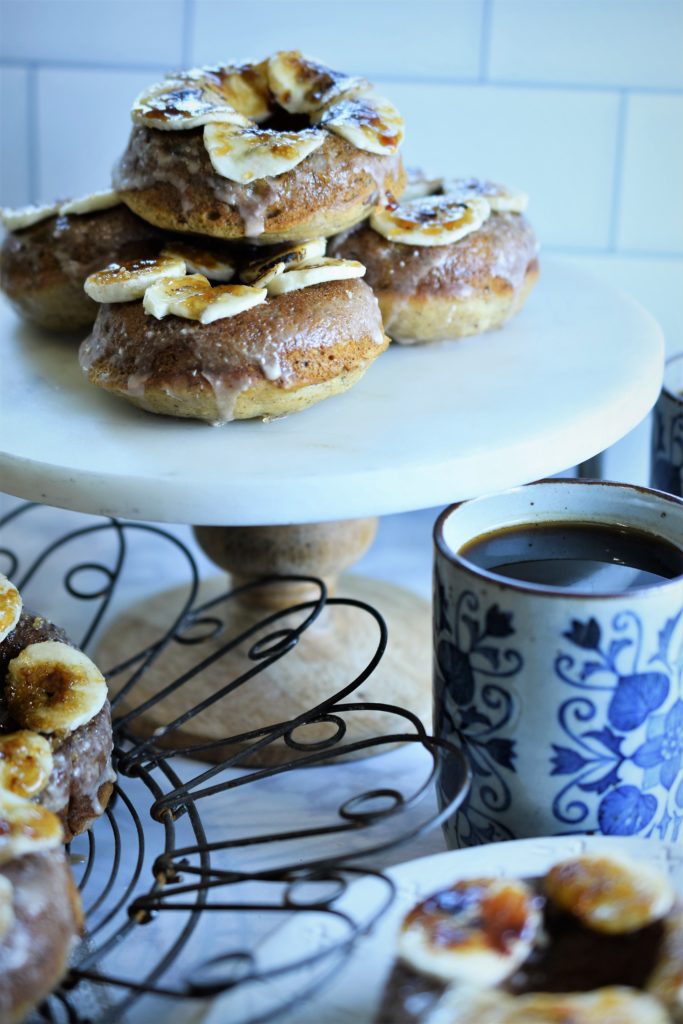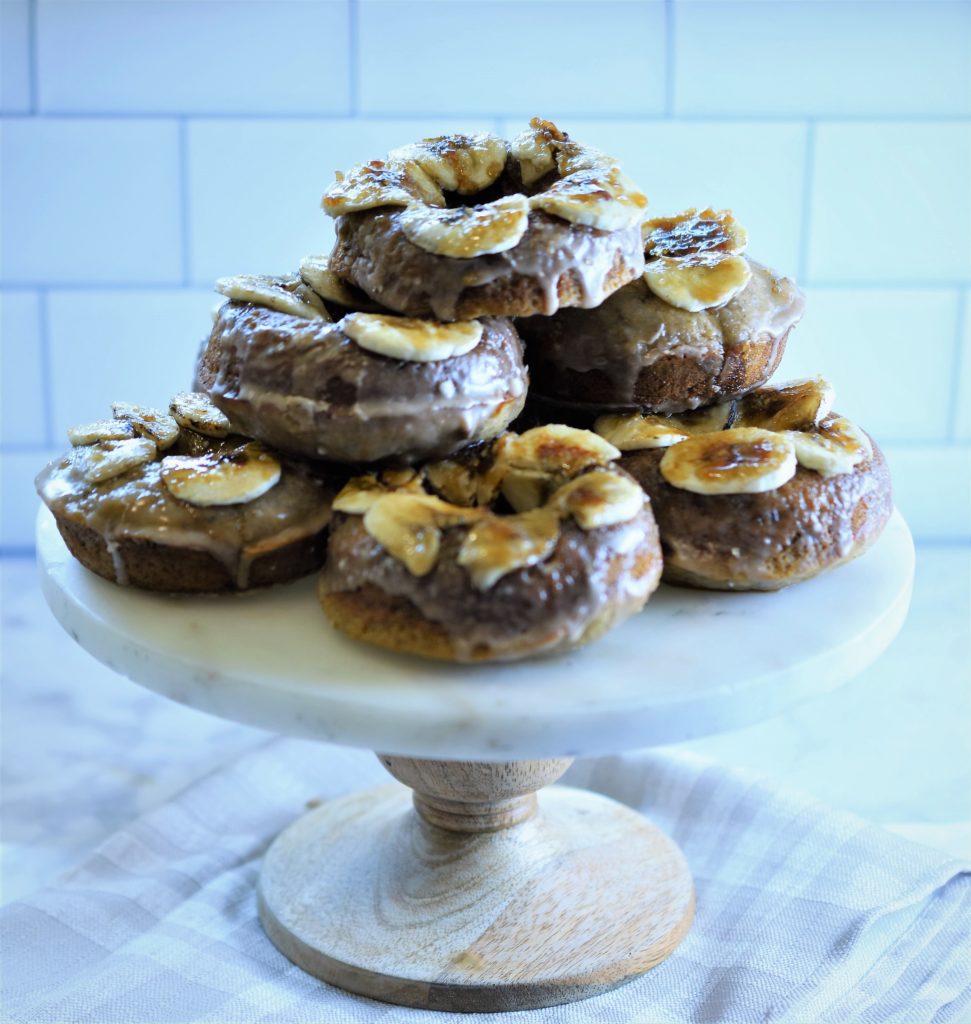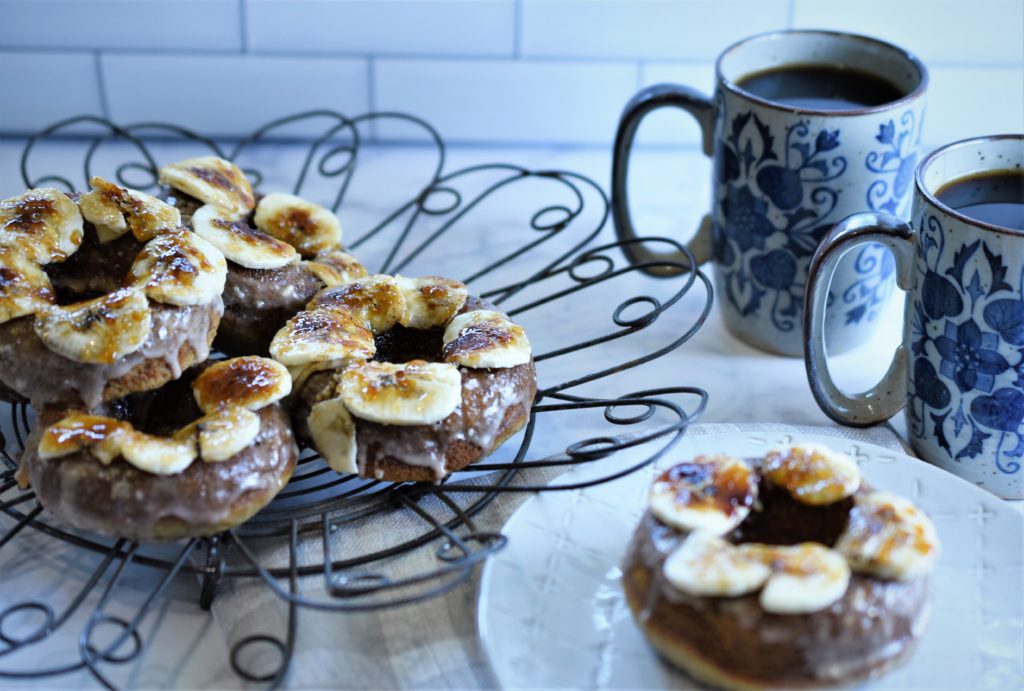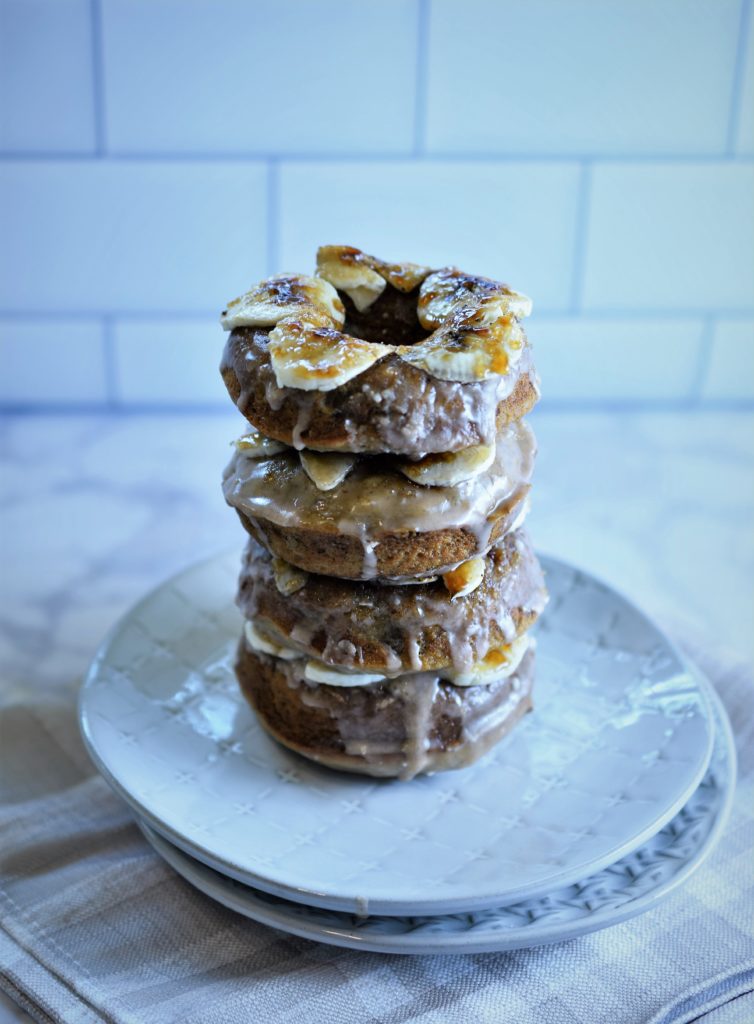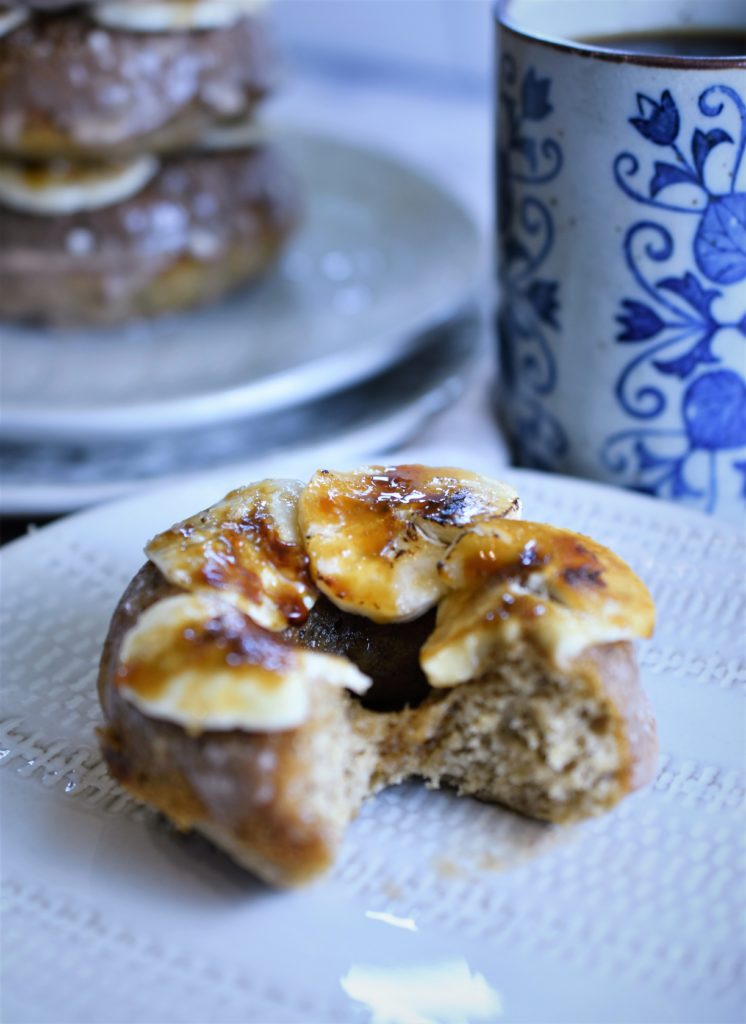 Vegan Baked Ginger, Pecan and Banana Brulee Donuts
These crunchy caramelized sugary banana topped donuts will be your favorite brunch recipe, I promise!
Ingredients
2

tbsp

flax seed meal

6

tbsp

water

2

cups

all-purpose flour

2

tsp

baking powder

1

tsp

baking soda

2

tsp

ground ginger

1/2

tsp

cinnamon

1/2

tsp

kosher salt

2/3

cup

brown sugar

1

cup

mashed ripe banana

2/3

cup

almond or other plant based milk

2

tsp

apple cider vinegar

4

tbsp

vegan butter, melted

2

tsp

vanilla extract

1/2

cup

toasted chopped pecans
Cinnamon Glaze
2

cups

powdered sugar

1/2

tsp

cinnamon

3

tbsp

maple syrup

3

tbsp

almond milk
Bruleed Bananas
2

thinly sliced bananas

4

tsp

raw sugar
Special Equipment
2

non-stick donut baking pans for 6 donuts each

kitchen hand torch
Instructions
Spray the donut pans with non-stick baking spray and set aside

Combine the flaxseed meal and water in a small bowl, mix and set aside to rest for 15 minutes

Preheat oven to 400 degrees

In a separate bowl, whisk together the flour, baking powder, baking soda, ground ginger, cinnamon, salt and brown sugar

In a separate bowl mix together the banana, almond milk, apple cider vinegar, vegan butte, vanilla and flaxseed/water mixture

Add the dry ingredients to the wet ingredients and blend well, do not over mix; stir in the chopped pecans

Fill a pastry bag with the batter or you can use a plastic storage bag with a small cut in the corner of the bag and fill each donut cavity with the batter

Bake in the oven for 10 to 12 minutes or until toothpick comes out clean and let rest for 15 minutes

mix together the glaze ingredients in a shallow bowl and dip the rounded side of the baked donut into the glaze and place on top of a wire rack lined with a cookie sheet, with the leftover icing, take a spoon and drizzle more icing on top.

Top each donut with some sliced bananas, sprinkle sugar on top of that and with your hand held kitchen torch, fire the top of the bananas on each donut unit the sugar caramelizes, let rest for 10 minutes, makes 12 donuts.

Enjoy this breakfast inspired dessert donut any time of day, particularly in the morning…we all should start off the mornings with such decadence.