My recipe for this autumnal skillet snickerdoodle apple crisp sure turned out great. It's only the first week of September but I feel Autumn in the air and I'm craving apple desserts. I may not be kicking leaves around or wearing a sweater but the leaves on my Sycamore tree are already starting to turn. Furthermore I'm craving the comfort of dessert to warm my soul.
Do you make an apple pie or a batch of snickerdoodle cookies?  Decisions are hard but why choose when you can have both.  Make this complex decision easy by combining the two with this skillet snickerdoodle apple crisp.  I was so excited to make this apple crisp recipe as soon as I developed it.  One thing I love about making a crisp versus a pie is the ease of making the topping. Because a traditional pie crust takes time and this recipe is quicker.  I baked this in really cute mini individual cast iron skillets but a full size skillet will also work for this delicious dessert.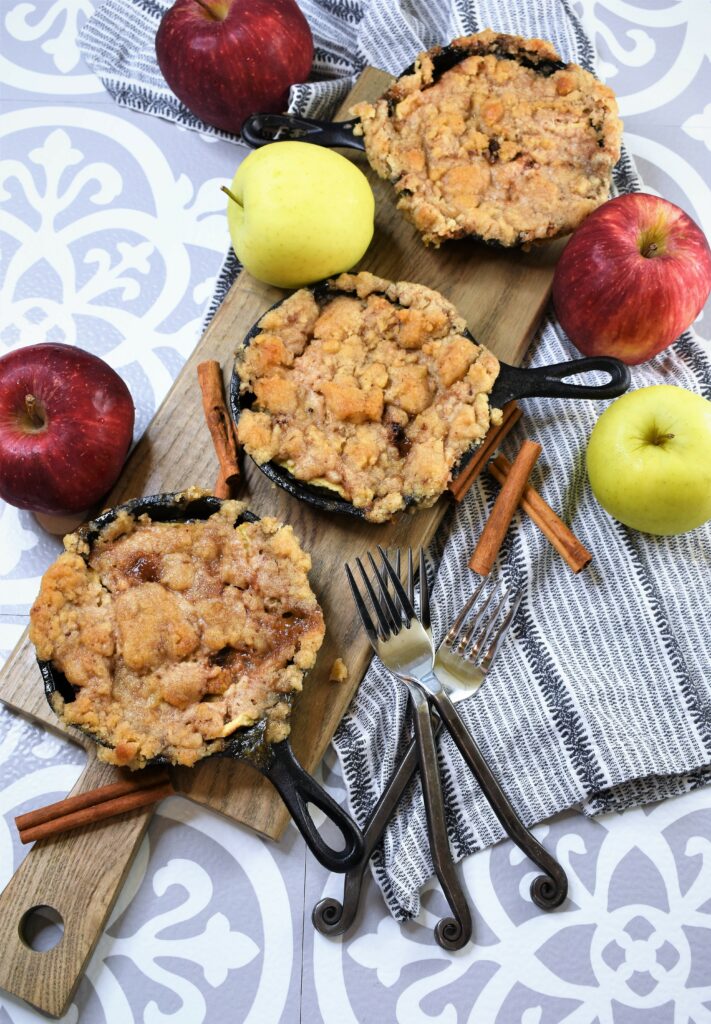 This snickerdoodle apple crisp is versatile since I made it vegan by using vegan butter but substitute with traditional butter if you wish.  Since this is also make without eggs gives you another reason to make it if you have an egg allergy. Even better, make it with gluten free flour instead of all-purpose flour if you are gluten free. To summarize, once you start digging into this country skillet dessert you will discover the magic of this beautiful combination of apples and cookies. The topping is just like a tangy, crunchy snickerdoodle cookie that you would expect with the flavors of cinnamon. Most importantly don't forget to top this with creamy ice cream or whipped topping.
Liking This Skillet Snickerdoodle Apple Crisp? Make these yummy recipes.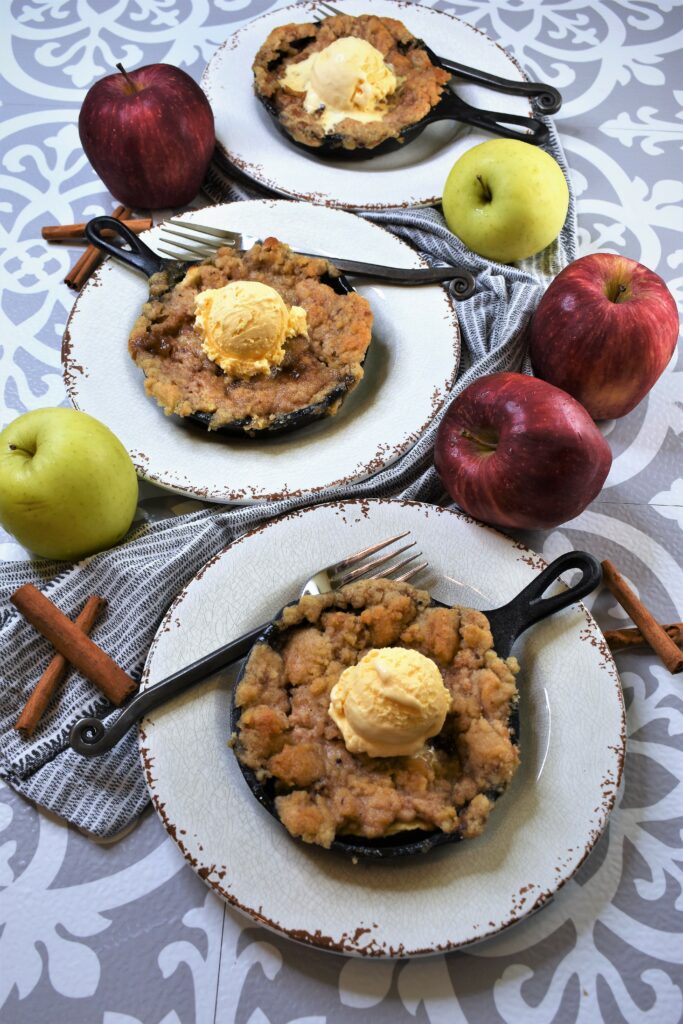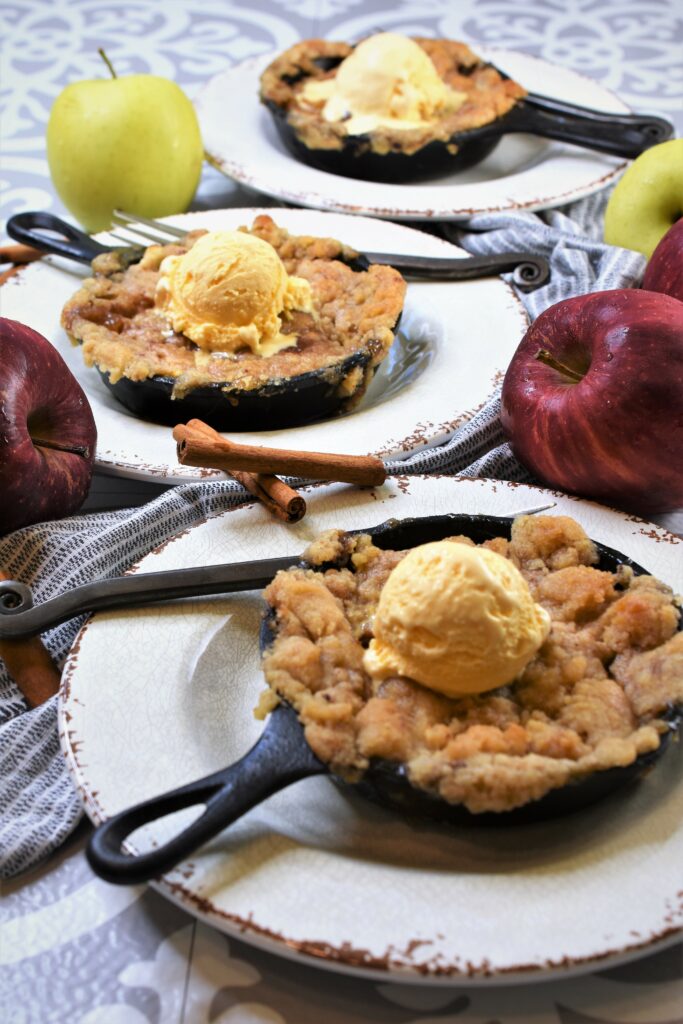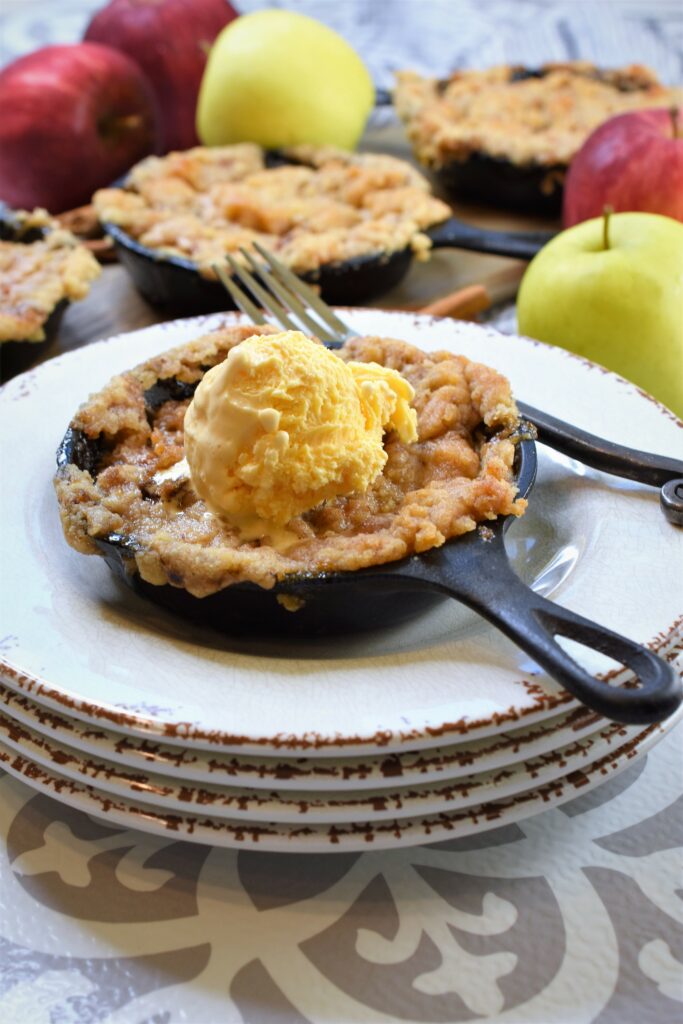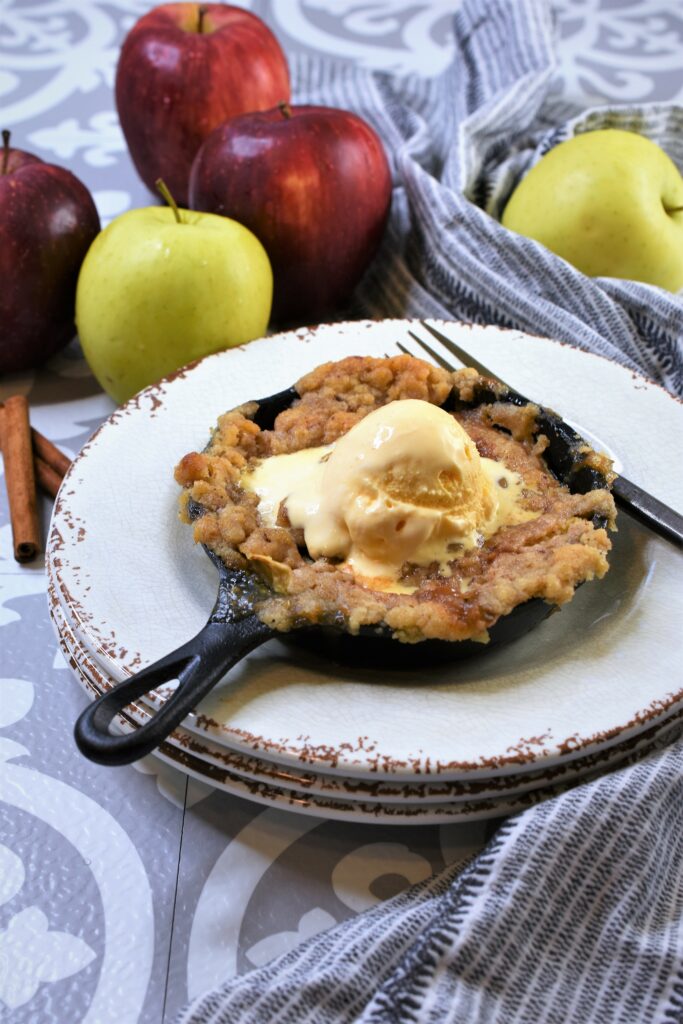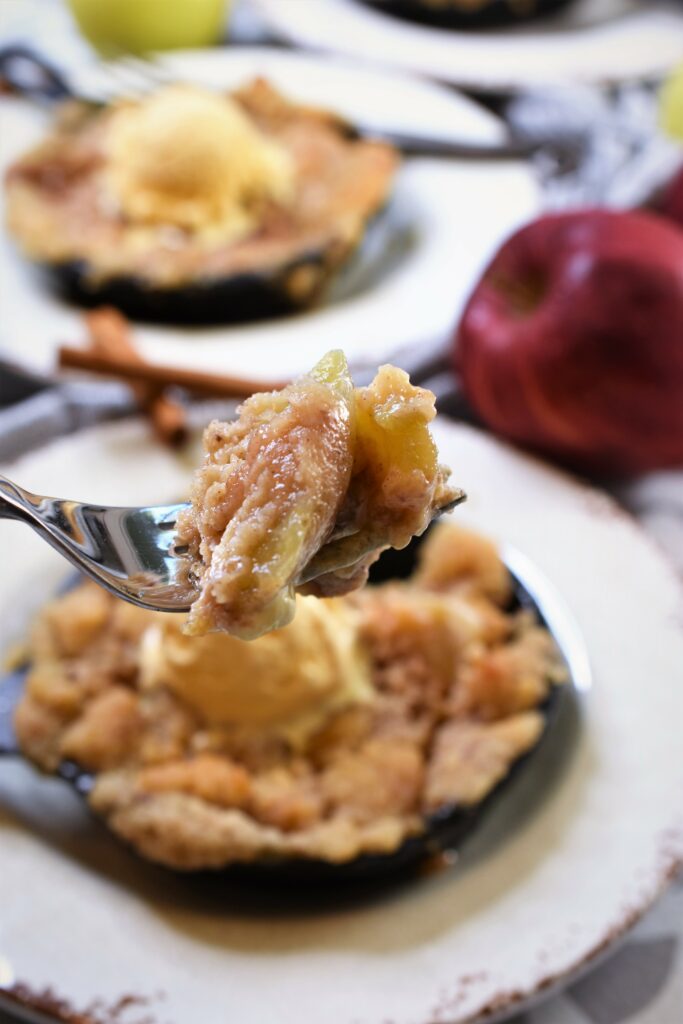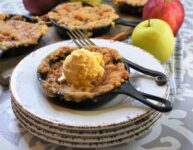 Skillet Snickerdoodle Apple Crisp
This delicious apple crisp is like a skillet full of Autumn with fresh harvested apples and a cookie topping…country baking at it's best.
Ingredients
Snickerdoodle Topping
1/2

cup

vegan butter, softened or regular butter, I'm making this recipe vegan

1

cup

sugar

1 1/2

cups

all-purpose flour

1/4

tsp

baking soda

1

tsp

cinnamon

1/4

tsp

kosher salt

1/2

tsp

cream of tarter

1

tsp

vanilla extract
Apple Filling
7

cups

apples, preferably Granny Smith, peeled, cored and sliced (I used 8 medium sized apples)

2

tbsp

lemon juice

2

tbsp

corn starch

1/3

cup

sugar

1/3

cup

brown sugar

1

tbsp

vanilla extract

3/4

tsp

cinnamon

1/4

tsp

kosher salt

4

tbsp

vegan or regular butter, melted
Instructions
Snickerdoodle Topping
Preheat oven to 350 degrees

In a mixing bowl of a stand mixer or with a hand held mixer, cream together the butter, sugar and vanilla. In a small bowl whisk together the dry ingredients and mix them into the creamed butter until it resembles a crumbly texture. Cover and let rest in the refrigerator while prepping the apples.
Apple Filling
Peel, core and slice the apples and put them in a large bowl, add the lemon juice, corn starch, sugar, brown sugar, vanilla, cinnamon, salt and melted butter and toss well.

Pour into a buttered or sprayed oven proof 10 or 12 inch skillet, 9X13 casserole or I used 6 3-1/2 inch individual cast iron skillets

Crumble the snickerdoodle topping all over the top and place the skillet on a sheet pan for added protection of any spill overs, cover with foil, tenting it so it doesn't touch the top of the skillet.

Place in the oven for 25 minutes, take out and remove foil and rotate and put back in the oven for another 20 to 25 minutes or until the topping starts to turn golden brown. Let cool for 15 minutes.

Serve with vegan or traditional ice cream or whipped topping of your choice