Get ready because your morning toast just got a big wake up call. My latest recipe for this red pepper strawberry jam will add that delicious zing to your breakfast and so much more. I love growing fresh vegetables and fruits. I have tons of different peppers in my garden this year and they are coming out of my ears. Furthermore, I have several pounds of strawberries and I didn't know what to do with so much fruit.
Making berry preserves is a great idea but I didn't want to do an ordinary jam because "ordinary" isn't my cup of tea. Since I have buckets of red chilies ready to be eaten why not combine the two. I always have a jar of pepper jelly in my pantry because I love it on appetizers. Pepper jelly is available at so many grocery stores but not other spicy jams. I love sweet and spicy foods and this red pepper strawberry jam turned out to be that perfect blend. Not to mention that these preserves are great at brunch but perfect with appetizers.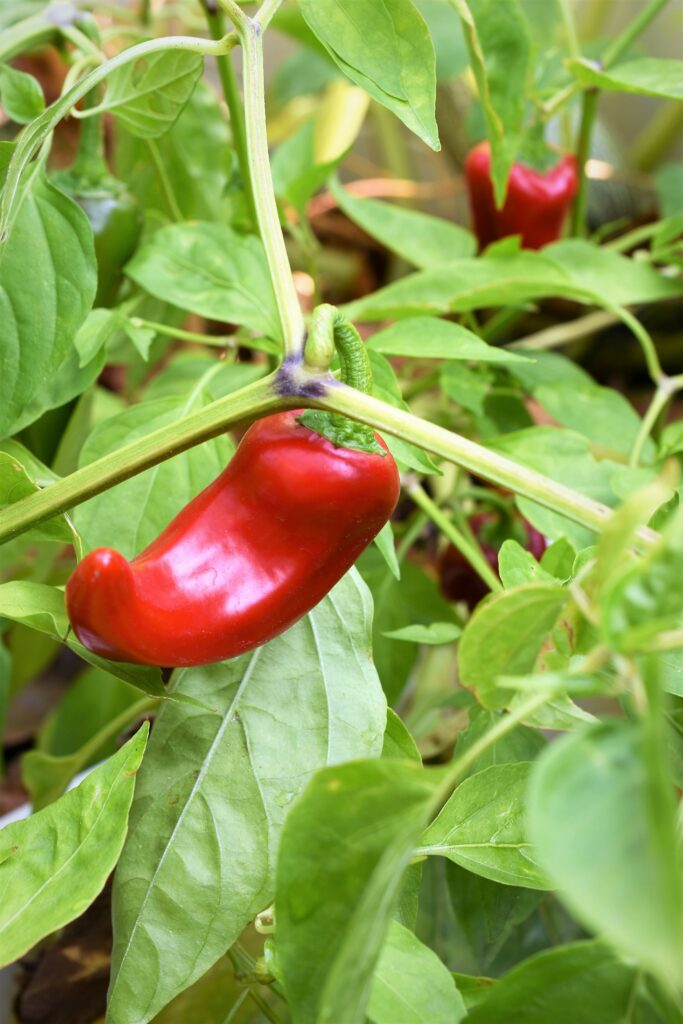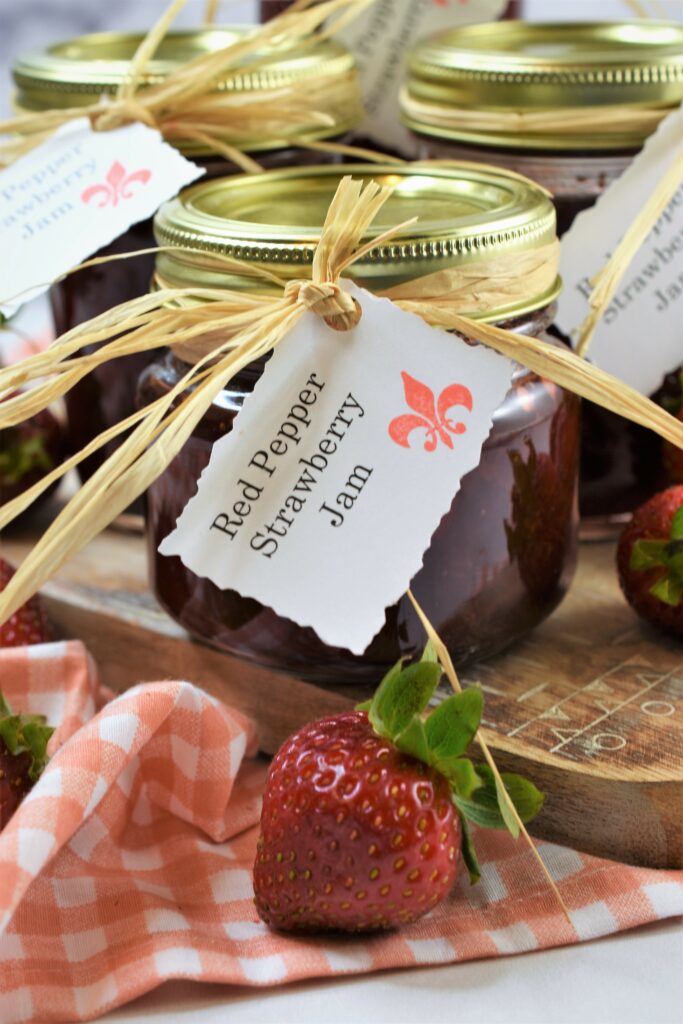 These preserves are fine being stored in the fridge for up to two weeks or in the freezer for up to a year. If you would like to can this please use this guideline at the National Center For Home Food Preservation. If making this red pepper strawberry jam for gifts canning is a good method.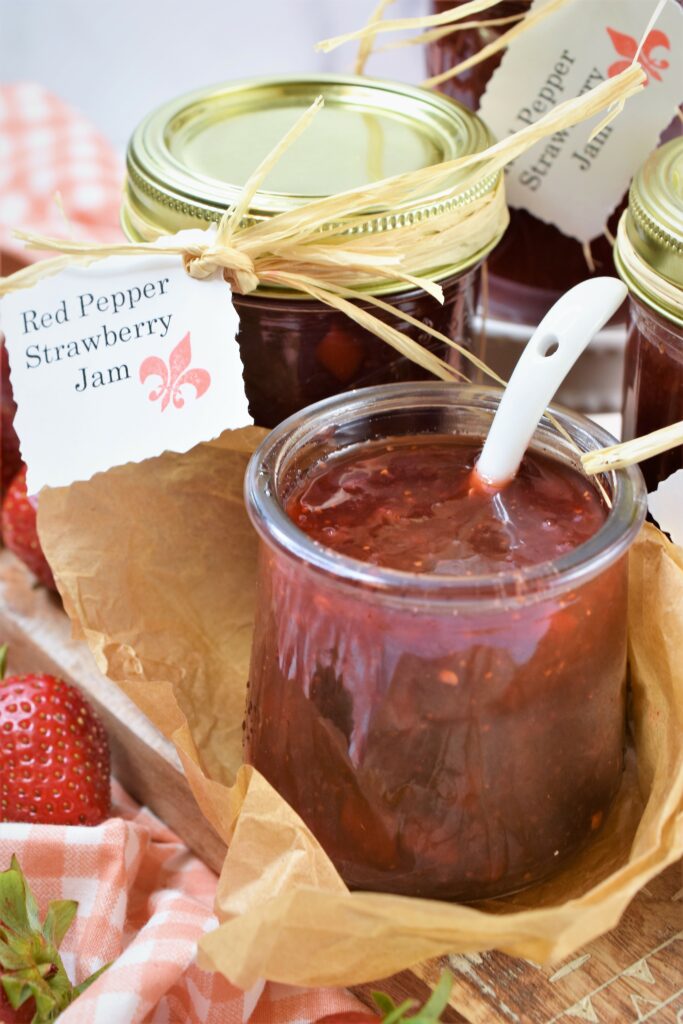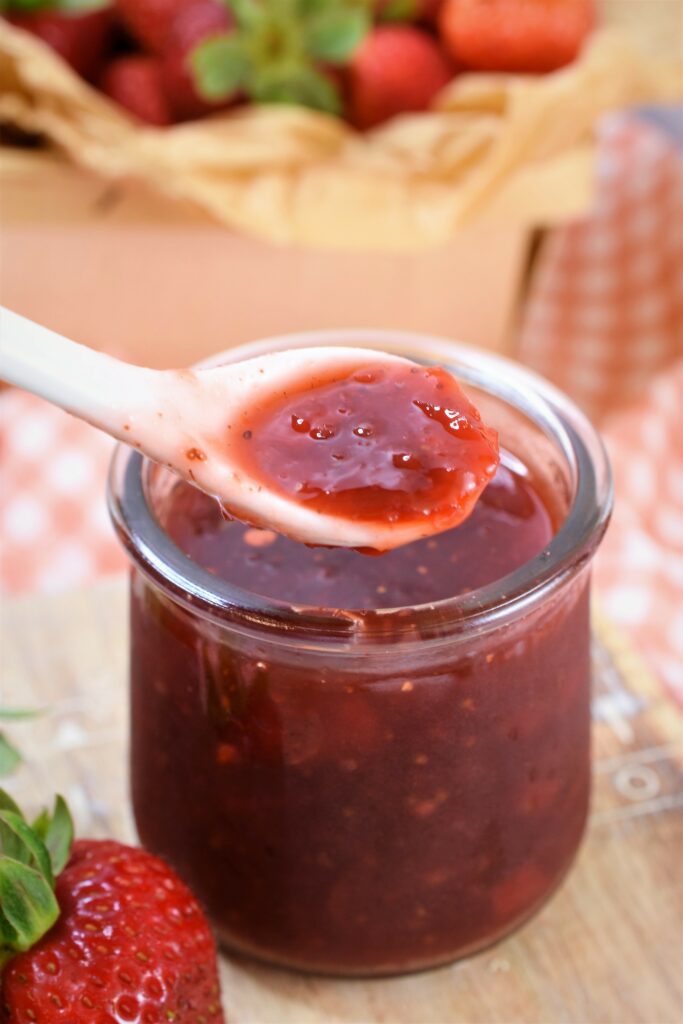 What Can I Serve This Red Pepper Strawberry Jam On?
Fill phyllo cups with whipped cream cheese and top with jam for a perfect and quick appetizer bite
Serve it at your next wine and cheese party, this jam is perfect with soft cheeses like Brie and fabulous with strong cheeses like blue or goat
Wake up your desserts and pour over a scoop of vanilla ice cream or add that zing to your strawberry shortcake with a drizzle of of this jam on top
This is perfect with scones for that sophisticated Tea Party or Saturday brunch
Heat it up with a bit of Port wine and serve over those boring Tuesday pork chop dinners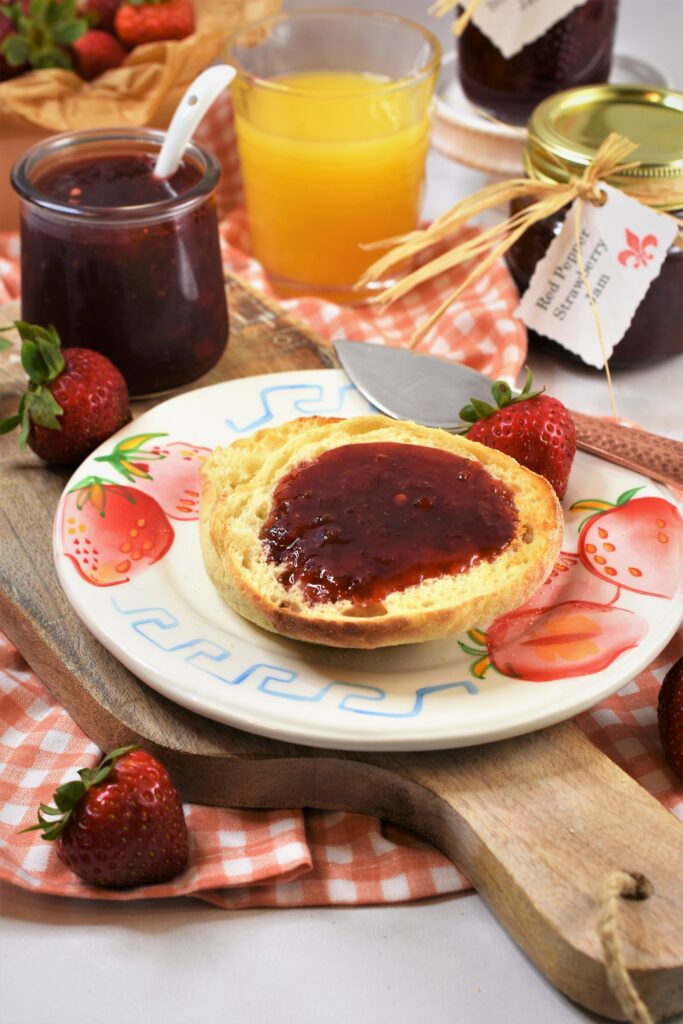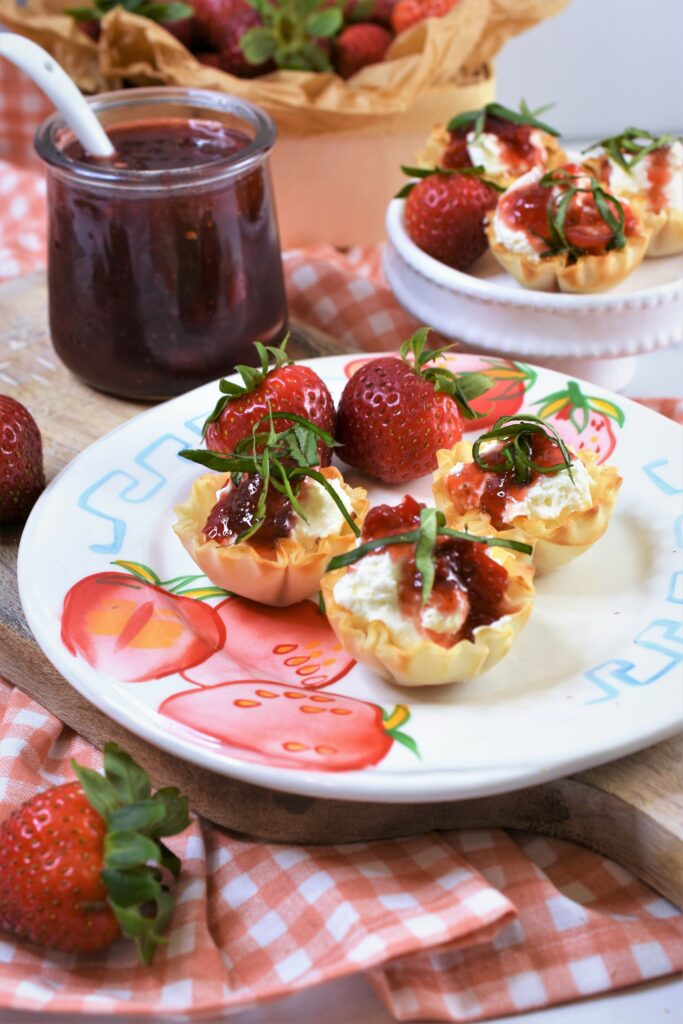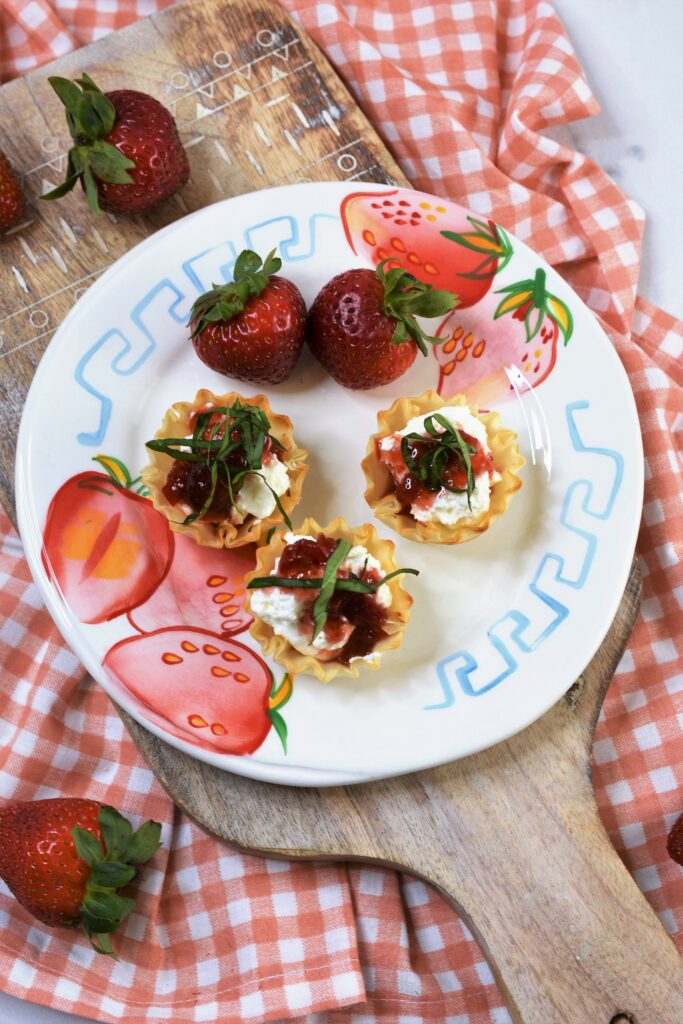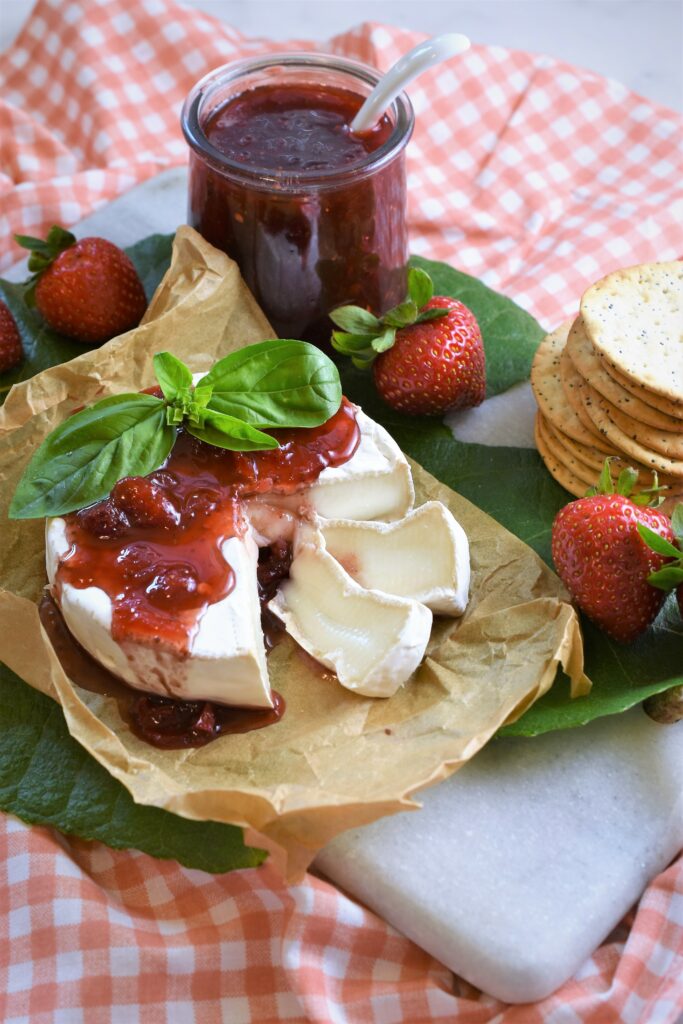 Serve This Jam With These Other Recipes: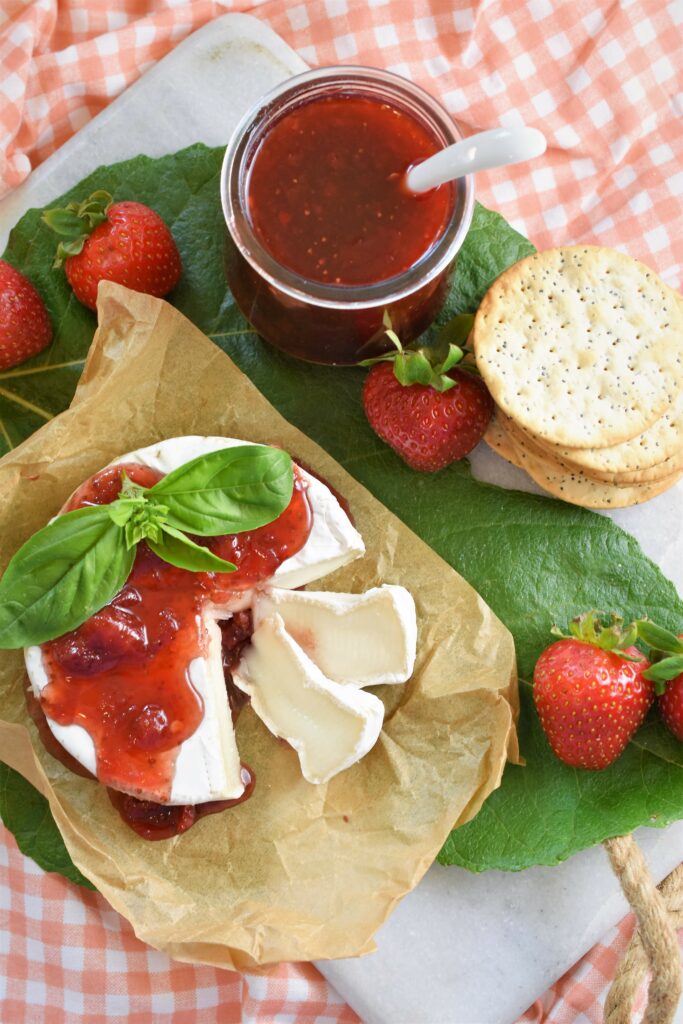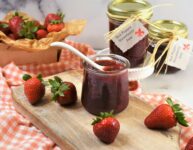 Red Pepper Strawberry Jam
This delicious and versatile jam with that added zing from red bell peppers and spicy red chilies is fabulous on your morning English muffin and as a condiment to your wine and cheese parties and so much more!
Ingredients
3

lbs

(8 cups) strawberries, hulled and cut in quarters

2

large red bell peppers, seeded and diced

4

hot red chilies, like Fresno chilies, seeded and diced

5

cups

sugar

1/4

cup

lime juice

1/2

tsp

kosher salt

2

-1.75 ounce packets of pectin

1

tbsp

butter, vegan butter or margarine (this keeps the foaming down when cooking the jam)
Instructions
Combine all the ingredients in a large bowl, let rest on counter for 20 minutes, stirring occasionally and mashing a bit with a potato masher

Heat a large heavy bottomed pot on the stove-top to medium high and add the strawberry mixture, bring to a low boil and cook for 20 minutes, or until thickens, stirring occasionally

Let cool and pour into jars and store in the refrigerator for up to two weeks or store in the freezer for up to a year. I filled 8- 1/2 pint jars with enough head space for expanding in the freezer