Have you ever had one of those Sundays where you felt like baking something and you are staring into the depths of your pantry and refrigerator wondering what to make  so you don't have to go to the grocery store in your pajamas?…I have not done this, but I've seen people do it.  I had a bunch of leftovers berries from yesterday and I knew that they needed to be eaten fast since they don't last long but I did not have any flour but I did have Bisquick. I didn't want a cake or cupcake and I didn't think cookies were appropriate with these fresh berries, so I thought that I would make bars. These easy to put together bars came out really good, especially if you like peanut butter and jelly sandwiches, now you can have that taste but with a dessert. Save some for the kids, just in time for an after school snack, what kid or adult for that matter doesn't like peanut butter and jelly?   Get a cold glass of milk ready because it's party time!
Ready for the oven, oh I can't wait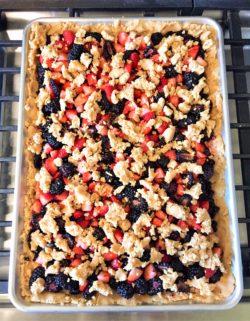 Raise the bar with these scrumptious bites, loaded with fresh berries…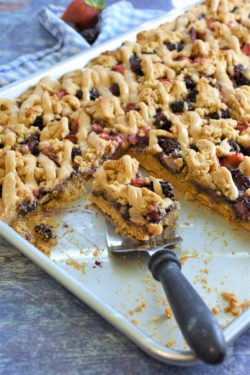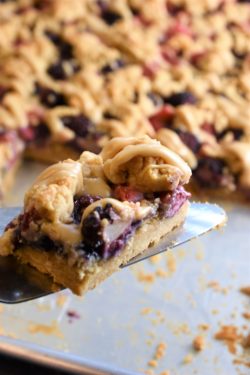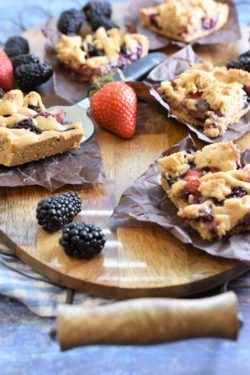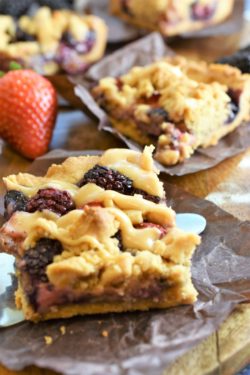 Just like a peanut butter sandwich but only better…with a glass of cold milk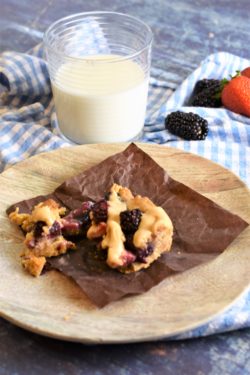 The ultimate "Peanut Butter and Jelly"…not just for kids, YUM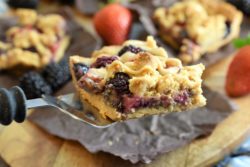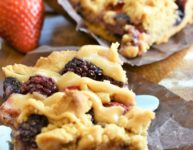 Berry & Peanut Butter Streusel Bars
You will be craving bar after bar once you sink your teeth into this easy to make sweet bite!
Ingredients
Bar Base and Topping
5

cups

baking mix, I like Bisquick

1

cup

sugar

1 1/2

cups

peanut butter, creamy

1

cup

butter, melted

2

eggs

1

tsp

vanilla
Filling
3

cups

fresh strawberries, chopped

2

cups

fresh blackberries, cut in half

1 1/2

cups

blueberry jam
Peanut Butter Glaze
1/2

cup

peanut butter

1

tsp

vanilla

1/3

cup

corn syrup

2

cups

powdered sugar, sifted

5

tbsp

milk
Instructions
Preheat oven to 375 degrees, spray an 11X13 sheet pan with cooking spray and set aside

For the bar base and topping, in a mixing bowl combine the baking mix, sugar, peanut butter, butter, eggs and vanilla and beat with a hand held mixer or stand mixture on low for 1 to 2 minutes until mixed well. Reserve 2 cups of this mixture for the topping

Press the remaining mixture into the sheet pan, pressing with your hands all over and slightly up the sides of the sheet pan, using finger tips to press dough into the pan works well

Top with the jam and evening sprinkle the strawberries and blackberries over the top and then sprinkle the reserved topping mixture all over the top

Bake in oven for 30 to 35 minutes until they are golden brown, let cool for 30 minutes

For the peanut butter glaze mix together the peanut butter, vanilla and corn syrup together with an electric mixer, slowly add the powdered sugar and the milk and blend until smooth. Put into a storage bag and snip of a small corner and drizzle this glaze all over the top of the bars,

Let chill for 1 hour or more in the refrigerator cut into bars and serve. Makes 24