Creating recipes is really like writing a book, sometimes there is inspiration and sometimes not.  Sometimes I don't know where my inspiration comes from, it can be a photo, something on t.v., a conversation with someone or a recipe from the past that I've done.   My inspiration for my recipe for these "BLT" cheese truffles comes from a grape truffle that I did many years ago that is rolled in blue cheese and nuts, but today I was in the mood for bacon!  These savory and cheesy truffles would be great for any party…bacon lovers can celebrate. Eat them on their own or spread it on a cracker or baguette. Note: after you take the finished truffles from the refrigerator, don't serve them right away, let them sit for 15 to 20 minutes, they soften a bit and the flavors come through much more when they are not ice cold.
these made a substantial sized bite…more like a two bite appetizer, but who's counting?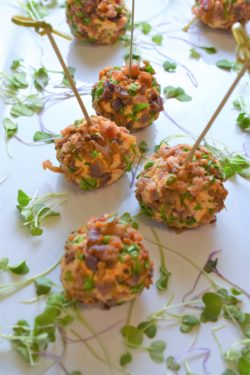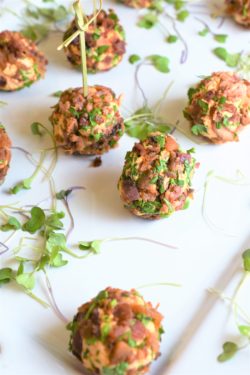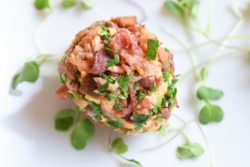 I just took a bite, YUM!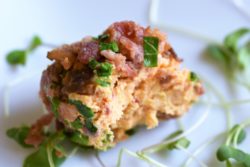 bacon, Bacon, BACON!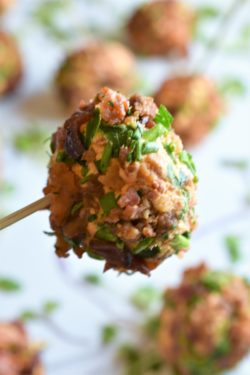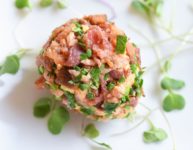 BLT Cheese Truffles
These two bite treats are perfect when you are craving the taste of bacon and cheese together, the perfect appetizer for bacon lovers!
Ingredients
2

8 oz

package of cream cheese, softened

1

8 oz

package of shredded sharp cheddar cheese

1/4

tsp

cayenne pepper

1/4

tsp

course black pepper

2

tsp

BBQ Seasoning or Rub

1/2

cup

julienne sun dried tomatoes, drained and minced

3

tbsp

chopped chives

3

tbsp

chopped parsley

2 1/2

cup

cooked bacon, finely chopped
Instructions
Beat the cream cheese, cheddar cheese, cayenne, black pepper, BBQ seasoning and sun dried tomatoes in a mixer or food processor until well blended

Refrigerate for two hours or until well chilled and the mixture is somewhat stiff

Shape mixture into 24, (1 inch balls), I used a mini ice cream scoop

Lay a piece of parchment or plastic wrap onto a sheet pan and sprinkle the chopped chives, parsley and bacon evenly all over the top

Roll the cheese balls around until each one is coated well

Serve immediately alone or with crackers & toasts or cover and put them back in the refrigerator until ready to serve
Recipe Notes
After you remove the finished truffles from the refrigerator, let them sit for 15 to 20 minutes to soften a bit, the flavors really come through much better when they are not ice cold. 
I had to post an update on this today…all I can say is that they are even better the next day!  The flavors had time to develop and they were awesome…