In my opinion pasta is the ultimate comfort food of all comfort foods around.  I think it's because I grew up in a Sicilian & Irish household and there was always some type of pasta served up at dinner time.  I remember coming home from school walking in the snow from the bus stop…not 5 miles but still very cold, opening the front door and there would be this amazing smell of marinara sauce on the stove that my mom had been simmering for the better part of the day.  I immediately started smiling and could not wait until dinner time and my mom would give me a taste of some sauce with some sourdough bread and let me stir it.  My mom is Irish but my dad is Sicilian (both American but with strong heritage roots) he taught her how to make a mean sauce…or would that be a nice sauce.
To carry over that comfort food feeling with pasta but at a cocktail party, you can serve this amazing dish in a ceramic spoon.  Your party guests will be amazed on how chic but how comforting this is, especially when you bite in to this creamy, rich dish.  Don't worry about your waist line, it's just a taste you know….a taste that will jog your memory to those comfort food memories. I'm sure that's why I enjoy cooking today; I want those memories of my childhood to be around me all the time.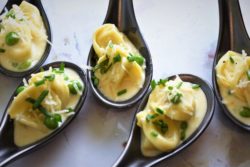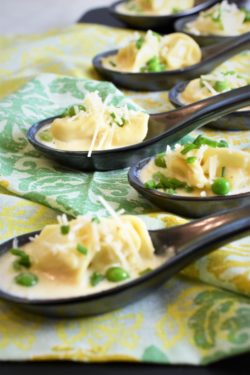 Doesn't this look divine?  You know you want some…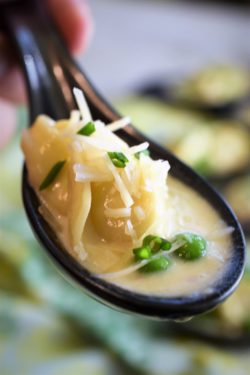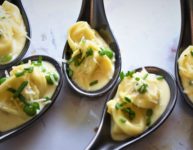 Tortellini Alfredo with Wine & Peas in spoons
A rich classic comfort food favorite served as an appetizer in a spoon, how chic is that?
Ingredients
1/2

cup

butter, unsalted

1/4

tsp

pepper flakes

1

tsp

garlic, chopped

1/3

cup

dry white wine

1 1/2

cups

heavy whipping cream

1 3/4

cups

Parmigiano-Reggiano Cheese (reserve 1/4 for garnish_

1/2

tsp

kosher salt

1/2

tsp

coarse ground black pepper

1/8

tsp

ground nutmeg

10

oz

fresh cheese tortellini

1

cup

frozen peas, thawed

1

tbsp

chives, chopped for garnish

12 or more

ceramic soup spoons for serving
Instructions
In a medium saucepan melt the butter, pepper flakes & garlic over medium heat, do not let brown

Add the white wine, whipping cream, 1 ½ cups Parmigiano-Reggiano cheese, salt, pepper and nutmeg, whisk until well combined and continue to cook over medium heat until it comes to a boil, about 3 minutes; turn down and simmer for 10 minutes until sauce slightly thickens

While sauce is simmering, cook the tortellini according to package directions and drain

Add the tortellini and peas to the sauce and stir gently until well combined

Spoon into ceramic spoons, about 2 tortellini per spoon and garnish with grated cheese and a sprinkling of chives

Makes 36 spoons and serves 12 as an appetizer
Recipe Notes
Note: this dish really has a rich distinct flavor from the Parmigiano-Reggiano cheese, so please do not substitute with a different kind of parmesan, the flavor just won't be the same.