Pumpkin granola bars with cranberries, nuts and seeds are the perfect autumn snack. Since it's still fall, making pumpkin recipes is a must in my book. Because pumpkin is so versatile in savory and sweet recipes alike. Furthermore you can't help not seeing so many pumpkin foods in the grocery store right now to snack on. Unless I'm wrong, I haven't seen pumpkin granola bars in the stores. Adding to the pumpkin craze this time of year you can put down your pumpkin latte and pumpkin donuts and get busy in the kitchen today. Especially since these pumpkin granola bars are a healthy alternative. Because these pumpkin granola bars are gluten free and full of oats, nuts, seeds and cranberries. Additionally making these snack bars are easy to prepare and bake. So there are no excuses for you not to make this autumn inspired treat.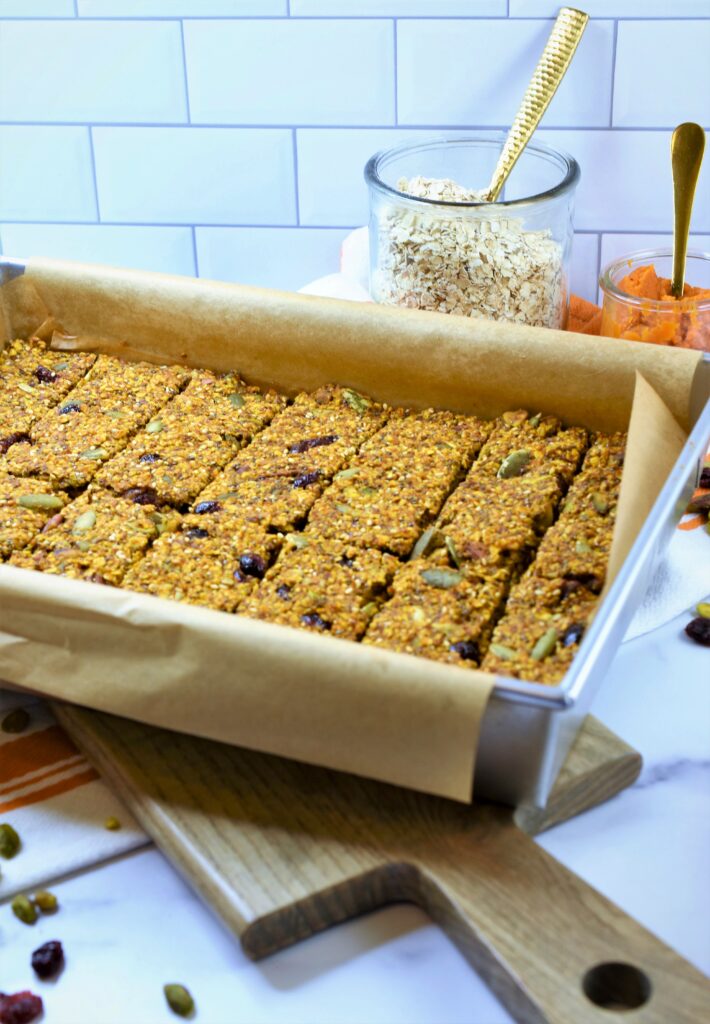 Healthy ingredients in these nutritious pumpkin granola bars
Since healthy ingredients are in these nutritious pumpkin granola bars you will be happy snacking on them yourself or your family. Especially since store bought granola bars contain so many additives and way too much fat and sugar. Not to mention these happen to be vegan. Since I used brown sugar in these pumpkin granola bars instead of honey. Therefore if you want to swap out the brown sugar for 3/4 cup of honey or the vegan butter for regular butter, go for it. After making these pumpkin granola bars you will see just how easy it is to make your own. So put down that brownie or cookie, you know who you are and snack on these pumpkin granola bars with cranberries, nuts and seeds.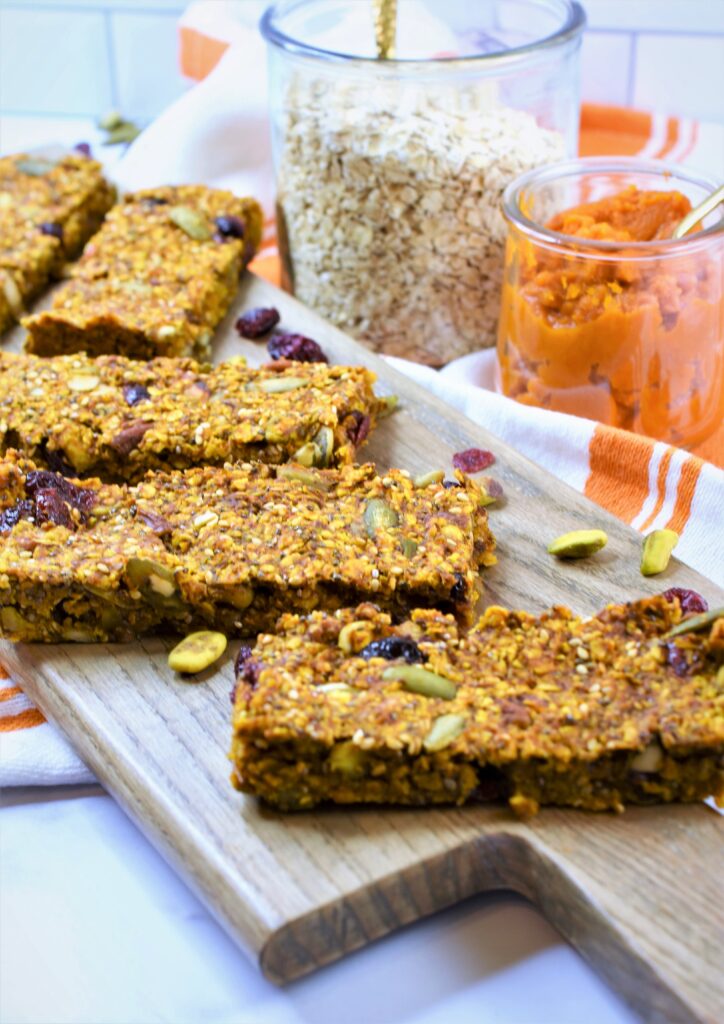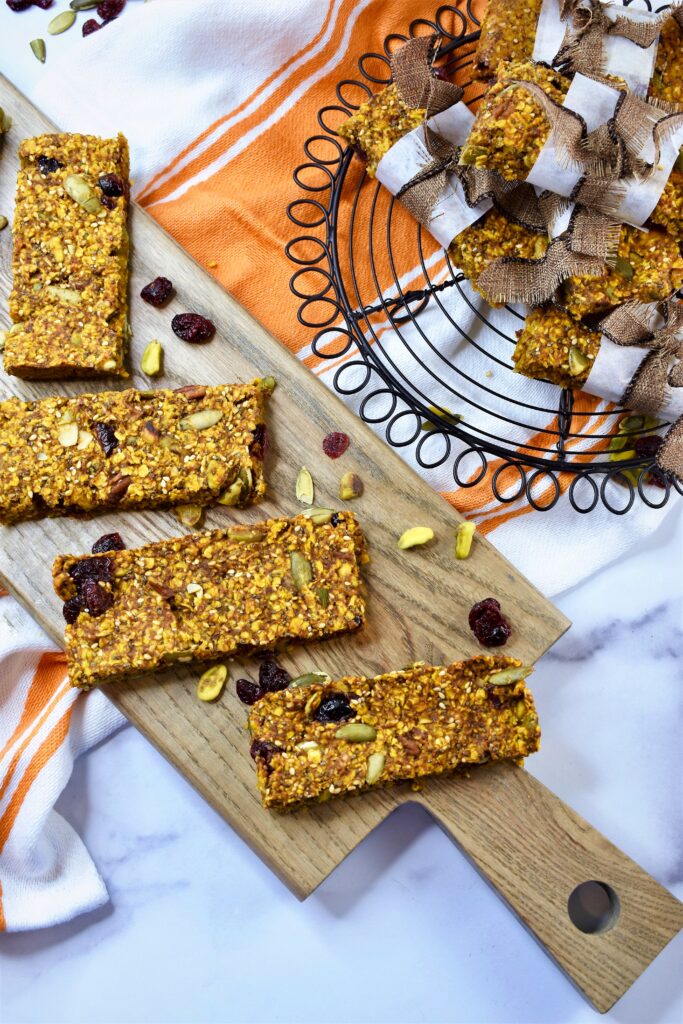 List of ingredients needed to make these delicious pumpkin granola bars!
Canned Pumpkin Puree, organic is best plus the color is always amazing!
Dried Cranberries but if you want to swap these out for raisins, golden raisins, dried cherries or chopped dried figs feel free.
Ground Flaxseed mixed with water this makes a great binding agent in lots of my vegan baked recipes.
Vegan Butter but if you want to use regular butter that's fine.
Brown Sugar but if you want to swap out with 3/4 cup honey that would work as well
Pumpkin Pie Spice enhances the pumpkin flavor in these pumpkin granola bars since I wanted to keep this recipe "seasonally" flavored but feel free to swap that out for cinnamon if you like
Oatmeal, I only had "quick oats" on hand and that worked great but if you have whole oats that would work as well.
Kosher Salt to counter act the sweetness in a good way, if you only have regular iodized table salt, I suggest using half as much.
Roasted Pistachios but walnuts would work too!
Pumpkin Seeds or sometimes called Pepitas but sunflower seeds would work as well.
Vanilla Extract
Chia Seeds this is the first time I've ever used them and didn't realize how healthy they are.
Sesame Seeds
Toasted Pecans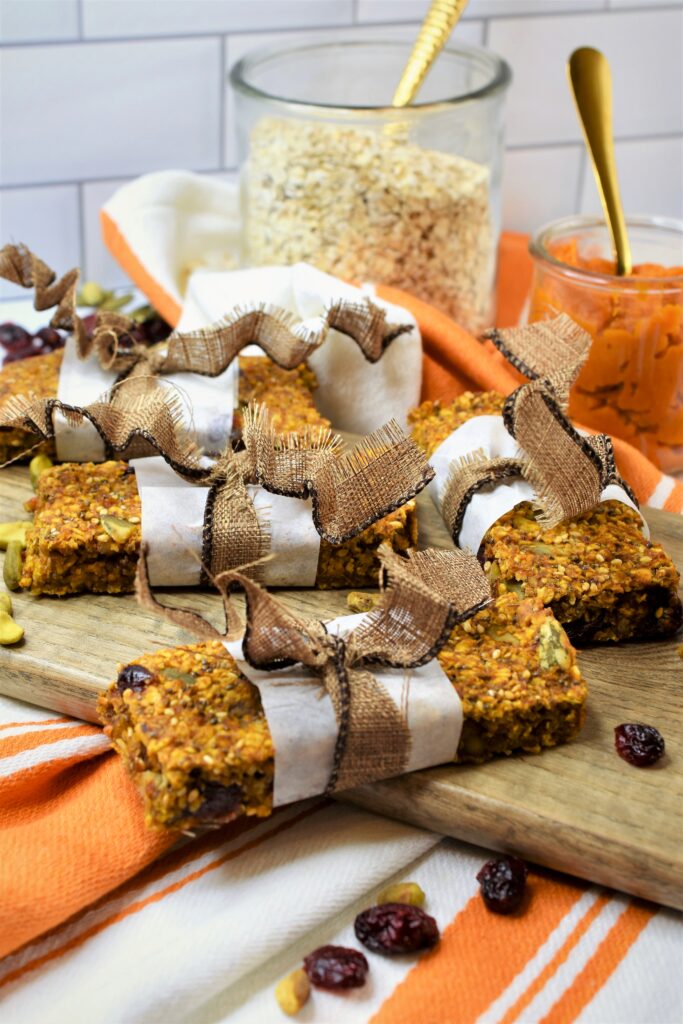 Craving more pumpkin recipes? I got your back.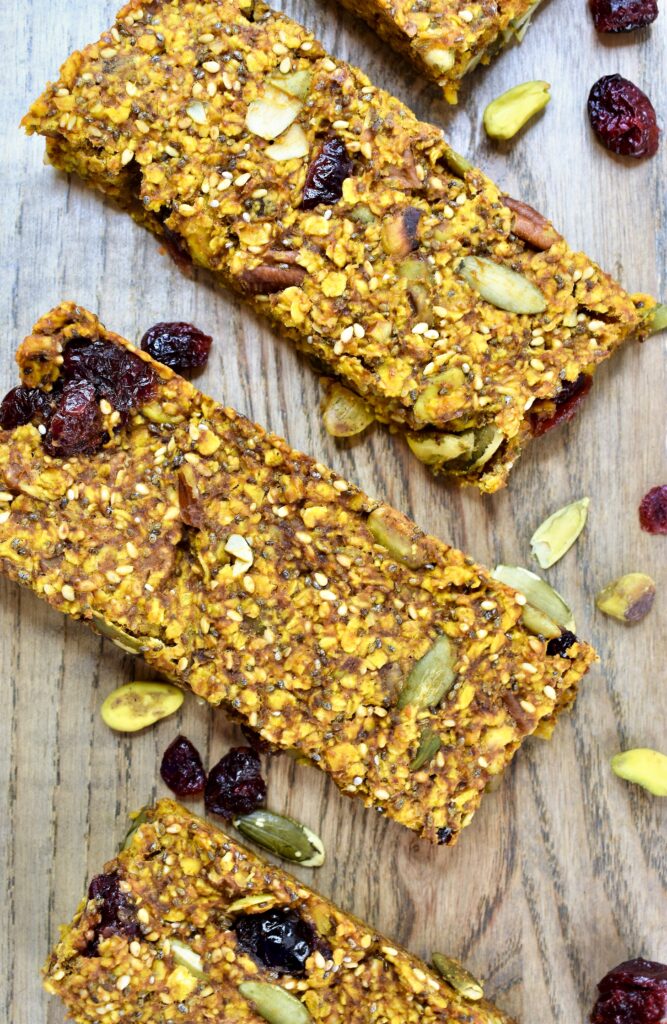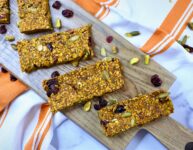 Pumpkin Granola Bars with Cranberries, Nuts and Seeds
Snack your way through pumpkin season with these delightful granola bars that pack a crunch but still tender and delicious!
Ingredients
2

tbsp

ground flax seed PLUS 4 tbsp. water

1/4

cup

vegan butter or regular butter (I wanted to keep this recipe vegan)

1 1/2

cup

pumpkin puree

1

cup

brown sugar, packed

2

tsp

pumpkin pie spice

2

tsp

vanilla extract

1

tsp

kosher salt

3

cups

rolled oats

1/2

cup

roasted shelled pumpkin seeds, sometimes called Pepitas

1/2

cup

roasted pistachios, chopped

1/2

cup

roasted pecans, chopped

1/2

cup

dried sweetened cranberries

1/4

cup

chia seeds

1/4

cup

roasted sesame seeds
Instructions
Preheat the oven to 350 degrees

Line a 9X13 baking pan with two pieces of parchment paper so all edges of the pan are protected with some paper hanging over the sides to ensure ease of removing bars.

In a small bowl whisk together the ground flaxseed and water and set aside for 10 minutes so the mixture thickens

Melt the vegan butter in a saucepan over medium/high heat, add the brown sugar and pumpkin puree and whisk occasionally for 3 to 4 minutes until heated through, take off heat.

Add the pumpkin pie spice, vanilla and salt to the pumpkin and whisk well; set aside

In a large bowl mix together the oats, pumpkin seeds, pistachios, pecans, cranberries, chia seeds and sesame seeds.

Add the pumpkin mixture and stir well making sure everything is combined.

Pour into the parchment lined baking pan and with your clean hands or the bottom of a measuring cup and pat down the granola mixture so the mixture is even and spreads to the edges of the pan. Pat down to ensure it's even. (I used my clean hands, it made this step easier)

Bake 30 to 25 minutes or until the edges are golden brown.

Let cool for 5 minutes and cut into bar shapes in the pan and in the size of your choice, I came up with 14 bars. let cool in pan for an additional 10 minutes. Remove and place the bars on a cooling rack for another 5 minutes.

Package in airtight container until ready to eat.