Making my new recipe for vegan pumpkin seed brittle brings back memories of Halloween. Autumn is my favorite time of year and I'm craving something sweet. Regardless what season it is I'm sure we all have a sweet tooth right? I glanced at a container of raw pumpkin seeds on the shelf in my pantry yesterday and thought I better put them to good use. I think I bought them as a garnish or to toss in a salad but I don't remember. Plus I wanted to make sure this recipe was vegan so Patrick can enjoy it as well. Vegan brittle? Well, yes…I used vegan butter for this recipe and no I don't get advertising money from Smart Balance spread but that is my favorite and worked quite well with this toffee like crunchy concoction.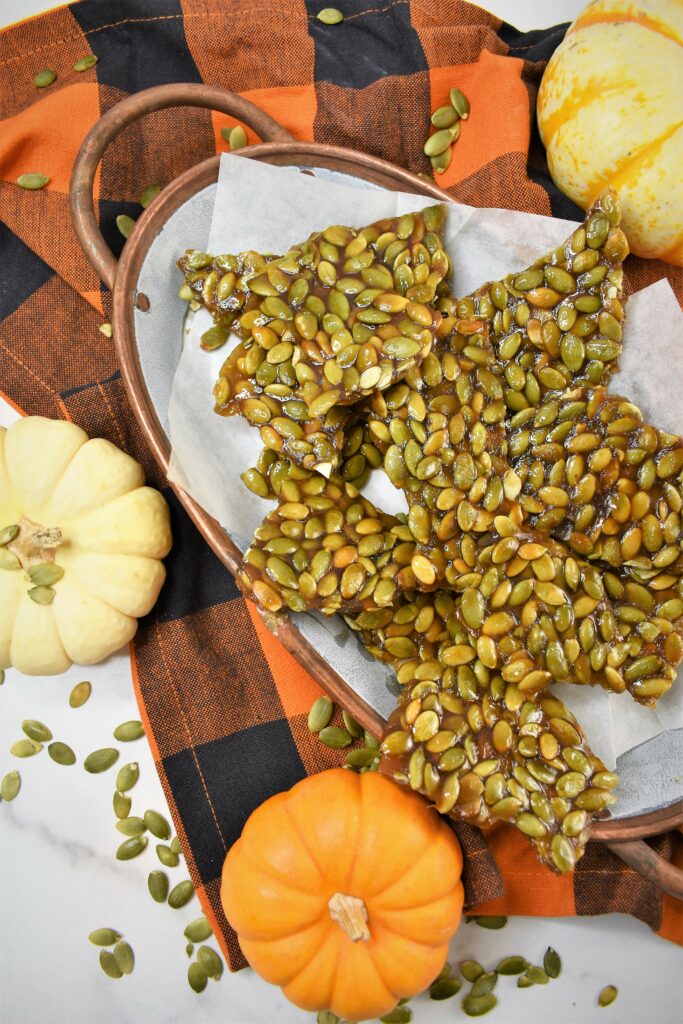 Memories of Trick or Treat
While making this vegan pumpkin seed brittle I was thinking back on how much my sister and I enjoyed Halloween. My parents helped us celebrate the trick or treat season in a festive way. As most do, helping us with our costumes and making the evening a fun memory. We got so many trick or treaters at our house it was insane. My sister Katie and I tried to leave the house to do our own candy hunting and there was a mob at the door.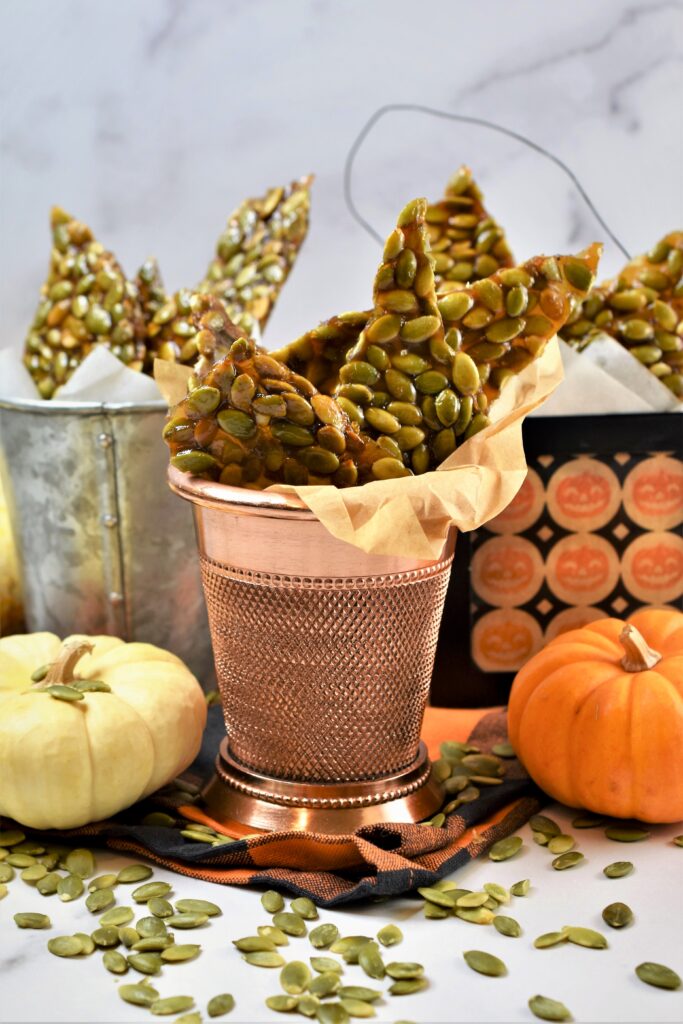 Furthermore my mom panicked because she ran out of candy but she was a caterer and acted quickly. So impressed with her quick thinking because she set up a table and popcorn maker on the front porch. It was too bad she didn't make pumpkin seed brittle but that would have taken too long. We went to work and paused our own trick or treating to help mom and it was fun. We helped to put the popcorn in paper sandwich bags and the little goblins and ghosts were happy with their warm and crunchy treat. As my sister and I left hunting for candy we could still smell the popcorn from blocks away. Making homemade treats like this vegan pumpkin seed brittle or even popcorn will help make your Halloween party with your family so much more tasty.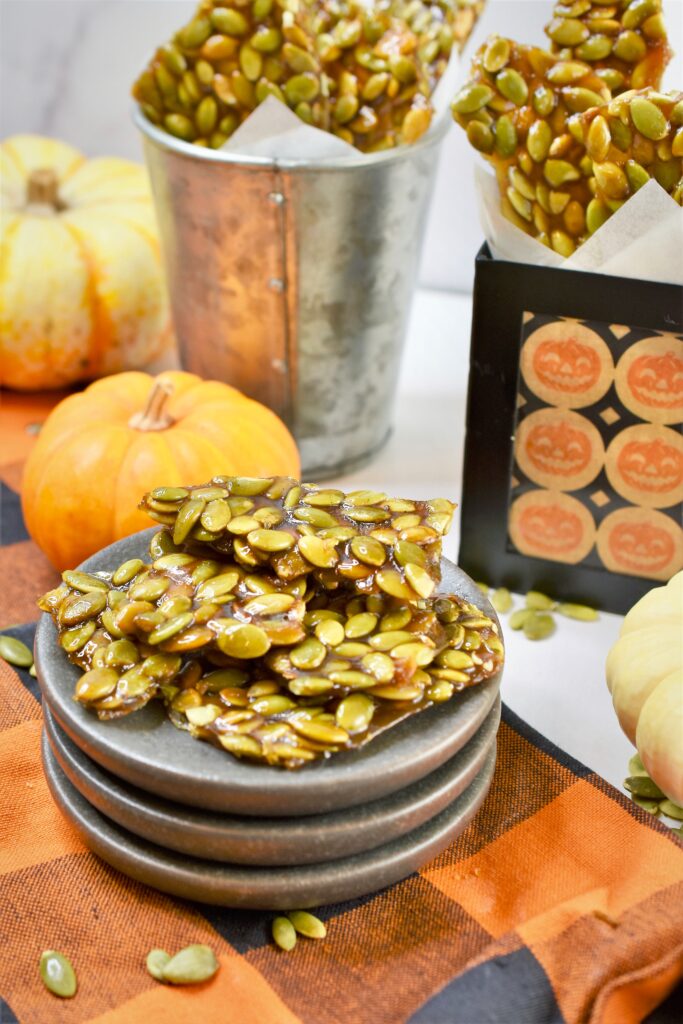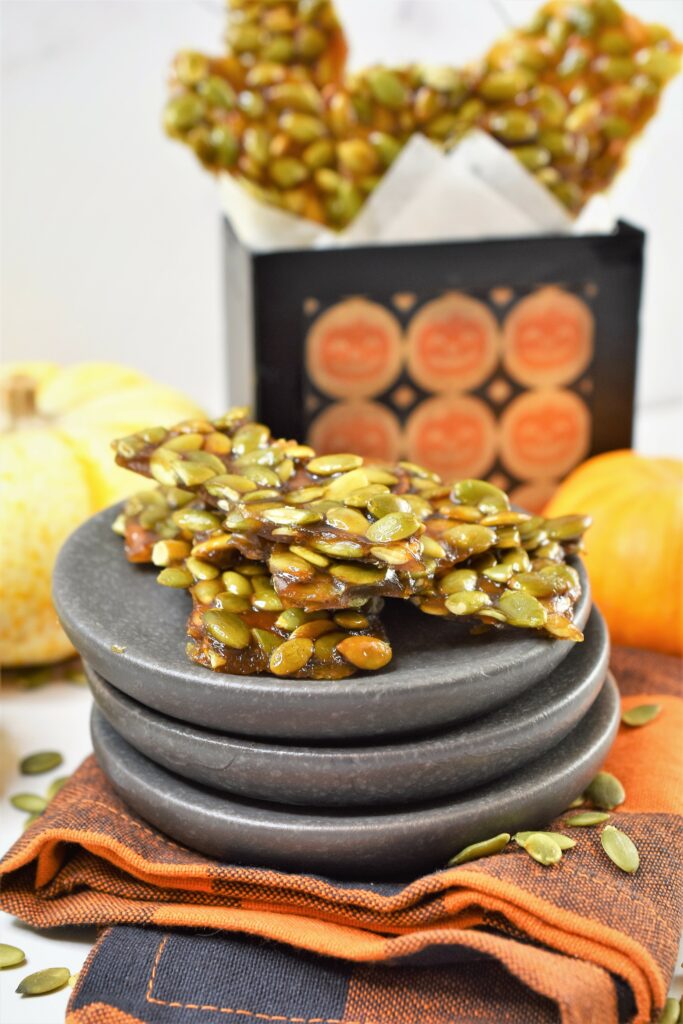 Want more treats besides this vegan pumpkin seed brittle? Look here…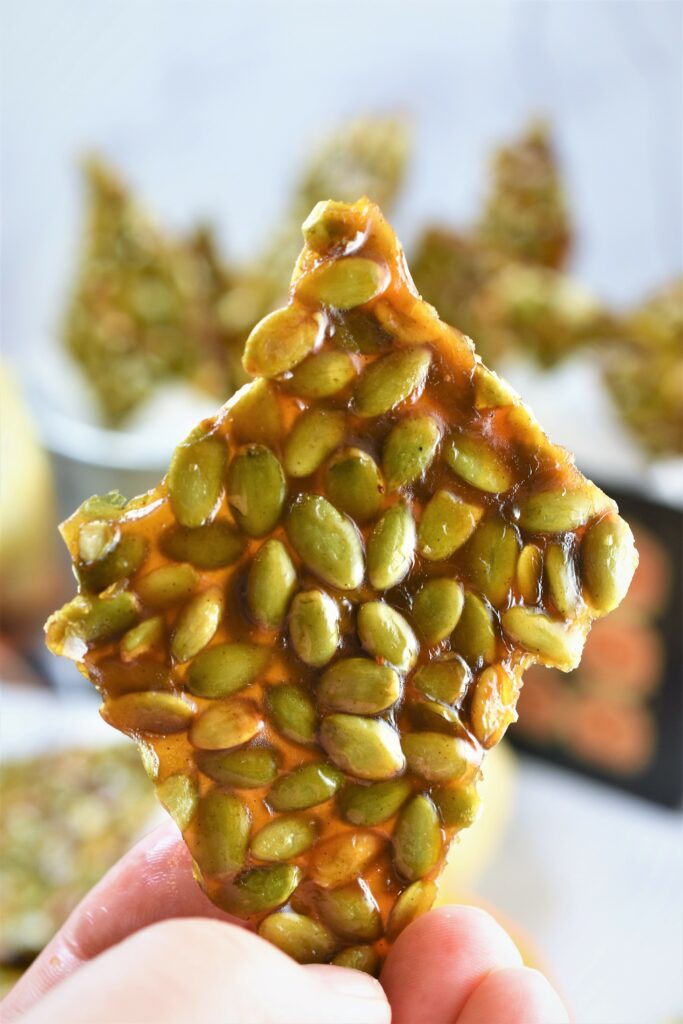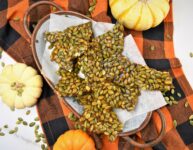 Vegan Pumpkin Seed Brittle
This crunchy vegan pumpkin seed brittle is the perfect treat anytime of year but it's ghostly good at Halloween
Ingredients
1/3

cup

vegan butter (I love Smart Balance spread)

1

cup

light-brown sugar

1/2

cup

corn syrup

1 1/2

cups

raw, hulled pumpkin seeds, sometimes called pepitas

1/2

tsp

pumpkin pie spice

1/4

tsp

kosher or sea salt

cooking spray
Instructions
Line a sheet pan with parchment paper or a silicone mat and lightly spray with cooking spray

Melt the vegan butter in a saucepan (preferrably non-stick) over medium heat, stir in sugar and corn syrup until well combined and bring to a boil and cook until candy thermometer reaches 280 degrees, about 5 minutes

Stir in pumpkin seeds, pumpkin pie spice and salt and cook for another 4 to 5 minutes or until thermometer reaches 300

With a heat proof spatula pour onto the prepared sheet pan and spread evenly, work fast plus this won't fill the entire sheet pan (I used an 11X17 sized one) there should be at least a couple of inches of empty space border surrounding the brittle

Let cool for at least an hour, break into pies and serve

Layer brittle between pieces of parchment paper to prevent them from sticking to each other in a covered container for up to a week for maximum freshness. Serves 8