I'm helping a client with her daughter's sweet 16 birthday party this coming week and as a surprise I thought I would make a birthday treat for all the guests…we do need to keep them all sweet, right?  This  treat I made for them is my Birthday Cake Pretzels; the saltiness of the pretzel with the creamy birthday cake flavored candy coating is so delicious, crunchy and fun for every age.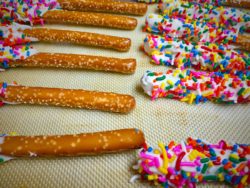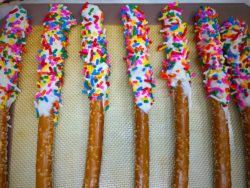 Ingredients
1 16 oz. package vanilla candy melts
2 teaspoons butter extract
1/3 cup yellow cake mix
Sprinkles of your choice
1 12 oz.  Package of large Pretzel rods
2 sheet pans lined with parchment or a silicone mat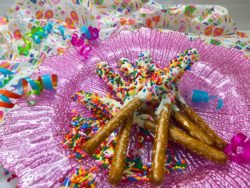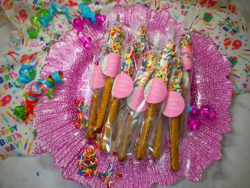 Instructions
In a microwave safe bowl (I used a 4 cup Pyrex glass measuring cup) melt on high 2 minutes in 1 minute intervals, stir after each minute, if not melted enough, do 30 second more intervals, it took me a total of 3 minutes to melt mine but I know that microwave power is different on microwave ovens.
Add the butter extract and cake mix and whisk well until combined.
Pour into a smaller diameter bowl or a 2 cup glass measuring cup to make it easier to dip the pretzels.
Pour some sprinkles in a separate medium bowl and set aside.
Dip the pretzels half way into the melted candy, you may need to tilt the bowl and rotate the pretzel to get good coverage.
Shake off excess melted candy and cover the pretzel with candy sprinkles, rotating pretzel to cover all sides, place on parchment or silicone lined sheet pan, repeat with remaining pretzels and put into freezer to set up for about 30 minutes to an hour.
Makes 32 coated pretzel rods