I made this frittata a few years ago and brought it with me to a friend's get together.   My mom raised me to never show up to someone's house that you had been invited to empty handed.   My Italian inspired frittata dish could not be easier and is perfect for a brunch party or a quiet family breakfast on the weekends.  The sweet and savory mélange of vegetables pairs well with the spicy sausage.   The flavor brings me back to my childhood, my dad made many frittata dishes for breakfast…in addition to fried bologna sandwiches for lunch that he made frequently, ha, ha.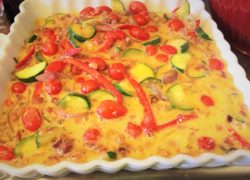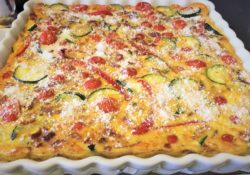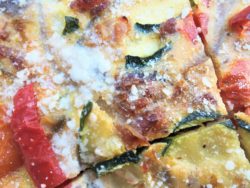 Ingredients
1 tablespoon olive oil
1 medium red onion, halved and sliced
1 tablespoon chopped garlic
12 ounces crumbled Hot Italian Sausage
8 Eggs
½ cup heavy cream
½ teaspoon kosher salt
¼ teaspoon coarse ground black pepper
¾ of fresh grated parmesan Romano cheese blend (reserve ¼ cup for topping)
2 teaspoons Italian seasoning
2 medium sized zucchini (about 1 pound), sliced into half circles
1 red bell pepper sliced into thin strips
2 cups cherry tomatoes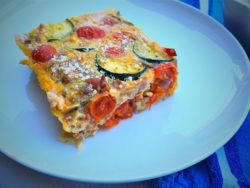 Instructions
Preheat oven to 350 degrees F
Heat a skillet over medium-high heat. Add sausage (remove casings first if you can't find ground sausage) brown and cook, stirring and cutting with spatula until it is well crumbled, about 8 minutes.  Drain on paper towels and set aside.
Add to skillet over medium heat, olive oil, onions and garlic and sauté until translucent, 5 to 7 minutes, take off heat and set aside.
In a large bowl, scramble eggs with cream, salt, pepper, ½ cup of the cheese blend and the Italian seasoning.
To the eggs, add the sausage, onions/garlic, zucchini, bell pepper and tomatoes and stir well.
Pour into a well-greased 9X12 casserole dish and bake for 35 to 40 minutes until top is golden and eggs are set and no longer runny in the center, use a knife or skewer to test the center.
Take out of oven and sprinkle the remaining cheese on top and let cool for 12 minutes.
Serves 6 to 8.