There are many reasons why I enjoy helping people entertain but the one thing I enjoy most is being creative and finding new ways to present food to party guests, otherwise I feel like I get bored and so do the party guests.   I made this delicious lemon Greek orzo salad for a garden party a couple of years ago and I served it in hollowed out lemon halves for a unique and stylish presentation and it was crowd pleasing.  Sure you can serve this beautiful salad in a bowl and I have many times but when the garden party is a ladies tea party and many of the items are "small bites' it made perfect sense to serve it this way and it was a huge hit.  So, when you entertain family or friends, think about different ways to present the food, you will be surprised in the many ways you can serve "outside the box"….or "outside the bowl" that is.   You will treasure the element of surprise like I always do.
Ingredients
1 cup uncooked Orzo pasta
¼ cup oil packed Sundried tomatoes, drained and chopped
½ cup roasted red bell pepper in a jar, drained and chopped
¼ cup pitted Kalamata olives, roughly chopped
½ cup crumbled Feta Cheese
¼ cup packed basil leaves, chopped
1 tablespoon fresh chopped rosemary
Zest of 2 lemons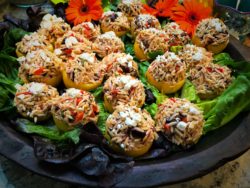 Dressing
¼ cup fresh lemon juice
2 teaspoons apple cider vinegar
¼ cup olive oil
2 teaspoons Dijon mustard
1 small shallot, minced
3 tablespoons honey
½ teaspoon salt
¼ teaspoon coarse ground black pepper
1 teaspoon dried oregano
Instructions
Cook orzo pasta according to package directions, rinse under cold water, drain well and pour into bowl.
While for pasta water to boil, prepare your ingredients and add in a mixing bowl the sundried tomatoes, red bell pepper, olives, cheese, basil leaves, rosemary and lemon zest.  Add the cooked orzo
In a blender add the dressing ingredients and blend until smooth and pour over orzo mixture and toss well and chill for at least 2 hours or best overnight