I'm sure many of you agree that the ultimate party food especially for game night is queso, am I right? My latest lip smacking recipe for Hatch chile queso blanco is the cheesiest yet. Queso blanco literaly means white cheese in Spanish and I combined four different white cheeses in this dip. Such as white cheddar, Monterey jack, Cotija and cream cheese. Furthermore the star in this recipe is the fresh roasted Hatch chiles in this creamy party dip. My favorite chile from Hatch, New Mexico is nearing the end of the season. The season is typically August through September and I was lucky enough to find some. If you can't find fresh Hatch chiles for this Hatch chile queso blanco you can substitute canned but fresh is the best. I have seen stores online that sell frozen chopped fire roasted Hatch chiles so that's a possibility as well.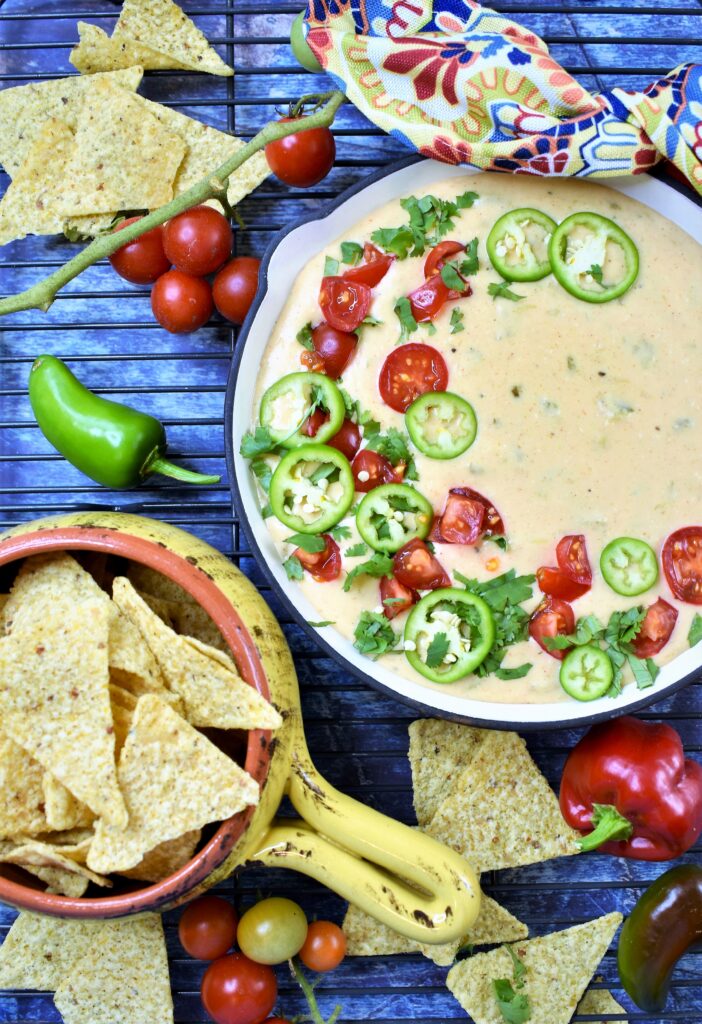 What makes this Hatch chile queso blanco special?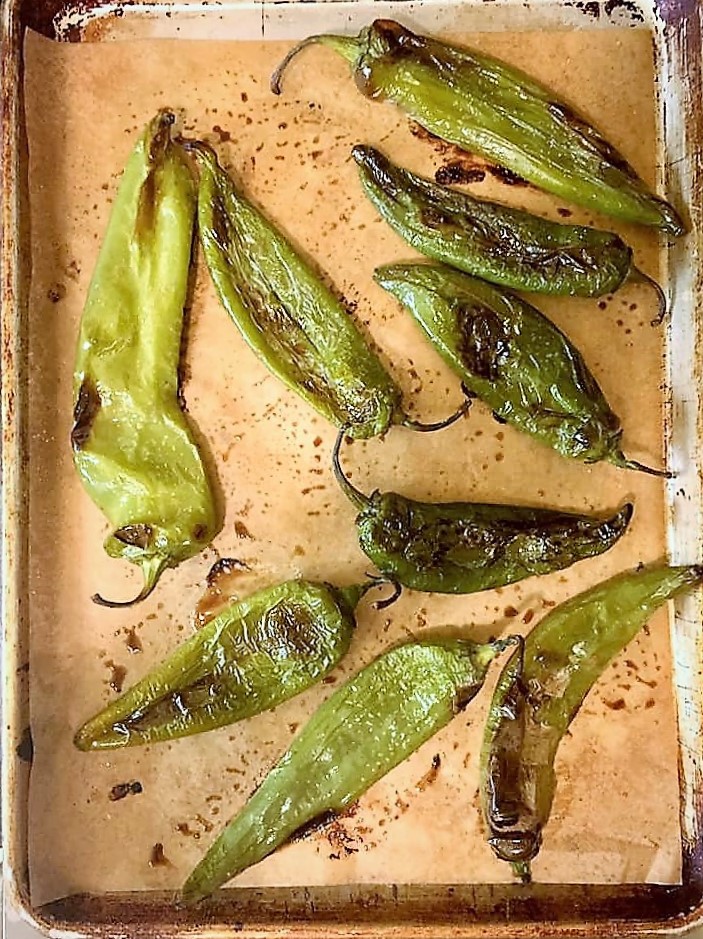 Hatch chiles is what makes this queso dip so special. Even though there are hundreds of chilies in the world that would be great in cheese dip. Hatch chiles are the best in my opinion. The addicting sweet mellow heat from these chile peppers combined with the smokiness of them roasted is amazing. Furthermore don't be intimated about roasted these little green wonders.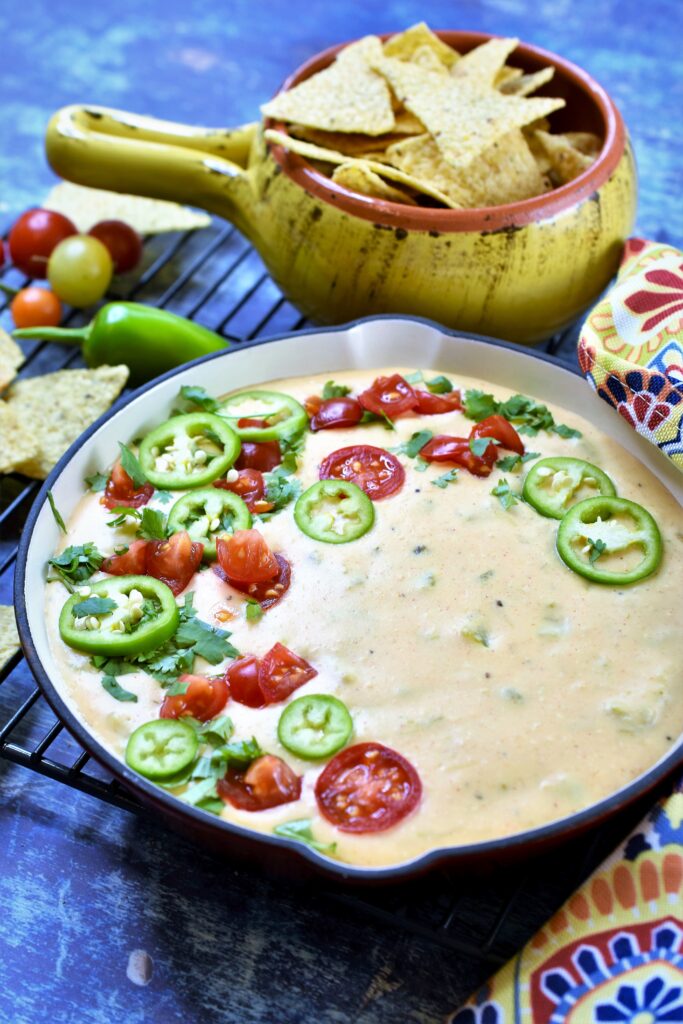 You can simple put them on the open flame in the barbecue or the oven. If roasting them in the oven, preheat the oven to 425 degrees, spray the chiles with some cooking spray on a sheet pan. Place in the oven for 10 to 12 minutes or until the top starts to brown, flip them over and roast for another 10 minutes. Once out of the oven, cover the pan with foil and let sit for 15 minues. Peel and seed the chiles and chop. I used a cup and a half for this Hatch chile queso blanco and that is about 5 peppers.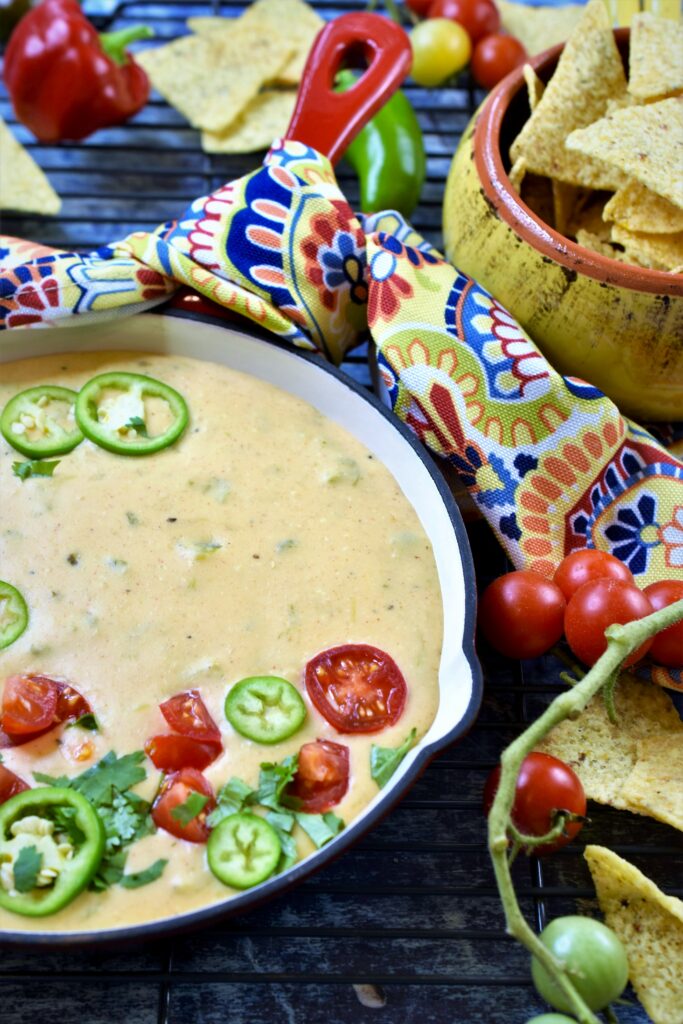 More Mexican inspired party essentials!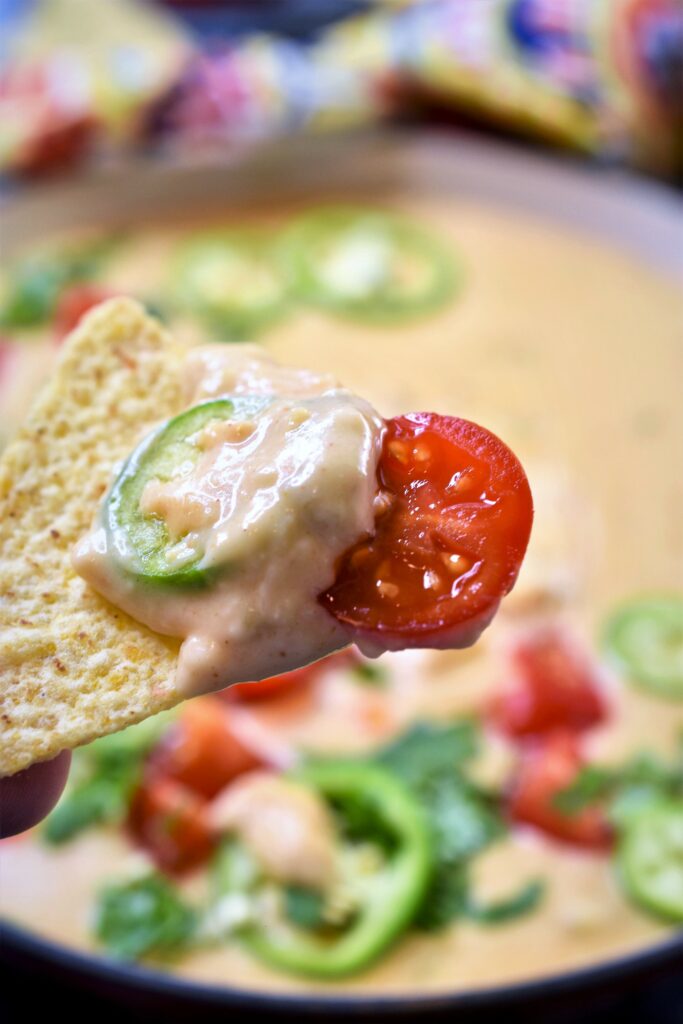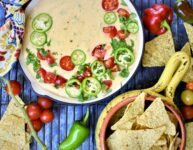 Hatch Chile Queso Blanco
This creamy and cheesy dip is a blend of four cheeses and smoky Hatch chiles for a party queso worthy of celebrating scoop after crunchy scoop with tortilla chips!
Ingredients
3

tbsp

unsalted butter

1

small yellow onion, diced

2

garlic cloves, minced

1

tsp

kosher salt

1/2

tsp

coarse black pepper

5

tbsp

all-purpose flour

4

cups

milk, warmed

2

tsp

cumin

2

tsp

chili powder

1/2

tsp

cayenne pepper or less, you decide what kind of heat, you can always add more

2

cups

Monterey jack cheese, shredded

2

cups

aged white cheddar, shredded

8

oz

cream cheese, cut into cubes

1

cup

Cotija cheese, crumbled

1 1/2

cups

roasted, peeled, seeded Hatch chiles, chopped (about 5 chiles)

suggested garnish for the top of this dip, fresh chopped jalapenos, chopped tomatoes and chopped cilantro
Instructions
Melt the butter over medium/high heat in a large saucepan, add the onion, garlic, salt and pepper, cook stirring occasionally for 4 minutes

Whisk in the flour until well combined, continue whisking while adding the warm milk and cook for 5 minutes or until almost reaching to boiling, whisking frequently

Add the cumin, chili powder, cayenne pepper and all the cheeses, whisking until all the cheese melts

At this point with an immersion blender, puree the queso until really smooth (you could skip this step, I just don't like the texture of the onions and want this to be really smooth)

Turn down to medium and let cook for about 5 minutes more, shisking occasionally until nice and thick and bubbly

Stir in the Hatch chiles and serve warm with tortilla chips. Garnish with fresh jalapenos, chopped tomatoes and cilantro if you wish

Makes 8 cups, enough for a crowd of 12 party guests

Note: this recipe could easily be divided in half