Try my new recipe for this creamy baked vegan chipotle, black bean & butternut squash dip and enjoy the flavors of Mexico without feeling the guilt afterwards. You don't have to be vegan to enjoy this dip and you can easily replace the vegan cheese in this recipe for any cheese that you like. Believe it or not, I was invited to a potluck party for tonight; I don't remember the last time I was at a party that I didn't cater. I still cooked though; yesterday I made a big pan of jambalaya to bring to the party. So, today my partner said to me, do I go to the party pre- fed or should I pick something up at the store on the way there? he's vegan and he can't have what I made. I felt so bad looking into his puppy dog eyes that he would starve (um, not likely) I said hang on let me forage around in the fridge and pantry and I will come up with something that you can nibble on at the party in-between dancing to Le Freak by Chic, just kidding, lol…I don't have any idea what the playlist will be but I still love Disco!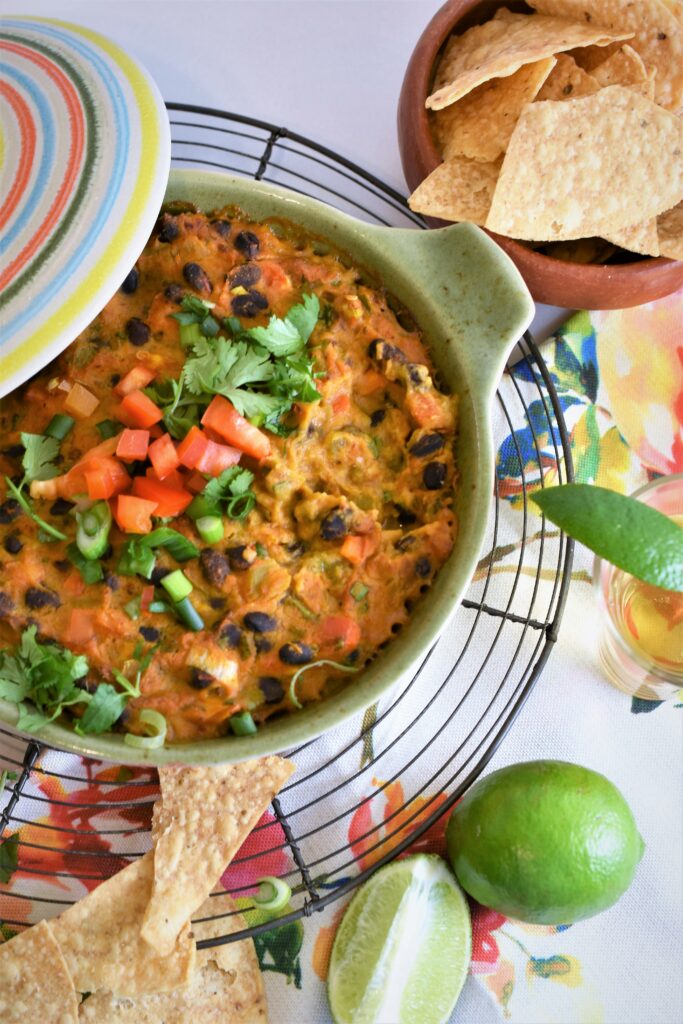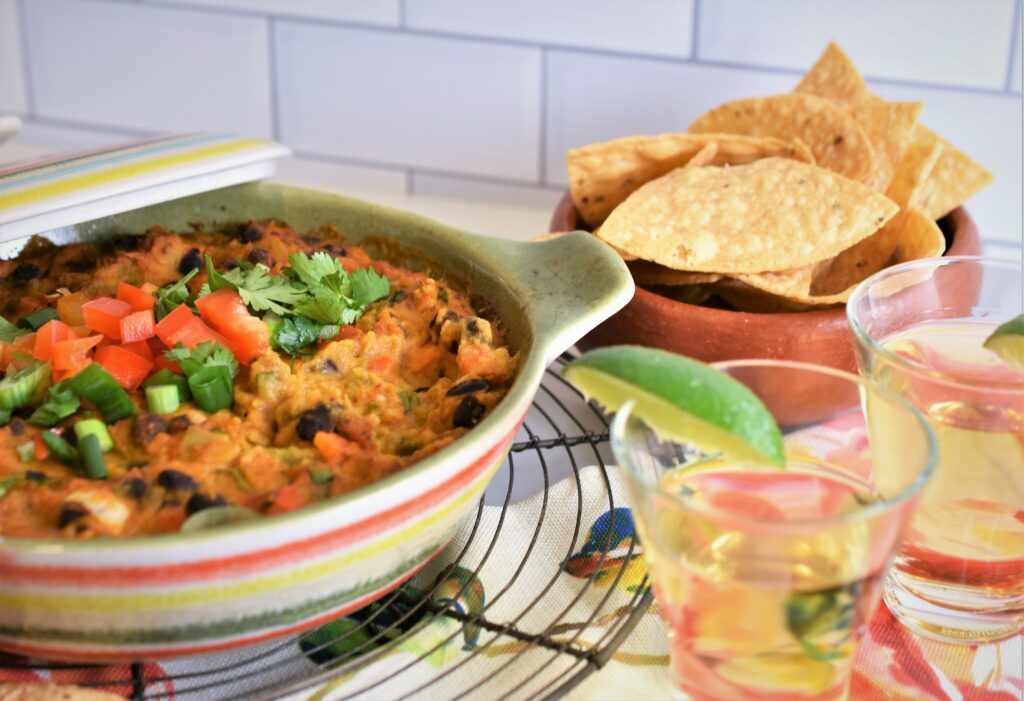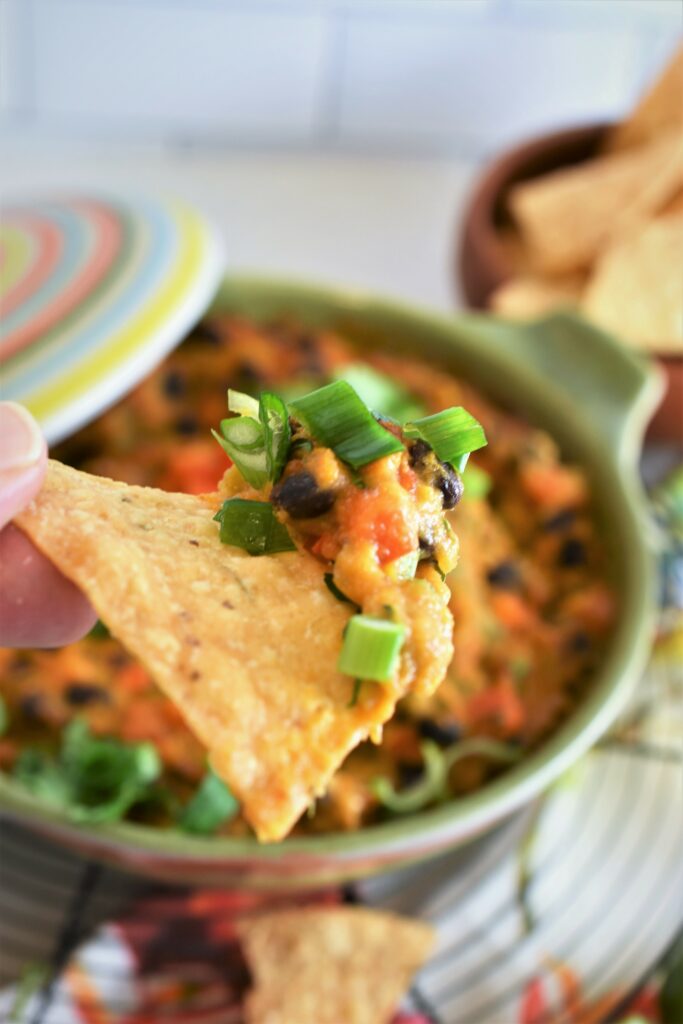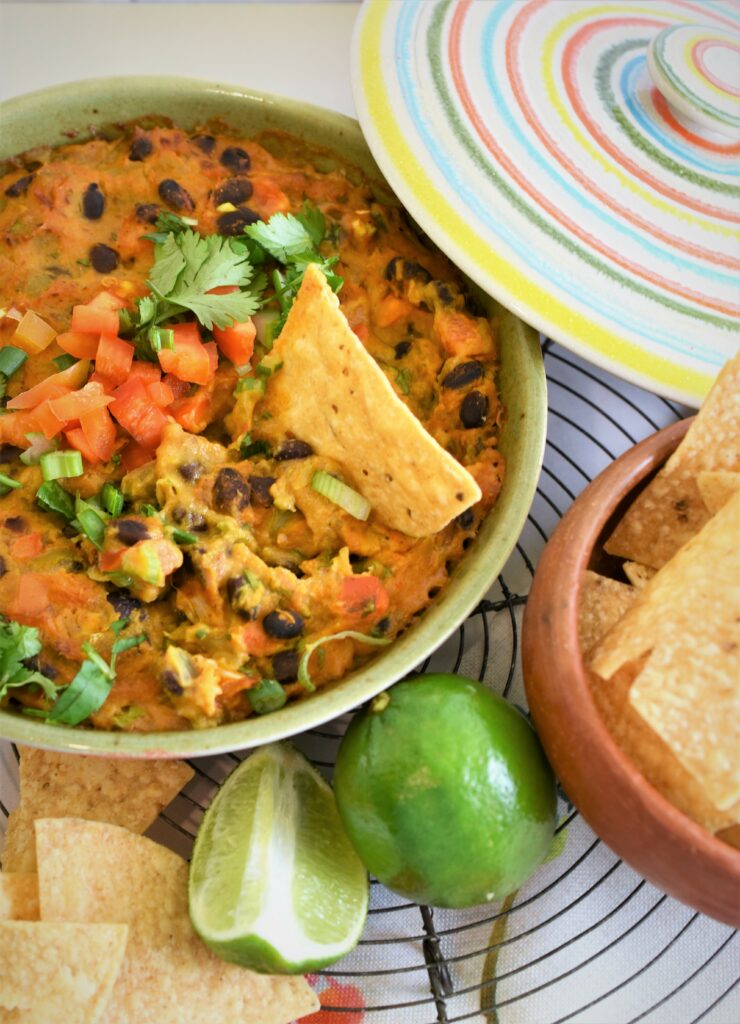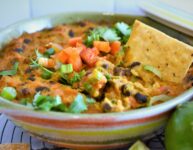 Baked Chipotle Black Bean & Butternut Squash Dip
This creamy warm dip combines the sweetness of butternut squash with smoky Chipotle chiles and black beans for a guilt free dip worthy of any Cantina
Ingredients
1

lb

butternut squash, peeled and cubed, fresh or frozen

7

oz

can chopped green chiles

2

tbsp

chipotle chiles in adobo, minced

8

oz

vegan cream cheese, softened or other soft vegan cheese

1/2

cup

red bell pepper, chopped

1/4

cup

cilantro, chopped

1/3

cup

green onions, chopped

2

tsp

cumin

1

tsp

smoked paprika

1/2

tsp

kosher salt

15

oz

can black beans, rinsed and drained

tortilla chips for dipping
Instructions
Steam the butternut squash in a microwave safe dish with 1/4 cup of water, covered for 6 to 9 minutes, check to see if really tender with a fork, drain and mash or use a food processor and puree until smooth.

Preheat the oven to 375 degrees

In a mixing bowl, mix together the butternut squash, green chiles, chipotle chiles, cream cheese, bell pepper, cilantro, green onions, cumin, smoked paprika and salt. Mix well until everything is combined, stir in the black beans.

Pour into a prepared baking dish with a non-stick spray or olive oil and bake in the oven uncovered for 20 to 30 minutes until bubbly.

Garnish with chopped cilantro, green onions and/or minced bell pepper

Serve warm with tortilla chips. Makes 4 cups and serves 8 to 10
Recipe Notes
This recipe is very versatile so you can put any kind of soft cheese in this that you like.  The best vegan cream cheese in my opinion is from Trader Joe's, I actually used a vegan cashew fiesta cheese from Trader Joe's in this recipe.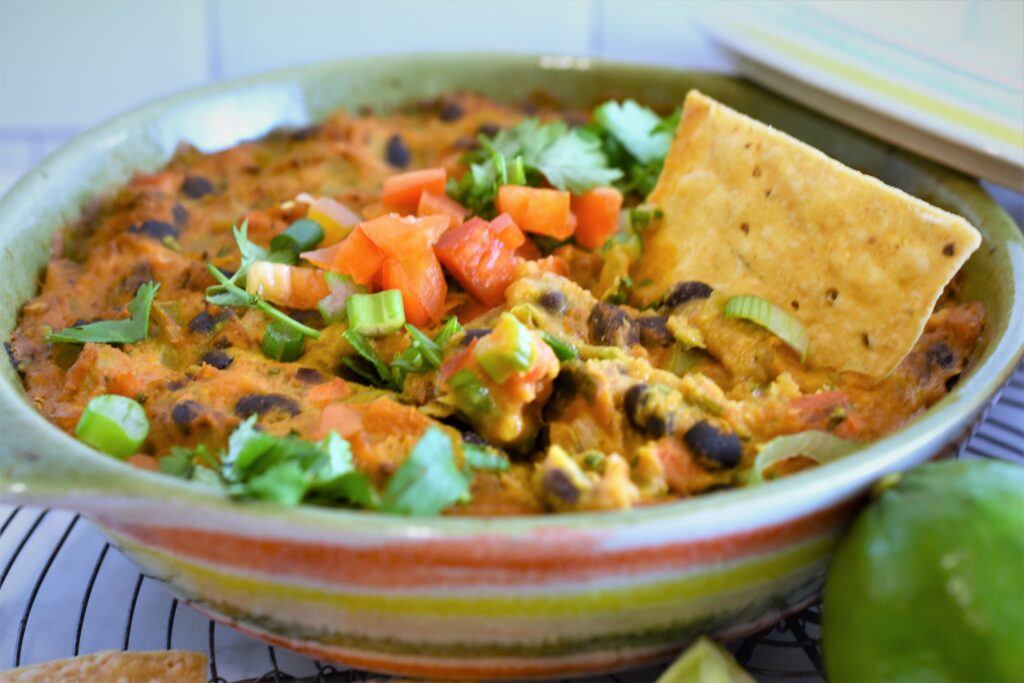 According to Wikipedia, Did you know that seven-layer dip is an American appetizer based on ingredients typical of Tex-Mex cuisine and was first widely published in 1981 Family Circle magazine? I remember the 80's and it was all the rage and I still see it at parties and pre-made at grocery stores….speaking of that dip, here is the Ultimate 7-Layer Dip from Kraft