One thing I love about what I do is create new recipes and when they turn out fabulous, it's like Christmas morning, I get that excited and now I can't wait to make these for a party that I'm helping with tomorrow night. The crunch of the toasted baguette combined with the smoky heat of the chipotle cream cheese along with the tangy corn salsa and succulent shrimp makes for an out of this world bruschetta.  Bruschetta does not have to be boring folks, turn up the heat with these guys and I'm sure your party guests will be begging for more.  I was tempted to add chopped jalapenos to the corn salsa but I didn't because there is plenty of heat from the chipotle cream cheese and I did not want to mask that flavor with a chili that would have competing heat.  You can easily enjoy these with wine or beer but since this is a Mexican style bruschetta, I think a margarita would be a great choice.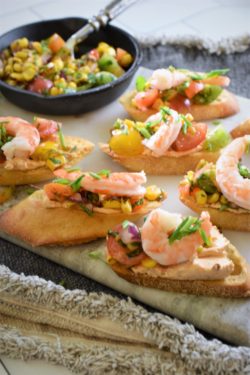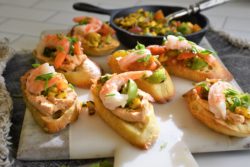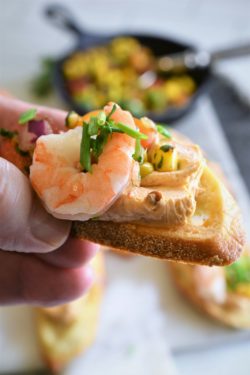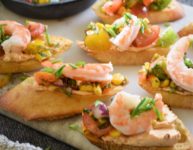 Chipotle Cream Cheese Bruschetta with Shrimp & Roasted Corn Salsa
Turn up the heat on this bruschetta with the smoky & spicy chipotle cream cheese and shrimp, perfect for any cocktail party!
Ingredients
1

baguette, sliced on a diagonal into 24 slices

1

olive oil spray

1

cup

roasted corn

1

cup

cherry tomatoes, chopped

3

tbsp

cilantro, chopped

1/3

cup

red onion, chopped

1/2

tsp

chili powder

1/4

tsp

kosher salt

1/4

tsp

coarse ground black pepper

1

lime, juiced

8

oz

cream cheese

1

chipotle chili in adobo, chopped

24

peeled, deveined shrimp, 50/70 per pound size works

2

tbsp

chopped chives or cilantro for garnish
Instructions
Preheat oven to 425 degrees

Place the sliced baguette on a cookie sheet and spray it generously with olive oil spray and bake until golden brown and crisp from 10 to 13 minutes, set aside

In a medium bowl combine the roasted corn, cherry tomatoes, cilantro, red onion, chili powder, salt, pepper and lime just and mix, set aside

In a small food processor, blend the cream cheese and chipotle chili until creamy

Spread the chipotle cream cheese on each toast, top it with a bit of corn salsa and top that with one shrimp, repeat with all the toasts, sprinkle with chopped chives or cilantro for garnish and enjoy.

Makes 24