As I started cooking the onions for my latest recipe for brandied caramelized-onion Swiss crostini my home smelled fabulous. Whenever I saute onions the sweet smell is so intoxicating plus adding the brandy sent my senses over the top. Fall weather is approaching and like I've mentioned in a previous post, my favorite season reflects my enjoyment of cooking.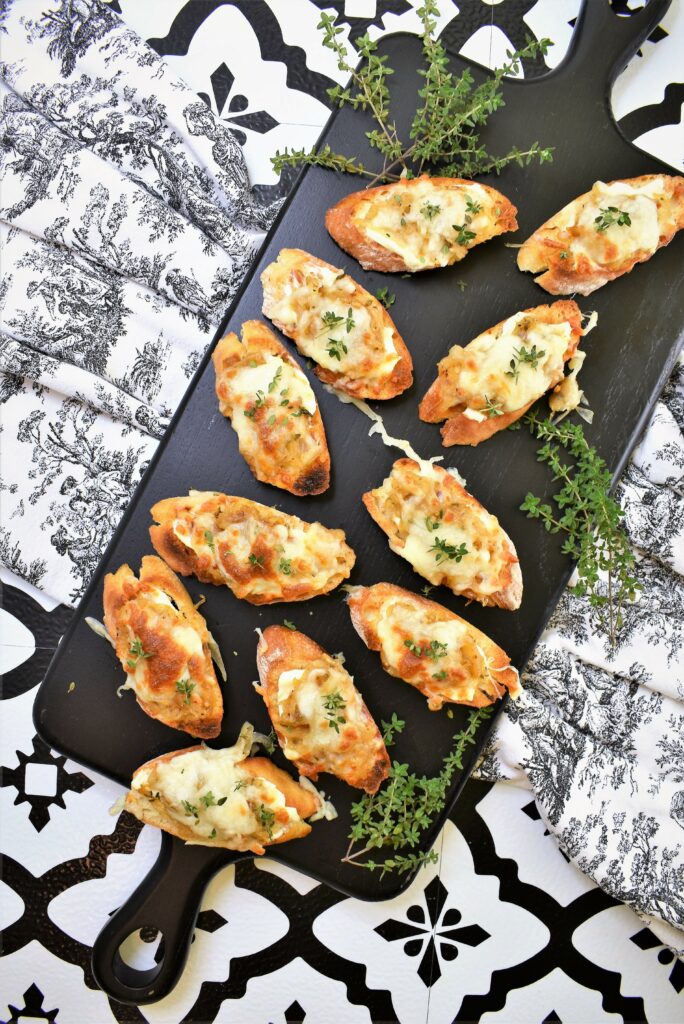 The smell in my home is very similar to French onion soup with the deep rich scent of caramelizing onions. In a way this is like a French onion soup crostini but without the beef stock. Plus the combination of garlic, onions, fresh Thyme and brandy makes this flavorful crostini delicious. You have to admit that the best part of French onion soup is the cheesy toast baked on top of the soup. I used two cheeses on this brandied caramelized-onion Swiss crostini, cream cheese and Gruyere. The combination of the cheeses elevate this appetizer in a comforting way. After just one bite I wanted to curl up in front of the fire in a sweater. Because this cheesy crostini is like enjoying a bowl of soup. Okay now that's funny, I don't have a fireplace and it was over 80 today so both would be a bad idea.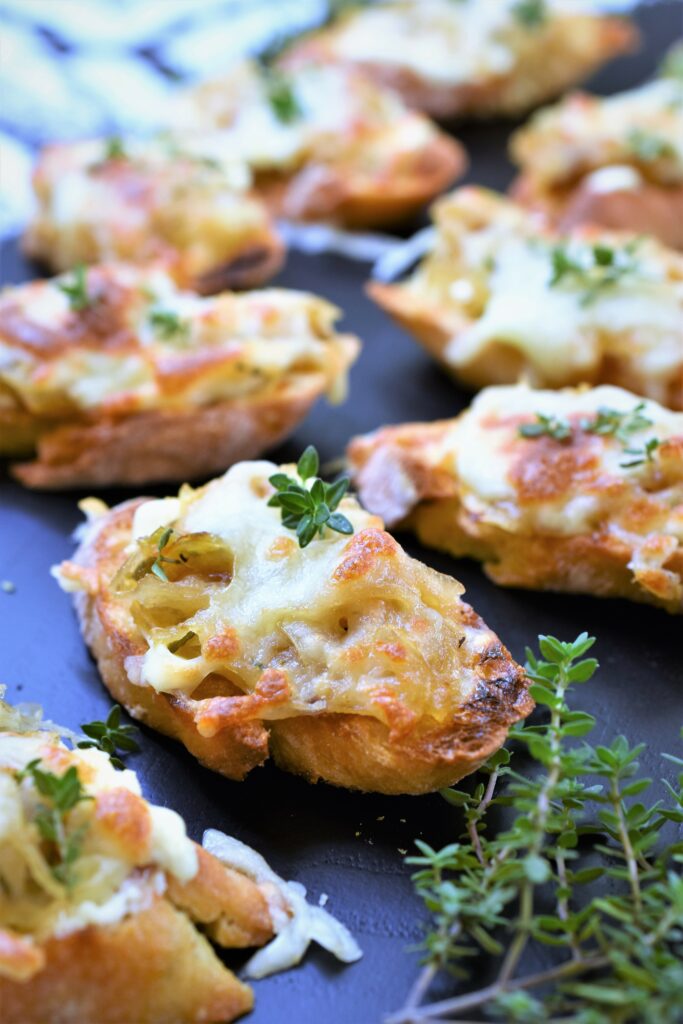 How to make brandied caramelized- onion Swiss crostini
First of all you start off with cooking the onions down in butter to develop their rich sweet flavors. Some recipes for caramelized onions state that it's a must to cook them for 45 minutes but with this recipe that is not necessary. If you cook them that long they become really dark and not much is left of them. So in only 25 minutes you have a perfectly sweet and rich caramelization. Plus you may think that four medium sized onions may be too much for 24 small toasts but it's not. The onions cook down to the perfect amount for these scrumptious brandied caramelized-onion Swiss crostini. Adding the brown sugar helps the onions caramelize faster. Plus the garlic and rich brandy puts these onions in a completely different category of goodness.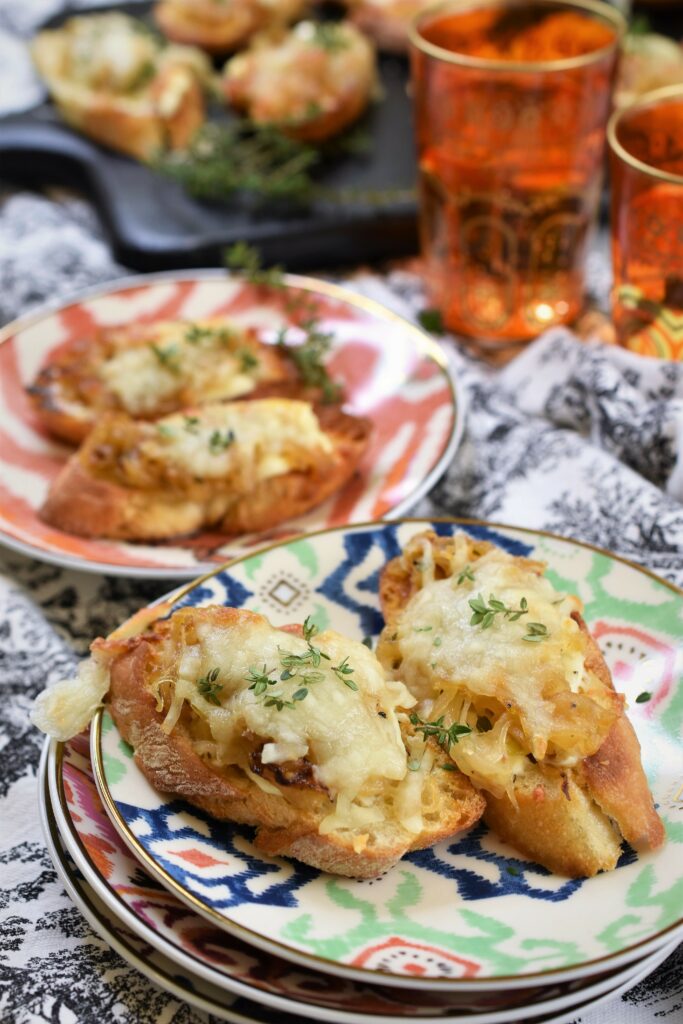 While the onions caramelize, use this time to toast the baguette slices in the oven. Let the onions cool for 15 minutes once done. In detail I spread a bit of cream cheese on each toast as a base. With a dinner fork place some onions on top of the cream cheese then sprinkle the Swiss cheese on top of that. Now broil the toasts until melted and golden brown making sure to watch closely and not walk away so they don't burn. Finally let cool just for a few minutes before serving them warm. In addition to these brandied caramelized-onion Swiss crostini making the perfect party bite, they make a great lunch or dinner paired with a simple salad.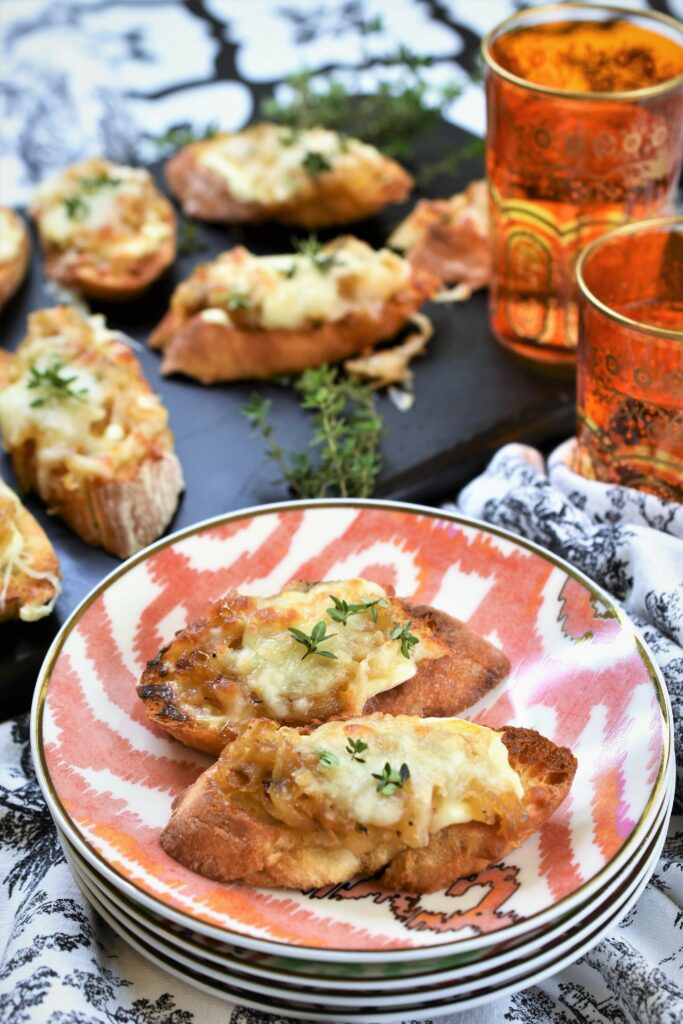 More ideas on how to serve this dish
I always like to find more ways to serve one recipe, I think it's the caterer in me. Below are some innovative ways on how to serve this brandied caramelized-onion Swiss crostini. Don't limit yourself thinking that you need to serve this on toasts.
Stuff chicken breasts with the caramelized onions and cheese and wake up those boring Monday night dinners and say no to take-out.
Use more cream cheese and mix it with the Swiss cheese and pour into a casserole dish topped with Swiss cheese and baked golden brown in the oven for a warm party dip.
Sandwich the ingredients into a panini for a special soup and sandwich meal.
Use it as a filling on top of squares of puff pastry and bake in the oven for another great appetizer bite.
This would make a great quesadilla for that great "French-Mex" combo served large or cut into smaller party bites.
Lastly spoon over grilled steaks and flash broil the cheese on top turning that backyard barbecue into a fancy bistro.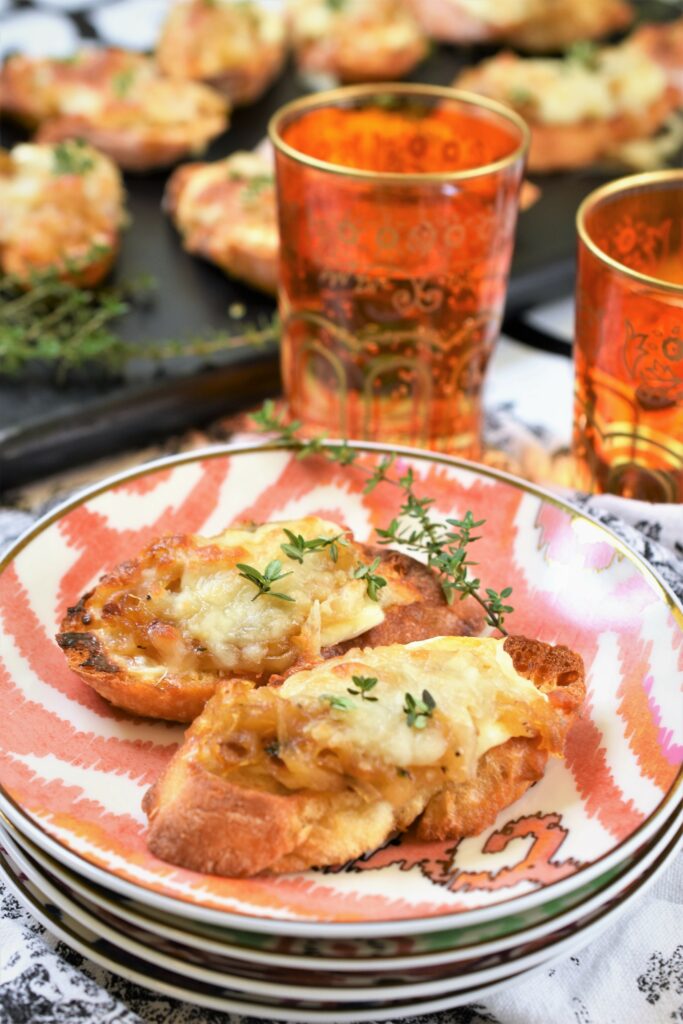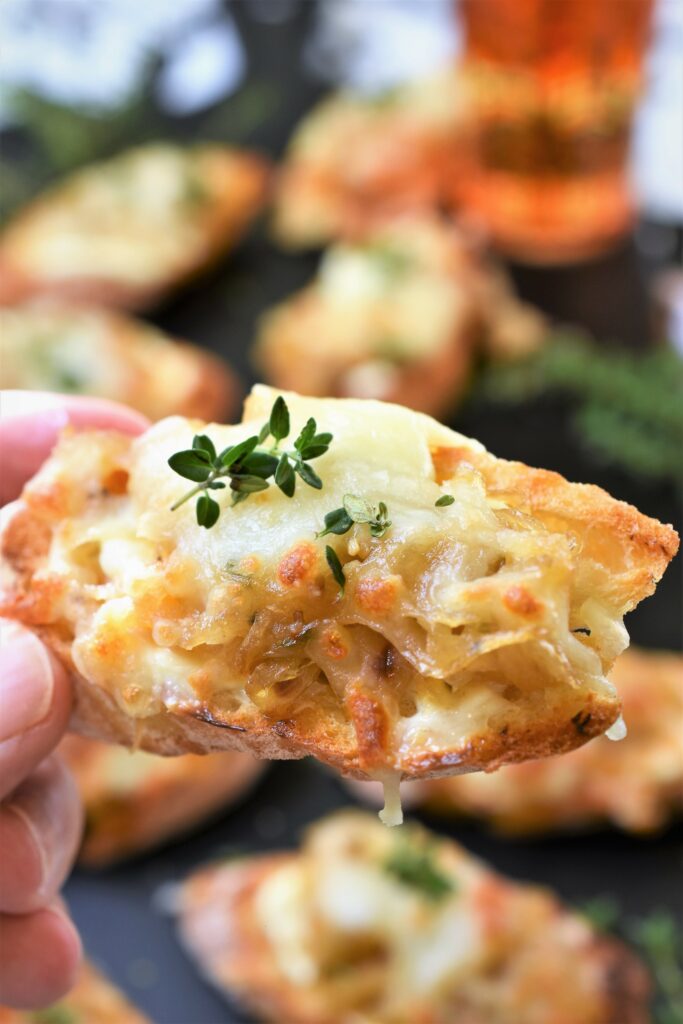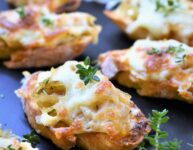 Brandied Caramelized Onion Crostini
This cheesy crostini is like tasting French onion dip with every crunchy bite!
Ingredients
1

lb

baguette sliced on a diagonal

4

medium onions, cut in half and sliced thin (a food processor is your friend for slicing)

1/2

cup

unsalted butter

2

garlic cloves, minced

1/2

tsp

kosher salt

1/4

tsp

coarse ground black pepper

1/4

tsp

red pepper flakes

1

tbsp

brown sugar

1/2

cup

brandy

4

tsp

fresh thyme leaves, minced and divided

4

oz

cream cheese, softened or at room temperature

1 1/2

cups

Swiss cheese, shredded (I used Gruyere, I love it)
Instructions
Pre-heat the oven to broil and place the baguette slices on a sheet pan and broil for 2 minutes until lightly browned and turn over and broil the other side as well, set aside.

Melt the butter over medium/high heat in a large skillet until it starts to sizzle

Add the onions, salt, black pepper, pepper flakes and 2 tsp thyme leaves, sauté for 10 minutes, stirring occasionally.

Turn down to medium, add the garlic, brown sugar and brandy and cook for another 15 minutes stirring occasionally until nice and golden in color and all the moisture has been cooked off. Let cook for 15 minutes. Note: when adding the brandy, take the pan off direct heat to be safe.

Spread a bit of cream cheese on the top of each toast and with a dinner fork divide the caramelized onion mixture on top of that.

Lastly sprinkle the Swiss cheese on top of that, place them in the oven and broil the toasts until melted and golden brown.

Garnish with the remaining minced thyme, let rest for a couple of minutes and serve.
Here are more scrumptious Autumnal inspired appetizer recipes!