Fall is creeping upon us and it's my favorite season, especially during fall harvest farm to table freshness with my new recipe using fresh sweet pears in a savory mini bite, perfect for a breezy brisk day. These mini pear, Gorgonzola & bacon tarts take pears on a savory trip to the party table with the sweetness of the pear, smokiness of the bacon combined with the earthy flavor of Gorgonzola and a surprising crunch from toasted walnuts these bite sized jewels are bursting with big flavor. Mini sized pies, tarts and quiche are always a favorite among party guests because you can eat one after another while you sip on your cocktail of choice and enjoy conversation with one another. I try my best to create and cook recipes that include fresh seasonal ingredients. I know you can get pears year round at virtually any market but if you want pears grown in the U.S. they are in season from August through October. There's something special that happens when you cook with pears when they are in season, well, at least in my mind; maybe I'm "romancing" memories or my imagination of being in a pear orchard wearing a flannel shirt and sipping cider, kicking leaves around since I don't even know where an orchard is near me!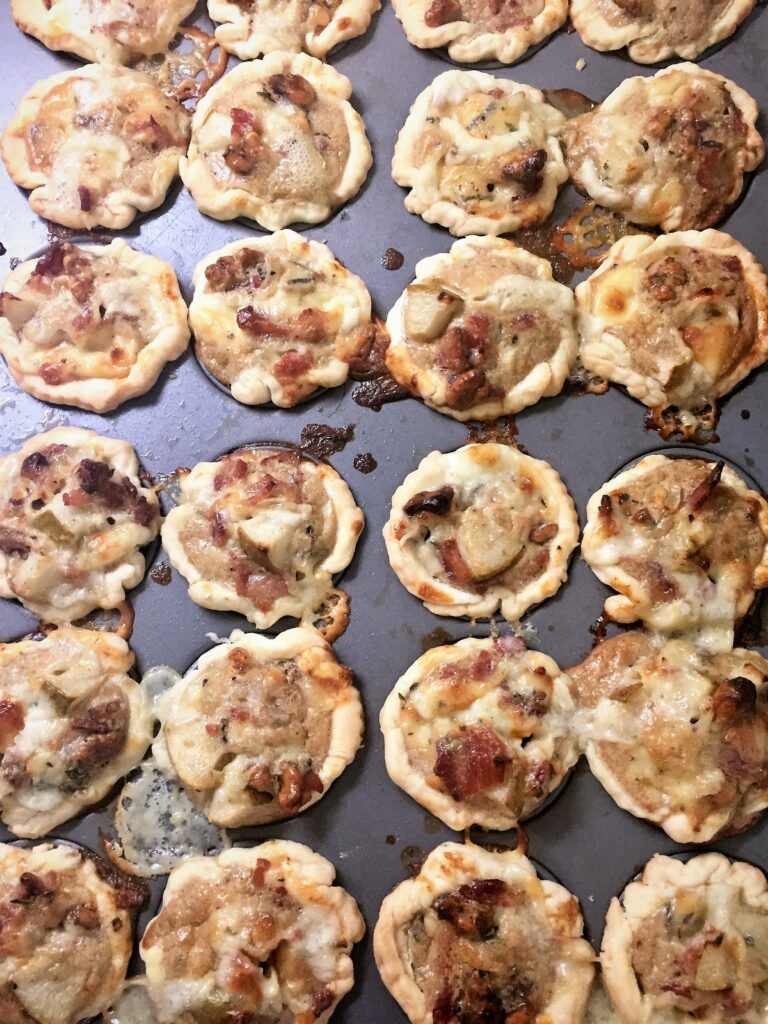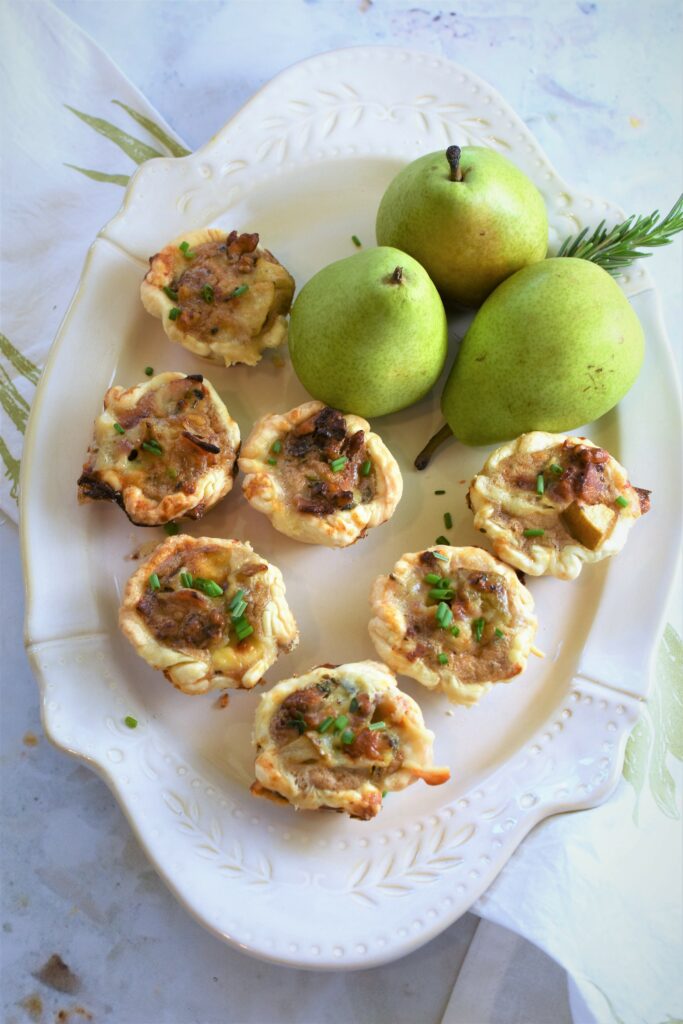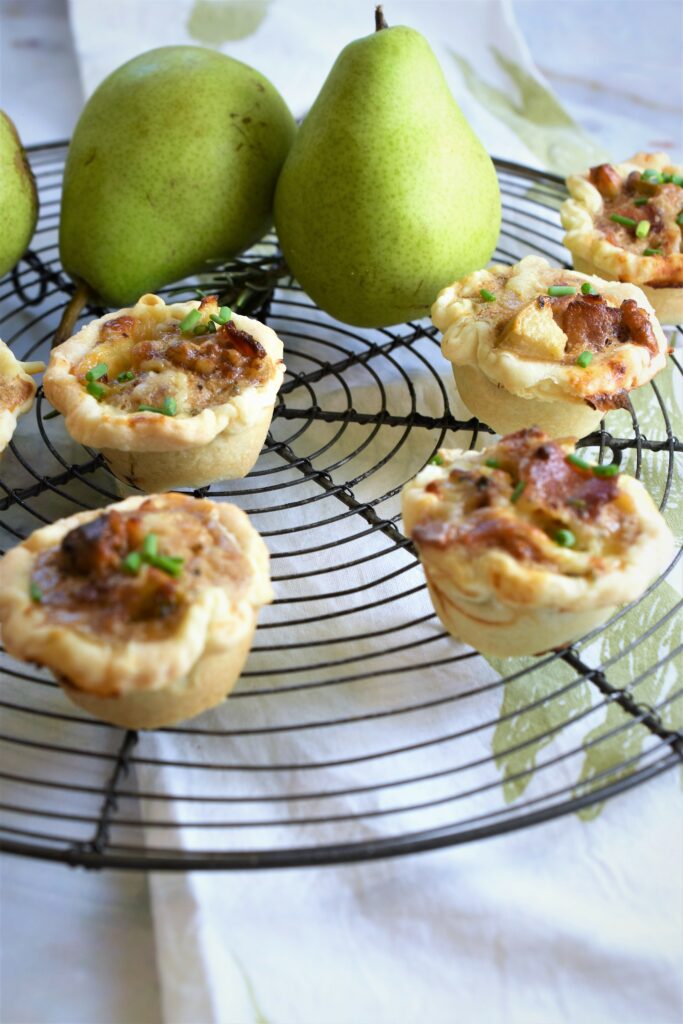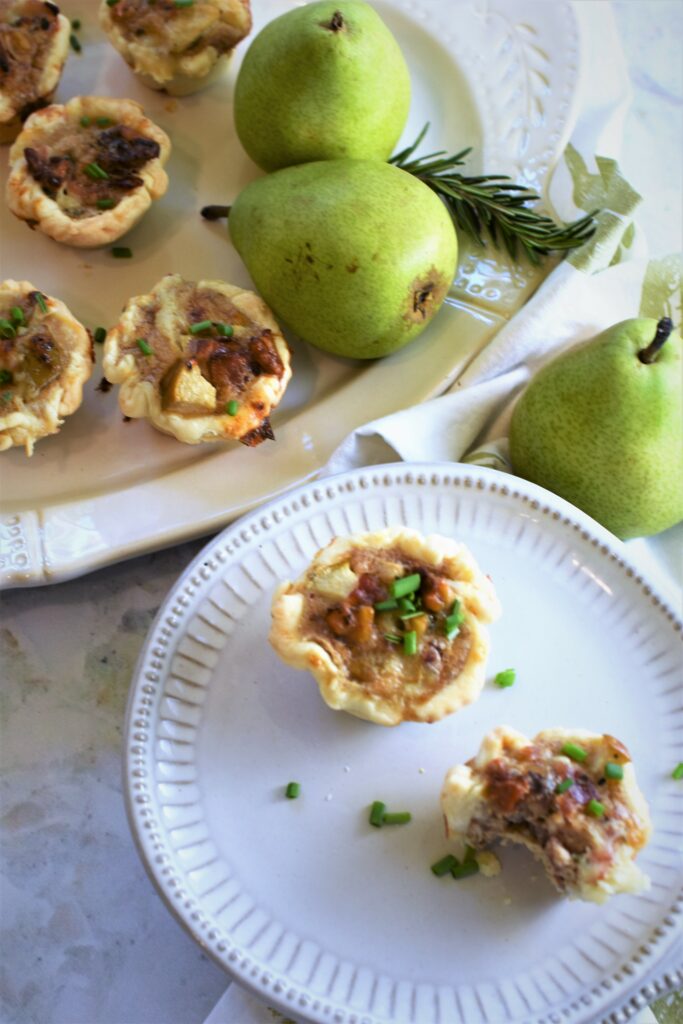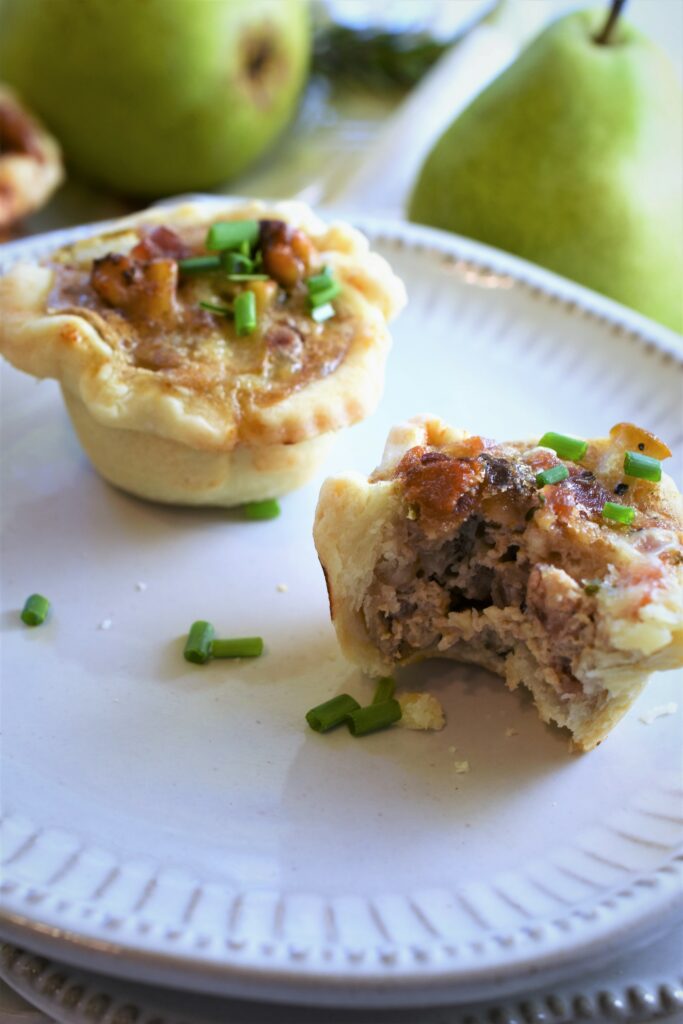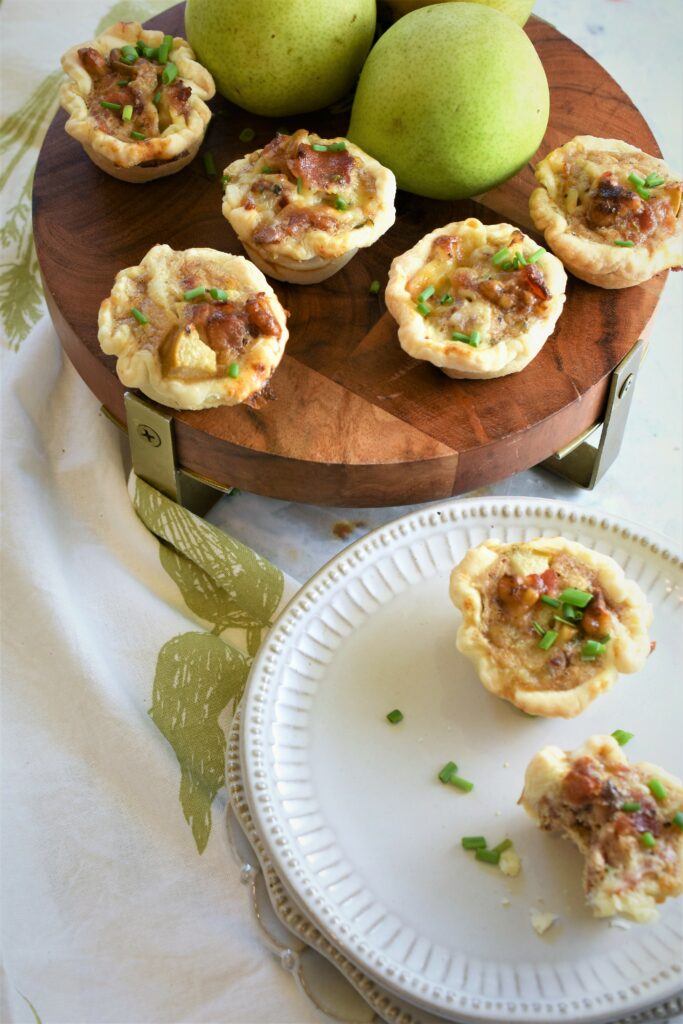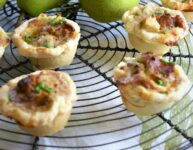 Mini Pear, Gorgonzola & Bacon Tarts with Walnuts
These mini tarts are sweet & savory and perfect for fall entertaining for brunch or cocktail parties!
Ingredients
1 – 14.1

oz

package of refrigerated pie crusts (2 in the package)

6

oz

bacon

1/2

cup

yellow onion, diced

1

tsp

fresh rosemary, minced

1

tsp

fresh thyme, minced

2

eggs

1

cup

Gorgonzola cheese, crumbled

1/2

cup

1/2 & 1/2

1/4

tsp

cayenne pepper

1/4

tsp

fresh ground black pepper

1/4

tsp

kosher salt

3/4

cup

pears, diced

1/2

cup

toasted walnuts, chopped
Instructions
Roll out the pies crusts flat onto a lightly floured surface and cut 12, 2 1/2 in circles out of each crust, if you are short 1 circle, gather the remaining crust into a ball and roll out, cut more for a total of 24 rounds

Prepare a mini 24 cup muffin pan with cooking spray and place one crust round into each muffin cavity pressing the bottom and sides, forming an edge at the top, cover and refrigerate until ready to fill and bake

Cook the bacon until crisp and place on a paper towel lined plate, leaving 1 tbsp. of the bacon grease in the pan

In the same pan add the onion, rosemary and thyme and cook for 3 minutes, stirring occasionally, set aside

Preheat oven to 400 degrees

In a mixing bowl combine the eggs, cheese, 1/2 & 1/2, cayenne pepper, black pepper and salt and mix well with a fork

Chop the bacon and add to the egg mixture along with the sauteed onion, pears and walnuts, mix well

Take the prepared muffin pan out of the refrigerator and divide the pear mixture into each cup and bake for 15 to 18 minutes or until set, cool for 5 minutes before removing each tart from the pan onto a wire rack. Serve warm.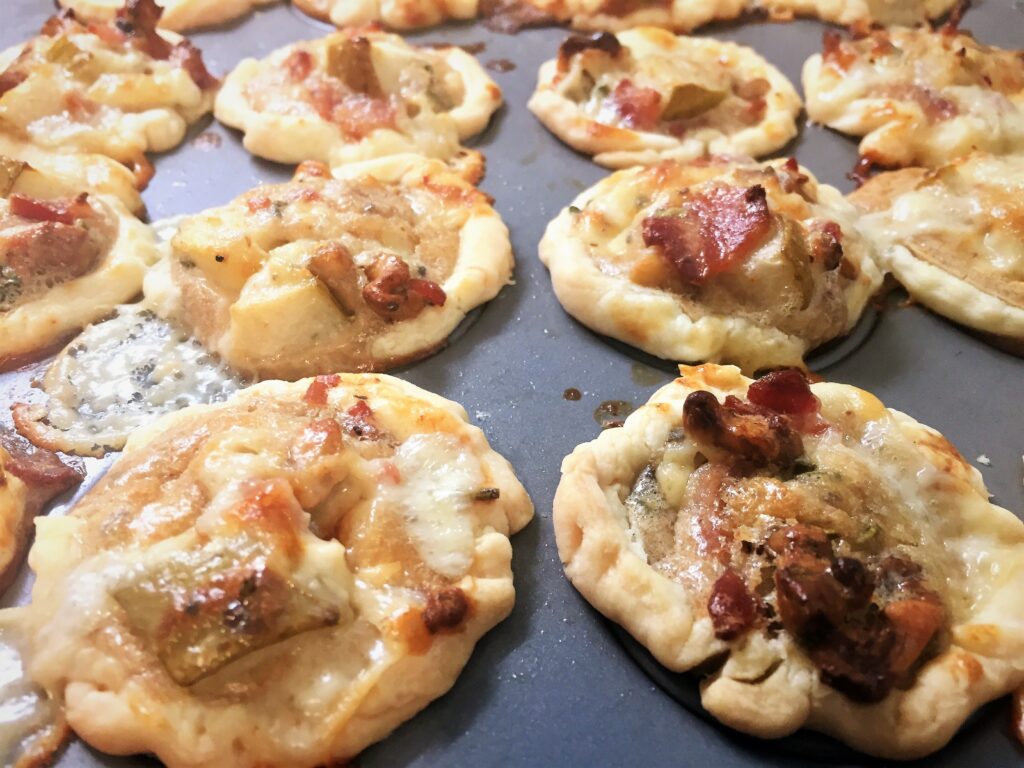 Are you pressed for time and you can't get it together as the R.S.V.P.'s come in for that yearly cocktail party you are hosting?…well, Food & Wine magazine has 28 Fast Hors d'Oeuvres Recipes that might help you out with your stress